4 unusual virtual reality tours at Flyview
Unique and exceptional 360° views of Paris
Accessible to all (from 1m20)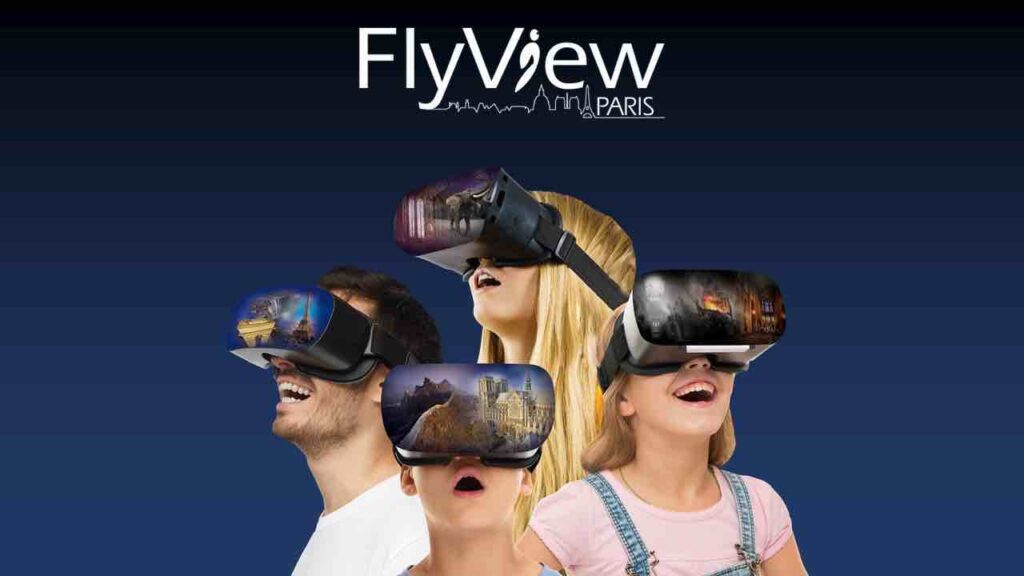 4 virtual reality experiences
The Flight over Paris (World bonus included) : live an unforgettable flying experience ! Paris and its monumentsas you have never seen them before. Sensations guaranteed!
Hidden Paris : discover the inaccessible spaces of the monuments of Paris. A surprising visit, ideal after the Paris Flight
Pyramids A unique journey that takes you for the first time inside the pyramids of Egypt. A spectacular experience in the heart of Ancient Egypt
Reviving Notre-Dame : exceptional immersion in virtual reality in the heart of the Cathedral before and after the fire

The 1st experience at 19,50?
The 2nd experiment at 10?
As soon as your payment is made, you will receive on your e-ticket, the codes to reserve your session
Our advice For a first visit, we suggest "Le Survol de Paris" + "Paris Caché", 2 very complementary experiences (duration 1h30)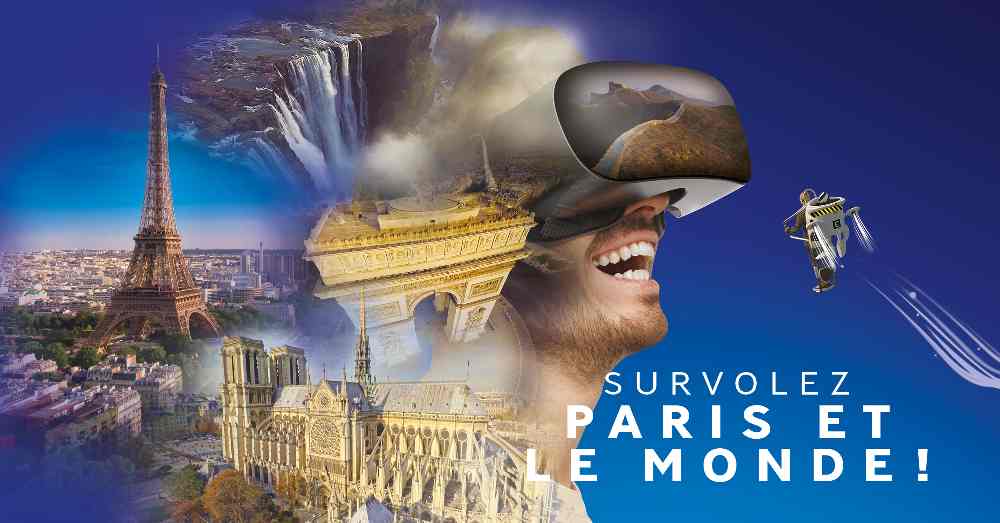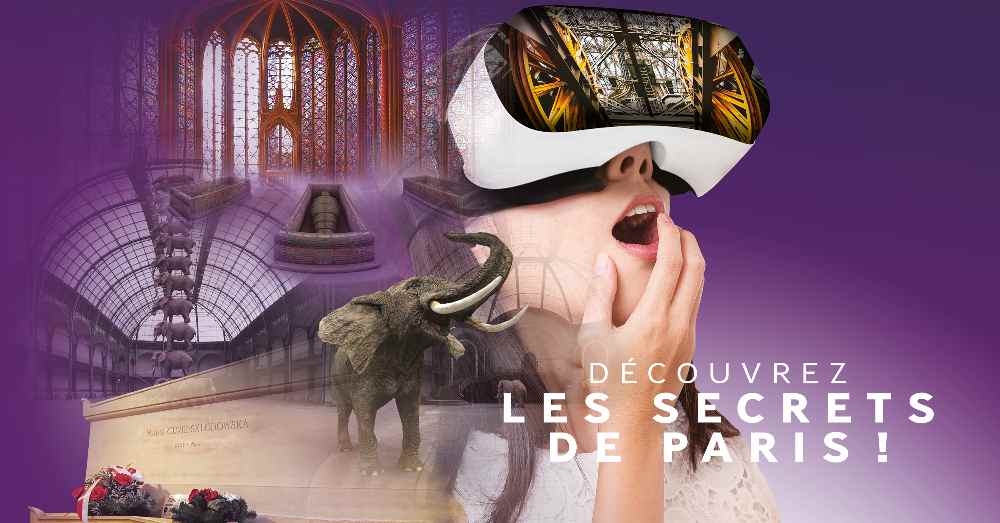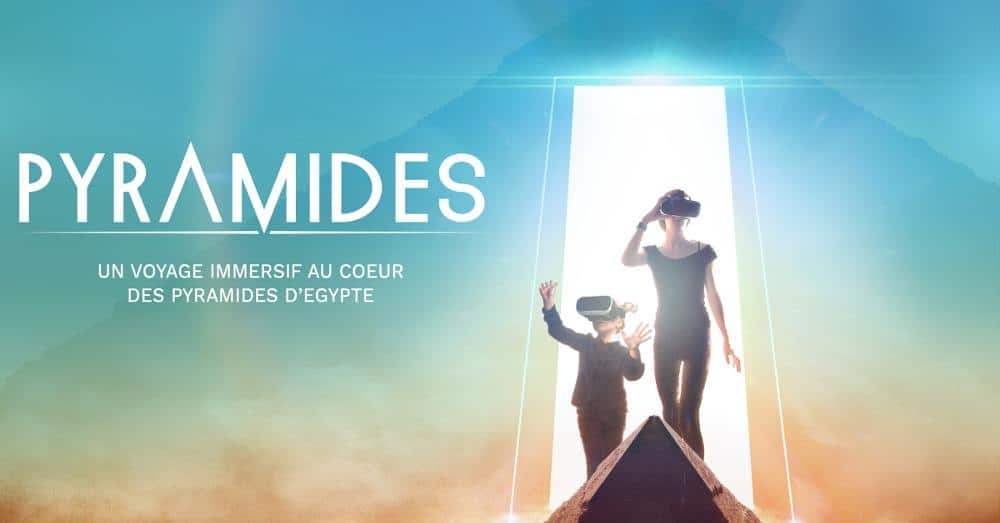 Virtual reality experiences at Flyview
All audiences, from 1m20
You are welcome at Flyview (Opera district) as in a boarding room
A hostess will take you to a pre-boarding room where you will be given a few safety instructions (setting up the virtual reality helmet, installing your JetPack for the flight over Paris). Then we head to the boarding room
Composition of the pack à la carte among the 4 experiences
It is a unusual and unusual exitthat will please the whole family
Useful information
Tuesday to Friday from 2:30 pm to 7 pm
Saturday, Sunday from 10:30 am to 7 pm
School vacations (zone C), from 10:30 am to 7 pm, 7 days a week
Experience n°1 : "The Flight over Paris
Duration: 40 minutes
On board a jetpack (flight simulator), put on your headset and fly over Paris (World bonus included). It is spectacular !
You will take off, accelerate and vibrate to the rhythm of your flight: sensations guaranteed!
During this experience, you will fly over Our Lady before the fire, Eiffel Tower, the Arc de Triomphe and many Parisian sites...
The World Bonus : an extraordinary journey to see 7 natural sites around the world. Amazing!
Not recommended for pregnant women
Our advice For a first visit, we suggest "Le Survol de Paris" + "Paris Caché", 2 very complementary experiences (duration 1h30)
Experience n°2 : "Hidden Paris" (Inaccessible and secret Paris)
Duration: 40 minutes
Discover the inaccessible and secret spaces of the monuments of Paris
Climb on the canopy of the Grand Palais, explore the arrow of the Holy Chapeldiscover the machineries of the Eiffel Tower and climb to the top, visit the secret corridors of the Pantheon ?
Listen to surprising anecdotes
A unique visit in virtual and augmented reality
Stunning 360° views of Paris, filmed by drones
Experience #3: "Reliving Notre-Dame" (before/after the fire)
Duration: 40 minutes
An immersion

exceptional

and overwhelming in virtual reality in the heart of Notre-Dame Cathedral before and after the fire
You will visit the building as it was before the fire, from the vast nave to the gargoyles, passing by the bell towers and the sacristy
Experience n°4 : "Pyramids" (the mysterious pyramids of ancient Egypt)
Duration: 40 minutes
An extraordinary journey to discover the pyramids of Saqqara, Meydum and the Great Pyramids of Giza
You will discover the?mysterious history of these monuments that have fascinated us for 5,000 years (Kheops, Khephren, Mykerinos, the Sphinx?)
Experience history from the inside Take the stairs and enter the Great Pyramids for the first time to explore the secret galleries and chambers
A fun and instructive experience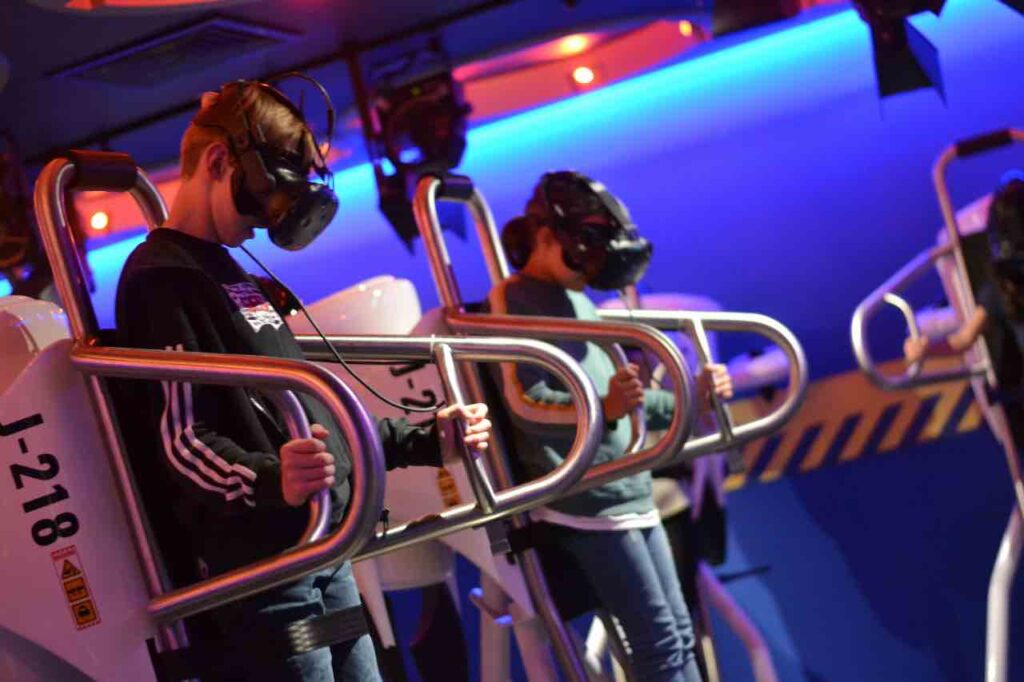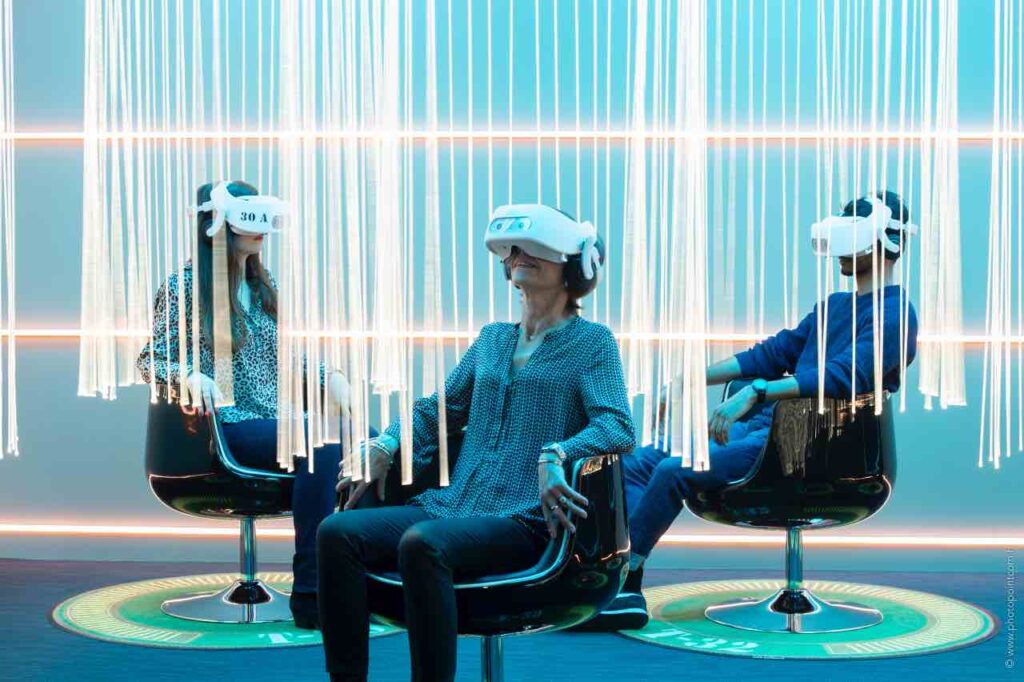 Receipt and validity of tickets
Once your payment has been made, you will immediately receive by email your codes to book your session
If needed, Contact us by email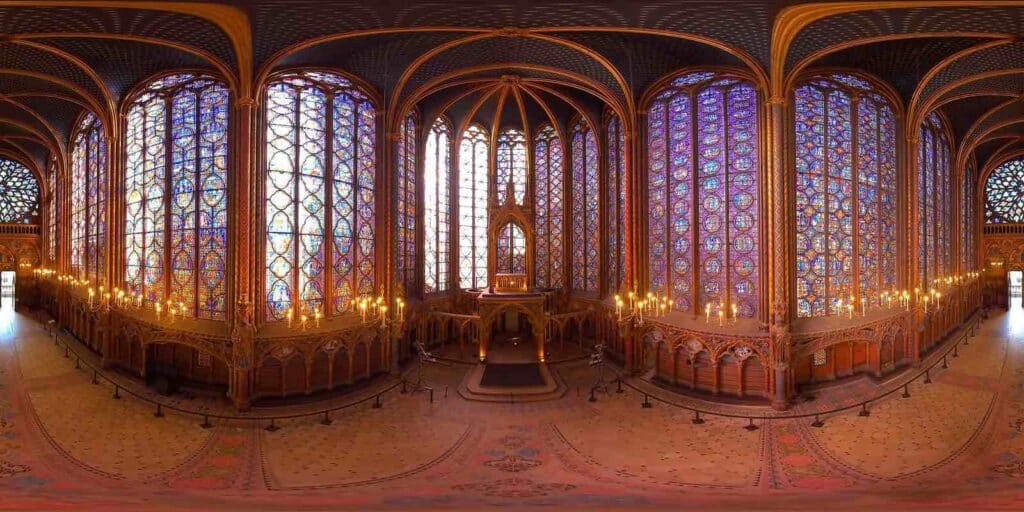 Find the list of our reviews
- Very nice!
Written by Agnès, on 07-03-2023
I took my 13 year old godson for his birthday. A perfect activity with a teenager (he had chosen the flight over Paris and Egypt). We will go back (at his request) to try other experiences.
- Overflight of Paris
Written by Régis Démoulins, on 09-01-2023
Very good experience. Sensations guaranteed
- A nice afternoon
Written by Brigitte Samama , 04-11-2022
It was cool ????????????
- FLYVIEW NOT RECOMMENDED
Written by NATHALIE MAUGEAIS, on 04-11-2022
Very poor quality experience. We had chosen Egypt and Hidden Paris. Egypt disappointing, nothing interesting and bad quality film, blurred. Hidden Paris ditto, blurred, filmed too close, lack of distance
- Overview of the monuments of Paris
Written by Patricia BEIGENGER, on 08-07-2022
Very nice experience but shorter than expected 25 minutes instead of 40 minutes. To be repeated anyway. The kids enjoyed it and so did we.
- Interesting
Written by Linda YAHIA BEY, on 11-06-2022
Good experience to do with your children. The only downside was that the session was short and the betting sites were only seen from the outside. Otherwise it was too good said my child.
- To be avoided!!!!
Written by Dimitri Morvan, on 28-04-2022
- I recommend
Written by Nadège GREMY, 23-04-2022
pleasant experience we will come back for the pyramids experience!
- Flyview activity
Written by Katia HANTZ, on 19-02-2022
The reservation through your site was not registered. And once on site we could not do the activity initially planned ... So no, we are not satisfied
- nice
Written by Harriett on 01-12-2020
the experience of feeling immersed in the landscape is pleasant. The quality of the image is a little less when you are used to HD
- Very nice. I wish it would have lasted longer
Written by Corinne Zaoui, 05-11-2020
Yes I recommend
- Nice experience with the kids
Written by laurent BRUNET, on 03-11-2020
beautiful attraction especially for the children Just 1 downside on the quality of the video that I found rather average. Considering the progress made in the last few years, one expects a different image quality. Nevertheless, I highly recommend this attraction.
- Good indoor activity with teenagers
Written by Veronique, on 02-11-2020
the activity is good, except for the fact that the films are blurred. I found it disturbing that I couldn't see clearly, it gave me a headache. My children (15 and 18) enjoyed it. The reception is very good.
- Nice and fun
Written by Sébastien MAURICE, on 28-10-2020
Yes, it is a very good family activity. Everything went very well.
- Nice activity to do with teenagers
Written by Anne Bertrand Tapon, on 27-10-2020
Fun flight over Paris with bonus. The instructor was a bit rushed in her explanations but I really recommend this activity.
- Great!
Written by CELINE DECHAUX, on 25-10-2020
Very good a little longer would have been even better thank you!
- AT THE TOP!
Written by Caroline Fabre, 07-10-2020
Everything was perfect? On the recommendation of the site we tested for the first time the incredible flight with the Bonus???????? Great We were in Paris for a weekend because of the cancellation of Rolland Garros. 2 adults with a 13 years old teenager we were looking for something fun to do. We discovered thanks to the website family in Paris. We made a reservation. We really loved it !!!! And we have recommended this activity to our friends and family in Paris. On our next trip to Paris we will come back to try the other adventures offered. We recommend you to 200% Caroline
- surprising and rich in emotions
Written by Karine-Marie MARTIN, on 11-03-2020
suitable for older children and adults. We took the complete offer, magic and we see things that we will never see in real. Nice staff. Lockers to put your things.
- excellent with my 8, 10 and 12 year olds who loved it. For my part, I was a little dizzy with the 3D sensations;
Written by Annabelle da fonseca, on 02-01-2020
no difficulty to book yes I recommend it.
- Enjoy your visit but...
Written by CHRISTELLE MOULIN, on 07-11-2019
Family ticket bought for Saturday 26/10: arrival on the spot around 1:00 pm, many people, next session proposed at 5:30 pm. Impossible for us, no refund offered. Fortunately, we were able to postpone to Sunday morning. The Flyview team was very nice and had to report the problem to Familinparis: impossible to guarantee a passage within 30 minutes as noted on your site! The family promo exists directly on the Flyview website and the possibility to book a time slot. Too bad, all the other visits purchased via your site went well!
- Lack of feeling
Written by laure martin, on 04-11-2019
Moderately polite reception. Should reserve time slots when purchasing online. Avoids bumping your nose and having to come back 2 hours later. Obliged to send the tickets to the hostess by email, incomprehensible. Very innovative experience
- Great souvenir
Written by Isabelle Riess, on 04-11-2019
Another very original way to discover Paris. Very moving to touch "so close" Notre Dame. A very nice souvenir for children and adults. To do and to recommend without hesitation.
- Very good experience of the flight over Paris
Written by Maureen GRANGIER, on 03-11-2019
No difficulties when booking. Arrived early because no reservation slot but no waiting. Very friendly and welcoming staff. Strong impression during the experience, the flight over Notre-Dame de Paris (with its spire still standing!) and the one inside the pillars of the Eiffel Tower are breathtaking! No flight over Montmartre....dommage! I highly recommend it!
- Nice without more
Written by FMab on 03-11-2019
The idea is extra, the flight over Paris a very good idea. Too bad everything goes too fast, the installation, the duration flight 15′. Even warned the quality of the image is very poor. There could be a little more sensation without it being a ride. If you manage to improve all this it will be WAOUH....
- Nice experience
Written by Sina Ardehali on 02-11-2019
I really liked it. The only thing that bothered me was really the quality of the images. Moreover, at times, it was a little too soft, too long on some monuments.
- Not bad
Written by Aude Bertozzi, on 01-11-2019
Long waiting period and a bit of a blur
- Good sensations
Written by Isa48, on 01-11-2019
Great to be able to fly over Paris and its monuments. The only problem is the quality of the images, too bad...
- Boring and unrealistic
Written by Hélène Renaud, 01-11-2019
We expect a nice image quality that we don't have at all, I thought it was more realistic in terms of image quality, no feeling on the device This activity could be great if the image quality was better and there was a little more feeling on the machine
Written by Enzo Nieri, on 01-11-2019
I recommend this activity
- Fun discovery of Paris
Written by olivier delpire, on 01-11-2019
Nice activity to do with children, combining sensation and discovery.
- Correct Experience
Written by Marie-Anne LOF, on 01-11-2019
Good experience. Can't wait for a better quality to do this activity again
- Nice
Written by Sophorn sar, on 01-11-2019
I recommend this experience. The only downside is the quality of the image and also too few monuments...
- Activity chosen at random and which in the end pleased both children and parents; good organization and superb staging. We will return there by taking the option of flying over the world in addition
Written by Emmanuelle DUFOUR, on 01-10-2019
To be recommended. Is it possible to reserve time slots via your website?
- great
Written by fabrice charlet, on 06-09-2019
Very nice and fun, to see Paris like this, with a drone. I recommend it and have already recommended it to my friends. Reservation on internet easy and fast. Very good reception
- Original but too short
Written by Isabelle A., on 02-09-2019
Very nice and original activity but too short duration
- No more.
Written by Monique M'bow on 02-09-2019
It was the 2nd time we did it, it was without more. Moreover the hostess who received us was very unpleasant because we had not printed our tickets, whereas it is useless to print them... in short.
- Strong sensations
Written by Virginie Durier, on 02-09-2019
Nice reception, staging also so that we have the impression that we are really going to make a tour in jetpack. For people who are afraid of heights, some parts are scary (the takeoff for example). I closed my eyes at times and my daughter took the helmet off once or twice. But it's still a very nice activity, some explanations are missing (we didn't know the name of some buildings along the Seine). I would definitely recommend it.
- tb but a little short
Written by ghislaine renoux, on 01-09-2019
TB but a little short
- an attraction that does not fully meet our expectations
Written by Cécile Beneux, on 01-09-2019
An interesting attraction, but rather short and with a quality of images that still needs to be improved. Coming from Poitiers, the home of the Futuroscope, we were disappointed.
- Good
Written by MALIKA BOURZINE, on 01-09-2019
Nice experience even if too short for my taste
- Good feeling of immersion but mediocre images
Written by Gilles NICOLAS, on 01-09-2019
Insufficient image quality Very limited sequences We would have liked to go up to the 3rd floor of the Eiffel Tower Notre dame sloppy Lack of variety of shooting angles Good sensations of height and immersion
- New and interesting activity
Written by PIERRE, on 01-09-2019
+ the concept is original and fun the welcome is friendly for us at least the waiting time was not very long - disappointed by the quality of the image, I thought it would be better and less "pixelated", even if we were warned that in the current state of technology we could not do better, at least for consumer helmets
- To be improved
Written by Cr, on 01-09-2019
The idea is good but the quality of the images is disappointing. We preferred the flight on the world, which was proposed to us with an extra charge and especially with the argument of a lesser waiting time!
- Great!
Written by Isabelle , on 10-08-2019
a moment of "vertigo" above Paris. A real pleasure even if it is not very long. Great to be able to fly over Notre Dame before the roof fire!
- Discovery
Written by Roger Le Dudal, on 09-08-2019
Relaxed atmosphere for a flight full of sensations to do again with pleasure Too short a time, we will come back without any problem Thanks to all the team
- wonderful
Written by EVA FROHLICHOVA, on 30-05-2019
I will highly recommend Flyview to my friends
- A great time of fun with my kids!
Written by Lucy Chen on 05-26-2019
Everything went really well. Especially the moment of the photos, a part of laughter between us
- A little disappointed
Written by FREE FREE, on 23-05-2019
Interesting for its historical aspect: the view of Notre-Dame before the fire. Otherwise, the attraction does not last long. The value for money is not satisfactory.
- very nice
Written by Edwige MICHAEL, on 09-05-2019
Very nice, to do with teenagers, professional reception, we see the monuments as we never saw them (filmed by a drone), In spite of a little average definition of the image I recommend without hesitation this activity
- great experience with my grandson
Written by sylvie dubois, on 07-05-2019
yes, I recommend this activity to all the grannies with their grandchildren
- pleasant flight over Paris
Written by Nicole AMIOT, on 01-05-2019
Disliked: The lack of sharpness of the images The choice of a British music to illustrate the views of Notre Dame de Paris The somewhat random order of entry into the theater (waiting for at least an hour) Plu : Close-up images of the Eiffel Tower and Notre Dame that one could not see otherwise
- Excellent idea but!
Written by Philippe, on 30-04-2019
Too bad the picture is a bit blurry from time to time!
- Nice family activity
Written by Paul Weiss on 04-30-2019
I did this experience with my 10 year old grandson. The "technological" side associated with a flight over the Parisian monuments is a motivating mix, especially at this age. Great success! However, my wife, who suffers from back pain, did not participate - and rightly so. Perhaps it would be possible to propose a "calm" option, where the jetpack movements would be deactivated...
- Flyview Paris
Written by Stephane Avenas, on 28-04-2019
Super activity well organized and well presented for a reasonable price The sensations and memories will be there Really good
- Even for the Parisians it is to be done! We see Notre Dame before!
Written by nicole Dacquay, on 22-04-2019
General friendly atmosphere. The staff is smiling, dynamic and available. It is a pity that the quality of the picture is not better but I appreciated to see more details of the obelisk and Notre Dame! It is worth it.
- Very v
Written by NICOLAS D'ASTA, on 20-04-2019
Lower resolution than similar activities at the futuroscope for example
- Nice
Written by Sophie Brycman , 03-30-2019
I liked it. My daughter did too. To do once
- Good for young children. Visual definition leaves something to be desired, the trip is short. 10 min Disappointing. Too bad because it's a good idea
Written by cecile Perraud, on 21-03-2019
Not really...
- Great activity. My 10 year old grandson loved it and wants to come back
Written by Annick Gaultier, on 15-03-2019
10/10
- Fun but needs to be improved because the image quality is average
Written by SOUAD LEMARCHAND, on 11-03-2019
Quality of the images to be improved No particular problem during the reservation or during the activity Not sure because activity time is too short
- Experience a visit closer to the monuments of Paris
Written by Danielle Busato on 10-03-2019
Courteous and well organized reception. Correct explanations beforehand. Original experience. Vertiginous sensation appreciated or not. Very bad quality of the images that hinder a little the visibility of architectural details that we would not see anyway from so close.
- well liked but a little expensive for the 15 minutes of change of scenery.
Written by DOMINIQUE BLOT, on 09-03-2019
nice service with an 18 year old, but a little expensive for the 15 minutes of change of scenery.
- Great experience!
Written by Fabienne Merelle, on 08-03-2019
Great experience for young and old alike
- Nice but we don't see all the monuments of Paris and for the price not very long
Written by marjorie DIVET, on 08-03-2019
Nice activity with children and teenagers, but really too short for the price Very nice welcome on site. And nice store
- Nice but we don't see all the monuments of Paris and for the price not very long
Written by marjorie DIVET, on 08-03-2019
Nice activity with children and teenagers, but really too short for the price Very nice welcome on site. And nice store
- In short, a little expensive for so few places
Written by Valerie , on 06-03-2019
the time passed very quickly, and there were not enough monuments (hardly 3 in Paris), I thought we were walking in Paris and not going from one point to another without visibility, same for the international... on the other hand the points of view are obviously very uninteresting because they are completely new! In short, a bit expensive for such a short time!
- Fun but it's a pity that the images are flux
Written by pascaline martinez, on 01-03-2019
The activity, the concept is top. It is just a pity that the pictures are not completely clear. We had booked via a tour operator without knowing it, so the information on the schedule was not complete and partly wrong. Nice activity to do with the kids.
- Fly over Paris
Written by david cortinovis, on 28-02-2019
Good activity but I find dmg not to be able to reserve the time slot and really the quality of the image is not at the rdv. For the rest very good with a friendly reception.
- I believe i can fly
Written by Thierry Cretaz, on 27-02-2019
Internet booking no problem. I recommend this original experience. I can't wait for a better quality of the image.
- No sensation but we spend a good time
Written by Nicole Bourgeat, on 26-02-2019
The film is not clear and no feeling. The only positive point is to discover the monuments seen from the sky. A little shot. At the end of the film, a rather pleasant photo session.
- Spectacular
Written by Christian Glaenzer on 12-02-2019
Very impressive, will be even more spectacular when the image is of better resolution.
- Nice
Written by Frederic Soler franquet, on 07-02-2019
Nice to do, too bad the definition of the image is not at the top.but it remains immersive.
- Disappointing
Written by Nathalie, on 18-01-2019
Too bad the quality of the image is poor. We are advised that the image is of lower quality because they are not synthetic images. I am disappointed with the quality/price ratio. A commentary on the monuments would have been a plus.
- Magical
Written by Conor sandrine on 18-01-2019
Emotion, a beautiful experience shared with my children. We really felt like we were there. We were summoned at 10 am while the doors open at 11 am. By passing by the site no information specifies that one can choose his slot of visit the day of his reservation in the opening hours. Yes I recommend!
- Good but blurred image
Written by CECILE LANCON, on 08-01-2019
Too bad to make us come for 10am when we live far away!! and that the opening is at 11am
- The quality of the images is very average but the concept is great!
Written by Nadège Hérisson , 03-01-2019
The quality of the images is very average but the concept is great!
Latest articles