At the Paris Opera, for children from 10 to 13 years old
For a birthday, family or association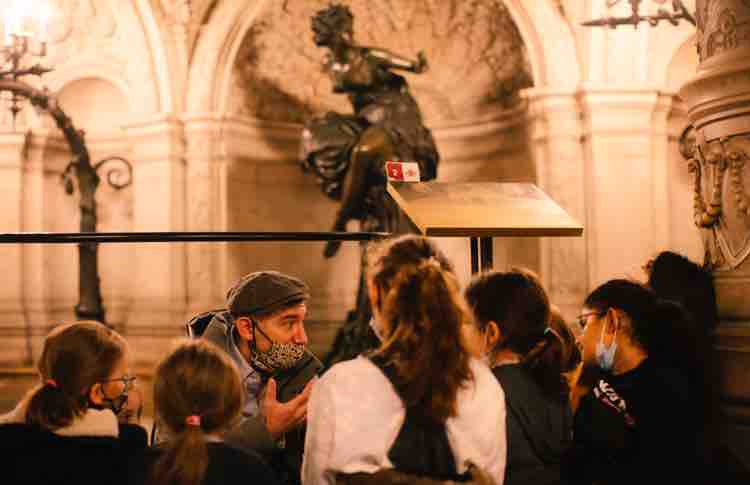 Rates and practical information
Formula S : 240? (up to 8 children and 2 adults)
Formula M : 270? (up to 10 children and 2 adults)
Formula L 300 (up to 12 children and 2 adults)
Each package includes two adult tickets (accompanying persons) for the Paris Opera
If there are more than two accompanying parents, they will have to pay an entrance ticket for the Opéra Garnier and inform the organizers in advance.
Duration : 1h30
The snack is not included in these packages if it is for a birthday
Tickets are ticketed so there is no waiting to get into the Opera House
Meeting place: on the steps of the Paris Opera House
Pitch of the "Shadow on the Opera" treasure hunt
A dancer was found dead in the Opera House. Strange facts lead us to believe that it is a murder. Moreover, only 6 people were present that night... We will have to untangle the true from the false, to find the guilty among the innocent... So, let's make way for action!
Our opinion A playful visit in the superb Paris Opera, a speech adapted to the young public, the discovery of one of the most beautiful monuments of Paris. A tour designed and thought for children!
Find the list of our reviews
-
Written by Cidalia, on 22-01-2023
Today's visit was a success, Despite the confusion about what luggage was allowed, you were responsive and professional. We have recommended you to the families, some of whom have already called on you
- Excellent animation
Written by Severine, on 27-04-2022
Very good experience. Activity that the children enjoyed a lot. Fun and amusing at the same time. We must emphasize the quality of the animator who knew how to captivate all the participants. I recommend it.
- Very nice experience!
Written by Ieronim MOLNAR, on 26-01-2022
It made us want to return even as adults!
- Great! Perfect organization and animation!
Written by Aurélie DE CORMIS, on 19-01-2022
Everything was impeccable from start to finish. A big thank you! Our daughter's birthday party was a huge success!
Other birthday treasure hunts