A place full of history, a beautiful view of Paris
(free for -18 years old and -26 years old EU citizens)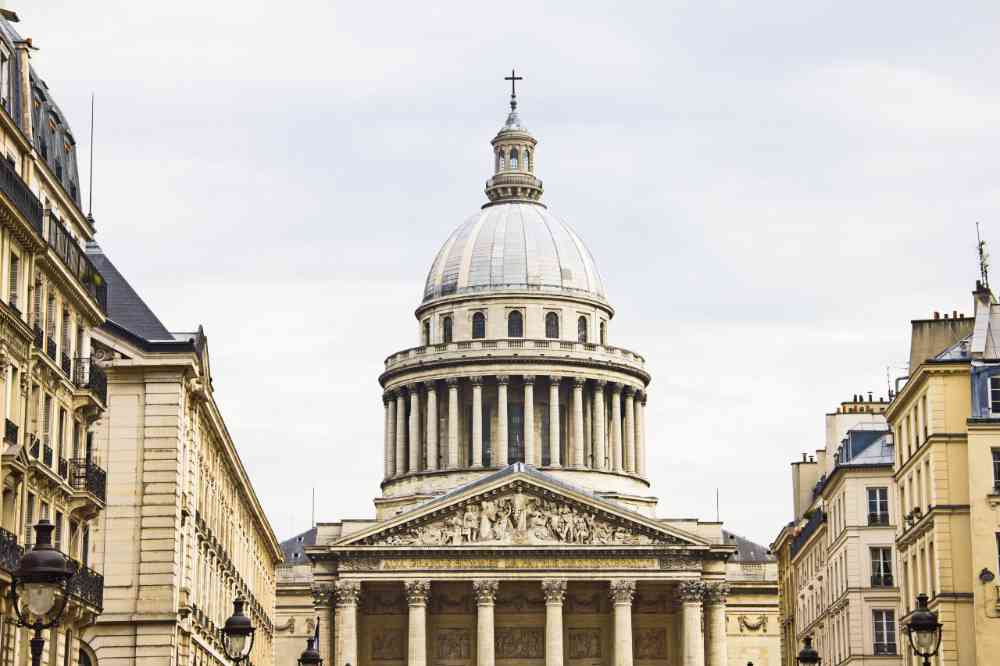 The visit of the Pantheon
It is monumental ! This masterpiece of the architect Soufflot, built between 1764 and 1790, was originally a church intended to house the shrine of St. Genevieve.
Freshly restored, it imposes by its height, by its proportions. The crypt and its maze of white stone corridors sheltering the tombs offers a strange stroll that commands respect.
The Pantheon is intended to honor great figures who have marked the history of France.
The Foucault pendulum, installed in the heart of the Pantheon, under the dome is the material proof that the earth is moving. A science lesson to explain to children. Exciting !
In the crypt, large panels, very educational, retrace the lives of some of them.
The booklet for children
A booklet "Discovery trail", is proposed to children from 7 to 11 years
Through games and puzzles, children identify the symbols of Christianity and go in search of famous men.
Remember to ask for it at the entrance. It is free of charge.
I take advantage of 10% discount on Duo offers
A very nice view of Paris
The panoramic view from the dome is the 3rd most beautiful view of Paris.
The dome of the Pantheon is accessible from April to September.
Access to the dome is accompanied by an agent of the monument. Departures take place approximately every ½ hour.
Attention, it is necessary to climb no less than 206 steps to get there (35 meters high)
Count € 2 in addition to the ticket price.
A little history
The Pantheon Tour is a great way to remind children (and teenagers) the great characters who have marked our history : Voltaire, Jean-Jacques Rousseau, Victor Hugo, Sadi Carnot, Emile Zola, Jean Jaurès, Jean Moulin, Jean Monnet, Pierre and Marie Curie, André Malraux or Alexandre Dumas, Germaine Tillion, Pierre Brossolette ...
Men or women of letters and sciences, philosophers, political figures, resistant during the war ... These great personalities buried in the crypt drew the face of our national identity.
Did you know ?
Only 5 women rest in the Panthéon (Sophie Berthelot in 1907, Marie Curie in 1995, Germaine Tillion and Geneviève De Gaulle-Anthonioz in 2015, Simone Veil in 2017) for 72 men!
What to do with your family in the 5th district ?