From 6 years old
Family, private, school and extracurricular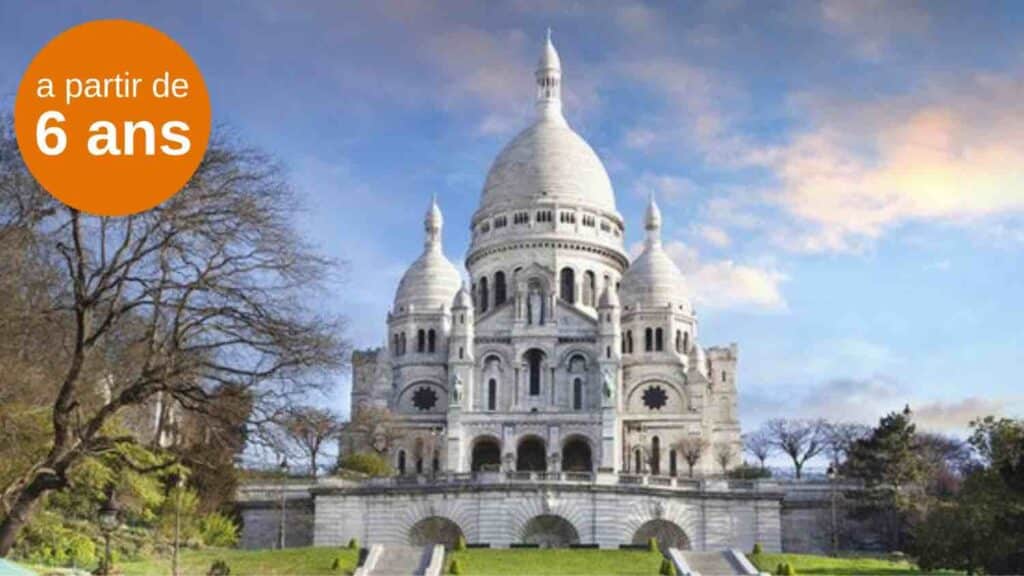 The playful visit "Tell me about Montmartre
Let's go together to the heart of this Parisian village a great place for artists. From Saint Denis to the wall pass of Marcel Aymé, Passing by Boronali and its Lapin Agile, the place Emile Goudeau meeting place of the hydropaths without forgetting of course the mill of the Galette, the vineyards of Montmartre or the rue de l'Abreuvoir.

Your children will discover, during this fun tour, full of stories and anecdotes really very surprising But who is hiding behind the intercoms next to the Ciné 13? Van Gogh, Picasso, Rodin ? But they are dead ! And what is this "10 downing street" ? we are not in London though ? Montmartre has its own water tower ? But how does it work ?

An original walk for the whole family in a district that conceals secret corners and anecdotes on the history of Paris absolutely fascinating!
Rates and information for scheduled visits
20 to 22 participants maximum per visit
duration : 1h30
Meeting place : Abesses metro station
This visit is animated by a guide speaker
An adult seat is necessarily associated with a child seat.
Weather : visits are maintained even if it rains slightly
Held at Wear comfortable shoes (like sneakers). And don't forget water bottles, hats and glasses if the weather is very nice.
Visit in French
Privatization
Who is it for? : school, extra-curricular, birthday, family privatization...
Rate From 250 euros per visit
Increase of 20% on Sundays and holidays
Number 25 people max (adults and/or children)
Visit in French or English
Animated by lecturers
Schoolchildren suitable for cycles 3 and 4
Find the list of our reviews
- VIsiteVery interesting
Written by annick blaisonneau, on 29-10-2023
Yes I will order
- thank you! wonderful experience
Written by marie-julie 75015, 11-10-2023
wonderful day and a guide with exemplary patience for children and parents ... thank you very much.
- Very nice experience
Written by Glowinski Elisabeth, 03-10-2023
Visit made last Sunday with 2 children aged 7! A great experience, interesting and adapted to a young audience: I highly recommend it.
- Very nice visit
Written by Marilyn MAURELLI LUDMANN, 27-08-2023
Nice tour of Montmartre with Natalina. We got off the beaten track, and that was very much appreciated. Anecdotes, history, a good cocktail to captivate young and old alike. It was sometimes a little difficult for the children to follow the explanations, but it will echo what they'll learn later at school. Thank you Natalina
- Very nice visit
Written by Khara ELIADIS, 22-08-2023
Very pleasant, friendly and dynamic guide. Curiosities and other details well explained and in a fun way. We recommend this tour 😉
- Fun activity in Montmartre
Written by Laura Rouquette, 12-08-2023
A pleasant, fun activity, interesting for young and old alike. The ride is done at a leisurely pace and allows children to participate.
- Enjoy your visit
Written by Karin Lang, 03-08-2023
The whole family loved the visit. The children really enjoyed the treasure hunt. We really enjoyed the walk, the stories, the anecdotes and the street art. The tour guide was excellent.
- SUPERB VISIT ... A MUST
Written by Véronique CAILLOCE, 27-07-2023
Our guide Pauline was brilliant and passionate. We discovered Montmartre in a superb way. It was very interesting and exciting for my son. I totally recommend this experience.
- Delighted with this shared moment
Written by Sophie Legentil, 27-07-2023
I highly recommend this activity. Very suitable for children. The guide was very cheerful and pleasant... perfect.
- Interesting discovery of Montmartre
Written by Agnès Abback, 22-07-2023
My granddaughters loved it. Yes, I would recommend
- Great visit
Written by AUDREY RATTE, 22-07-2023
Dynamic and highly competent
- Very interesting visit
Written by Mickael, 22-07-2023
What we liked best: the rediscovery of the neighborhood and the anecdotes. No particular difficulties. Yes, we recommend it without hesitation. We also really enjoyed the visits to the Opera and Orsay.
- Great visit to Montmartre!
Written by Vlaire Claire GAÏERO , 07-07-2023
We had a great time in Montmartre. The guide, Marie, was very friendly and smiling. She told us lots of anecdotes, and made the tour fun and lively for the kids. All the best!
Nice also on the side of Montmartre...