WE love
: Brilliant, breathtaking, ruffling, cheering
Age : 
from 12 years
Date: 
until 17 January 2021
Location: 
 Theater of the Royal Palace (Paris 1st)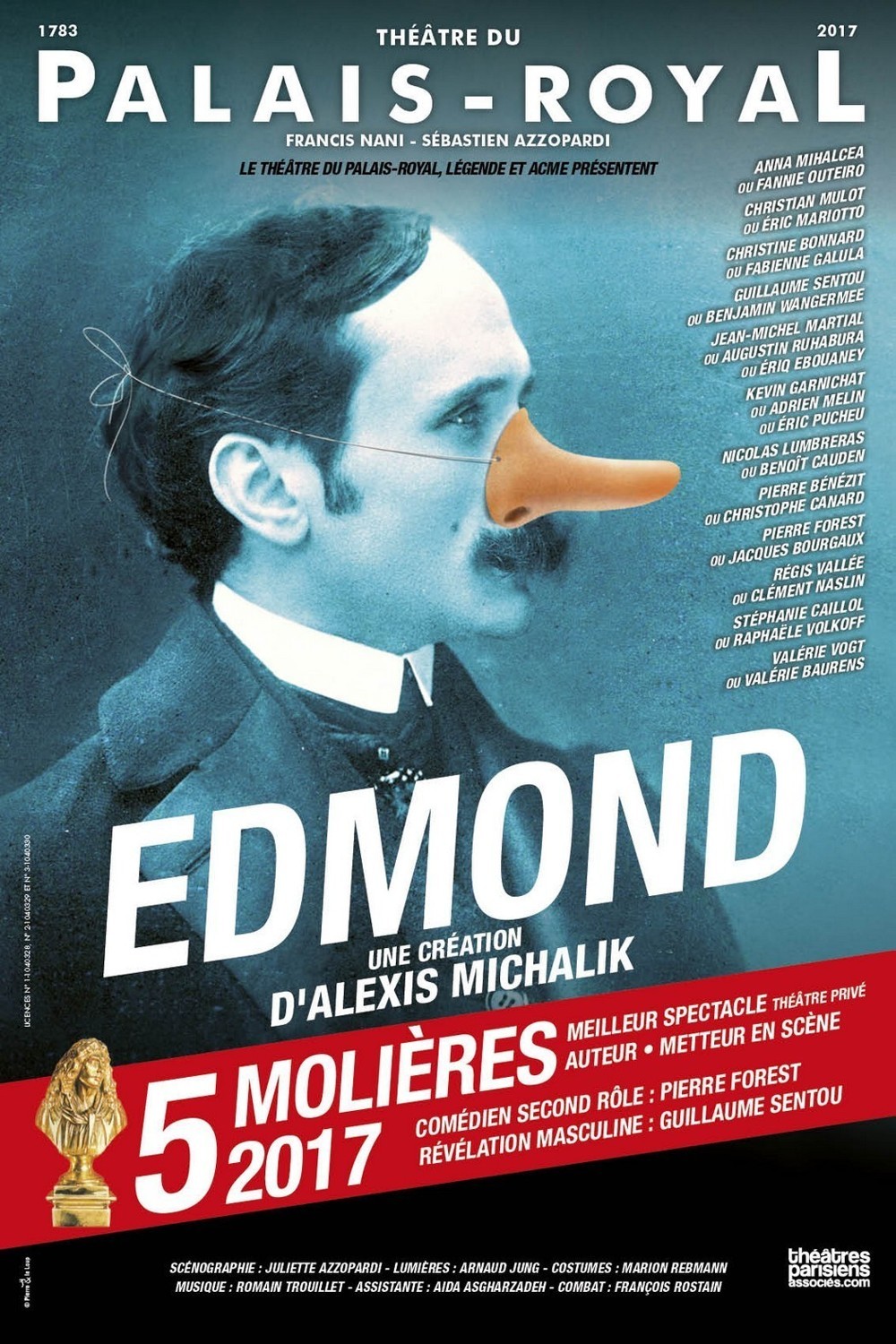 Edmond, the brilliant play that makes you happy
Edmond, Alexis Michalik's latest success story traces the creation of "Cyrano de Bergerac".
The play imagines the crazy days in which young Rostand (29) composed Cyrano de Bergerac in record time.
Based on real facts, imagining the rest, Michalik with Edmond, describes how indebted and uninspired, Edmond Rostand, manages to convince the illustrious Constant Coquelin to play in his next piece which he has only the idea, a few lines and a title: "Cyrano de Bergerac".
The piece borrows from all genres : cinema, soap opera, television, comics, boulevard and mixes the authentic and the fictional with a devilish skill and a pretty sense of lies.
We meet in Edmond, Sarah Bernhardt, Feydeau, Labiche and even Ravel! The paintings are linked with a speed, an efficiency that cut the breath.
Taken by intrigue, one laughs, one is moved, one is exasperated, just as before Cyrano de Bergerac.
Edmond is a joyful comedy, virtuoso and full of good words. The actors are happy to tell their story, and the audience is delighted to hear them.
12 actors on stage to interpret more than 30 characters. It's brilliant and full of panache. "Amazing, ruffling, cheering ..." says the unanimous press. Edmond won 5 Molières in 2017, including the French author Molières, the director of the private theater, and the best private theater show.
Alexis Michalik, the new prodigy of French theater?
Alexis Michalik, a young author today very well known, has a style of his own.
He stages mise en abimes thanks to sophisticated and vertiginous stories, crazy stories but always a little true. His virtuosity in the service of history and stories brought to the theater a young audience eager for emotions and furious narrations.
His three pieces "The Bearer of History"," The Circle of Illusionists "and" Edmond ", are built on the same principle. Stories that fit together to tell a story inspired by history! "I'm wearing a story. I crossed the road of a story so incredible, so extraordinary that it changed my life, it became my life. "Thus began, in 2012, the first piece of Alexis Michalik, a formula announcing many stories to come. A recipe perhaps, but which meets each time its audience and success.
Each of his 3 pieces have won several Molières.
See the trailer of the show