3 cruise packages on a panoramic boat
A lunch cruise or a dinner cruise on the Seine with an exceptional view of the monuments at the foot of the water: the Eiffel Tower, Notre-Dame, the Louvre, the Conciergerie, the bridges of Paris... The menu is of high quality and the service impeccable. A magical moment of day and night to share with family and friends.
INFORMATION ON THE LUNCH AND DINNER CRUISES OF THE BATEAUX-MOUCHES :
The departures are made at the pier of the boat-mouches on the Alma bridge (right bank). Cabs can drop off passengers directly at the boat, on the quay. See the practical information .
Attention, the Compagnie des Bateaux-Mouches requests that the guests wear a correct outfit. Thus, people wearing sportswear, flip-flops, Bermuda shorts or caps are not allowed on board the boat. The management reserves the right to refuse access to the boats out of respect for its guests.
Free parking on the pier, Within the limit of available seats
Frequently Asked Questions
Is there an easily accessible parking lot? Yes, the Compagnie des Bateaux-Mouches provides its customers with a parking lot on the quay. It is free of charge for the duration of the cruise.
Is access easy for people with reduced mobility? Yes, the Bateaux Mouche welcome people with reduced mobility. Please note that the access to the sanitary facilities on the boats is by stairs only.
Can we smoke on board? No, the boats are non-smoking, but it is possible to smoke on the outside terrace of some of the restaurant boats.
Can we come with his dog? No, no animals are accepted, with the exception of guide dogs.
Is the ticket refundable? Reservations can be cancelled up to 72 hours before the date of the cruise and give the right to a refund. In case of cancellation between 72 hours and 24 hours before the date of the cruise, a change of date is possible within a maximum of 6 months and according to the availability of the Compagnie des Bateaux Mouches.
How does my e-ticket work? It is sent by email. It must be printed and presented at the Bateaux Mouches reception.
ALL CRUISES ON THE SEINE :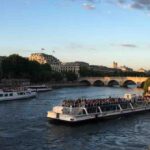 The circuit of the cruise in Bateaux-Mouches (7 days a week) Take the boat for a cruise on the...