A guided tour in the evening by scooter to admire Paris in a different way
So nice with teenagers!
Departure at 8pm - Duration 2 hours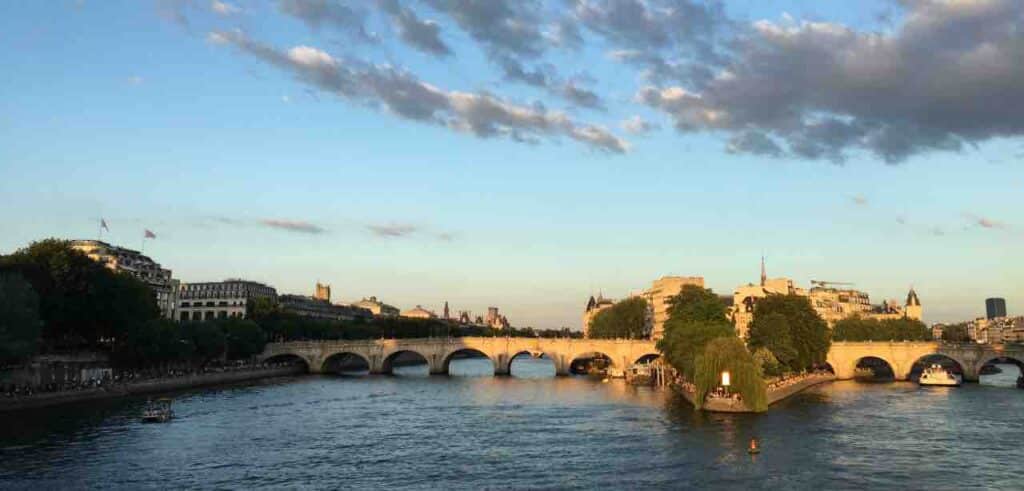 The guided evening ride on an electric scooter
It is a stroll in Paris at nightfrom 2:00 a.m. (including initiation) in electric scooter, with a professional facilitator
A original, fun and ecological activity: we love it!
In our opinion, this is a ideal outing with teenagersa way An unusual way to visit Paris in the evening and have fun
The course of this night walk is superb. Paris by night, it's simply magical!
You discover Paris and its monuments illuminated . During your 2-hour walk, you see (even from a distance?) Notre Dame de Parisyou pass through the courtyard of the Louvre Museumyou walk along the Musée d'Orsaycross over. the Place de la Concorde, the Alexandre III Bridgego ahead. the Grand Palaisthe Pont de l'Alma with a breathtaking view of the Eiffel Tower
It is very fun and easy. We all know how to ride a scooter. The guided tour starts with a initiation for beginners. Next, a little reminder of the instructions and main rules of the road to respect for your safety
This night scooter ride is not only fun but also cultural,. thanks to the anecdotes and historical reminders given by the host
Reduced rate on the walk from 2 reserved places
Practical information
Every evening at 8pm for the summer schedule
Minimum age and weight requirements for children 12 years old and 30kg
It is recommended to arrive 5 minutes in advance. Attention, in case of delay, the group will not be able to wait for you and there will be no refund.
In case of heavy rain (or snow), the walk will be cancelled and postponed (or refunded)
Group of 8 people max. + 1 professional animator (at least 2 people are required for this activity)
Departure / arrival : Hôtel de Ville district (in the 4th district)
Material and equipment provided : electric scooter, helmet and cap, protections
Attention ladies! No heels and not recommended if you are expecting a happy event
Terms of receipt and validity of tickets
You pay a deposit of 20% online. The balance will be paid directly in the store, the day of your walk. The payment in the store is done by credit card, cash and for the town halls by administrative vouchers
Once your payment has been made, you will immediately receive an email with the following information a voucher to be presented during your ride (no need to print it if you have a smartphone)
Tickets are valid for the day and time chosen at the time of purchase. They can be changed in consultation with the organizer.
The tickets are neither cancellable nor refundable, except for weather conditions that do not allow to make the walk
If you do not receive the voucher, please check your mailbox (including your junk mail box because of the many spam mails). If the voucher is not in your mailbox,Contact us by email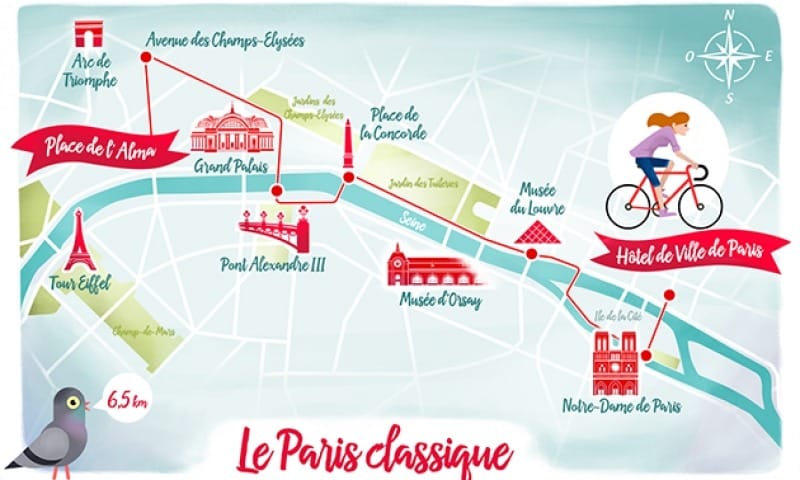 Find the list of our reviews
- Very good moment
Written by Delphine LAMOUR , 19-03-2023
Very nice night out with a very nice young guide. I recommend
- great
Written by Gwenael Battistoni, on 21-02-2023
guided by Mohamed, this escapade was great. thanks again to him, he knows his subject and is very nice. I highly recommend? See you next time of course. Gwen
- Fun family activity
Written by IVA Tsvetkova, on 11-01-2023
Highly recommend this activity, especially for families with teenagers. The guide was helpful, funny and shared some interesting information about history of the city. Getting used to the scooter took some time for me but overall was one of the best experiences while visiting Paris.
- To do
Written by Bénédicte CHENE, on 01-12-2022
Nice to discover the city by night No worries about booking, guide on time. Adapted intervention
- Disappointing
Written by Caroline Clip, on 13-08-2022
Dangerous guide and not qualified as a guide, can't stand being asked questions. He puts himself forward to the detriment of the safety of the group in his movements, bad example for the teenagers,? he gave a finger of honor to other road users in front of all the customers, he gives explanations with a chewing-gum in his mouth and doesn't hesitate to chew it with his mouth open while giving his explanations? recited a text learned by heart without articulating and very quickly, in short, not up to the level of the proposed service (quality/price ratio) Departure 30? late, everyone was present and scooters without brake for some. Otherwise great course and therefore great potential for this activity but there is still work to do!
Reply from FamilinParis
Written by Familin'Paris Team
Good morning, Mrs, We are sorry about your failed experience. We do not understand what happened. Indeed, we have transmitted your remark to our partner. He is very surprised because the animator in charge of your group is always very appreciated by the customers and very respectful towards all the participants.
- A memorable evening for the whole family
Written by Genevieve Dumas, on 12-08-2022
Jerry was our guide. He was really great. Funny, friendly, dynamic, lively and a good storyteller, he made us discover Paris in a different way. Do not trust the meeting place which seems doubtful, nor the delay (we left 30 minutes late). We got our money's worth. It was supposed to last 2:00, we enjoyed it for 2:30! An evening that the whole family really enjoyed!
- Unusual outing in Paris by night : To do!
Written by Céline BOUTEILLER , 09-08-2022
We had a great time with our son! A very fun and accessible way to rediscover Paris and its monuments, at sunset. The anecdotes of the guide are very appreciated. Icing on the cake: the illumination of the Eiffel Tower at 10pm just before going home! TOP! Thank you for this good moment ?
- Shameful!
Written by Gerard Deray, on 08-08-2022
I booked online and paid 10? per person thinking it was a simple and cheap activity. A cool thing. I then received an email telling me that it was 50? per person to be paid on the spot at the meeting. Needless to say, I did not go to the meeting. In short, 20? (2 people) in the trash because I really don't have the time to claim... It's not the price that makes me angry but the method that consists in taking 10? by charging in advance without warning that the total cost is 50? per person. It's totally stupid and dishonest. The worst thing is that if I had known, I might have booked the activity anyway, but at least I wouldn't have felt like I was being made fun of... to keep it polite. To be avoided
Reply from FamilinParis
Written by Familin'Paris Team
Good morning, sir, We are very sorry for this misunderstanding. On the website we indicate that it is a deposit and that the balance is to be paid in store. We specify that the total price is 50 ? per person. We try to be very clear on the price because it is not a question of taking the customers by surprise contrary to what you think. We take note of your remarks and we will try to write better the product sheet in order to be more clear on the final price. Concerning the price, it is explained by the fact that this activity consists in the visit of Paris by scooter during 2 hours in the evening with a guide. Sincerely
- Great activity with an interesting guide, who adapts to his public and full of anecdotes making the walk nice !!!! Don't trust the first impression with the start in an electronic cigarette store! Great activity to do with the family! It's a great activity to do with the whole family!
Written by Aline, on 05-08-2022
Yes really!
- Correct but expensive
Written by xxxxxxxxxxxx, on 04-08-2022
Going to a vape store is strange. The scooters have experience, some a little too much!
- A nice way to see Paris
Written by Sophie Armes, on 20-07-2022
We really enjoyed our visit to Paris with Mohamed. A very nice way to walk around with teenagers!
- Output 100% fun
Written by Jeanne , on 27-06-2022
A big thank you to the two animators who made us spend a great time to my son and myself. We loved this outing! We had information on the main monuments of Paris and especially we had a good time. Thanks again.
- Awesome
Written by Séverine P, on 26-06-2022
Paris by scooter at night, I was apprehensive. But that was without counting our great guide Moha. A young guide with impressive knowledge and anecdotes about every monument in Paris! My 15 year old daughter and my 18 year old niece loved it. I highly recommend it! I hope you have the chance to have Moha.
- Great
Written by Sophie Née, 24-04-2022
At a great time
- Jerry is a great guide!!!
Written by Laura-Louna-Clara, on 21-04-2022
We recommend this activity, Jerry is a fabulous and passionate guide, he has many anecdotes to make us rediscover Paris. The time of the tour and the stops at the monuments to take pictures are appropriate and met our expectations. We highly recommend this tour. Thank you Jerry!!!
- GOOD BUT WHAT A PITY ...
Written by FREDERIC DUGUAIT, on 20-04-2022
Good idea unfortunately we were with Irish people and so we spent double time on the explanations. First in French and then in English. What a pity, especially since we had two guides. It would have been better for everyone to have a French tour (3 of us) and an English tour (3 of them). This unfortunately spoiled our excitement especially considering the rather excessive price. As for the rest of the reservations ... it was good and of course I would recommend this tour hoping that the agency does not make this mistake again.
- Great activity
Written by ISABELLE, on 22-03-2022
Our guide, Gerry was very nice. Varied and interesting comments on the history of Paris in all eras. Historical and people information...a good mix. Only one small drawback: be careful with the traffic, at night on the bike paths this activity can be a little bit impressive for people not used to urban bike travel...We loved it!
- GREAT!!!
Written by PHILIPPE TRAVERS, on 22-01-2022
Walking in Paris by night in a trolley: a great experience No difficulty to reserve And we had 1 great guide Jerry We recommend to 100%
- Jerry very good
Written by WENDY SOHET, on 11-01-2022
Very very nice tour and the guide, Jerry was great!!! Just a little expensive.
- Nice little adventure
Written by Steeve Bossé, on 30-11-2021
We were lucky to be only 3 for this illuminated journey. The handling of the scooter is fast. We strolled in a secure way and at a suitable pace to enjoy Paris by night. Our young guide did the job. He took us on a fun, playful and illuminated adventure. Everything was easy from the reservation to the end of the activity. I highly recommend this experience especially with teenagers.
- Convivial and friendly
Written by Thierry Leon, 16-11-2021
At first, a little surprising to find ourselves in a store of electronic cigarette for our tour. But very quickly, we liked the relaxed spirit of the visit. A very nice student to take us and tell us the anecdotes and the main things to know about our monuments. I highly recommend with teenagers to combine fun activity and monuments
- Very fun experience
Written by Estelle PERRET, on 09-11-2021
What we liked was the quality of the support Displeased RAS
- Great activity
Written by René Paysan, on 03-11-2021
Very good way to discover or re-discover Paris and its monuments. The scooter ride is accessible to all, very good atmosphere, the guide and the accompanying persons are very nice. I recommend it.
- Nice experience
Written by Karine, on 02-11-2021
Very enjoyable and fun outing for the kids. Our guide was not stingy on the time nor on the comments of the sites visited. I have never been on a scooter before and I loved it. I recommend this fun and original activity.
- Experience to recommend
Written by Olivier, on 18-09-2021
Very nice tour in Paris by Night with a young and very friendly guide. The teenagers and the parents loved it. The only drawback was the quality of the scooters compared to the models available for rent in Paris. This point deserves to be improved for this activity to be perfect. To be recommended. OL
- A great Parisian experience with an incredibly kind guide
Written by Christine , on 18-09-2021
Yes, with the objective of having fun in an exceptional setting
- Fun visit, teens love it
Written by Carole Lavigne, on 14-09-2021
A big thank you to our guide Gary and his sidekick who made this visit fun and amusing, punctuated with anecdotes and smiles as a bonus!
- Top top top
Written by Moncef Belkhayat, on 08-09-2021
Yes
- Superb trip
Written by Sylvie GRENIER, on 14-08-2021
To be recommended! Simply magnificent visit and extremely friendly guides ????
- Super well organized, fun and very entertaining. The guides are very friendly
Written by Laurent Labadie, on 12-08-2021
Yes, I recommend it very much, you feel comfortable from the beginning and the material is of good quality.
- Electric scooter at night
Written by Christelle Luther, on 14-10-2020
Great experience, the tour was great especially at night The guide and his trainee explained us well the architecture of the buildings and the emblematic monuments of Paris Nevertheless, the price remains high for young people like us.
- Atypical and magical visit of Paris at night!
Written by Valerie , on 25-08-2020
Great family outing, appreciated by parents and teenagers. Fun tour, with historical information and anecdotes at each stop. Magical night tour of Paris. The price may seem high, but it is worth it! Easy to handle scooter, accessible to all. I recommend to 100%.
- Paris fun on wheels
Written by Laure Sadoune , 23-08-2020
Relatively faulty organization, delay, missing equipment, scooter in very average condition with wobbly handlebars, but very nice welcome at the store and very professional and very nice guide, very pleasant tour, ends at night, it's beautiful. Scooter : fun and not tiring side of the ride on many secure bike paths
- Very nice atmosphere
Written by Natacha Nabal , 04-08-2020
To do with our teenagers who have trouble leaving their rooms! Learn in a playful and original way the history of the main monuments of Paris.
- Nice guide, good mood, pleasant. Pleasant walk. Very few anecdotes about the monuments or explanations. My teenager enjoyed herself. That's the main thing. Maybe a little expensive in the end, but hey, we are on Paname ....
Written by Ma, on 25-07-2020
To be done once
Our latest articles