From July 17 to September 12, 2020, from 9 pm to 1 am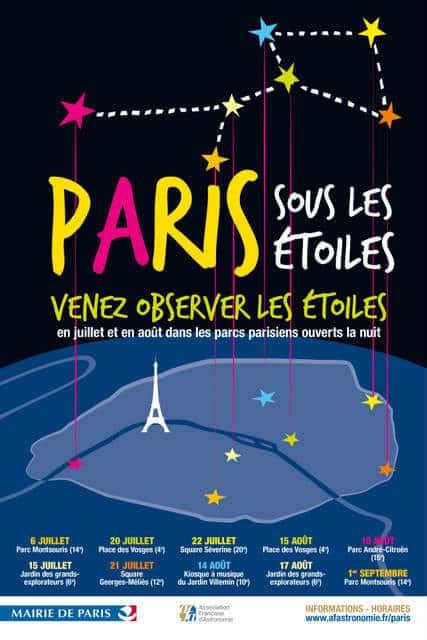 WE love : stargazing in the mild summer
Free: for everyone
When: from 17 July to 12 September, from 9 pm to 1 am (17 dates scheduled)
Location: in 11 Parisian parks
THE EVENT "PARIS UNDER THE STARS"
The French Association of Astronomy (AFA) organizes stargazing evenings during the nocturnal the occasion of the Parisian parks nocturnes
In 11 Parisian parks, open exceptionally until a late hour with 17 scheduled dates
The event is free
The animators (skywatchers) will make you discover the planets, their colors, their position. They help you to identify and locate different constellations.
They will be equipped with glasses and telescopes
A very family event which should please your children. Don't forget your binoculars and your little wool because evenings can be cool.
CALENDAR OF PARIS UNDER THE STARS
Friday 17 July 2020 at Square Séverine (20e)
Saturday 18 July 2020 at Parc des Buttes-Chaumont (19e)
Friday, July 24, 2020 Parc Montsouris (14th)
Saturday 25 July 2020 at Square Louis XIII, Place des Vosges (4th)
Tuesday 28 July 2020 at the Parc André Citroën (15e)
Friday, July 31, 2020 at Square Georges-Méliès (12th)
Saturday 01 August 2020 at Square Louise Michel (18th)
Friday 07 August 2020 at Parc Montsouris (14th) on the occasion of the Nuits des étoiles
Sunday 09 August 2020 at the Jardins d'Eole (18th) on the occasion of the Nuits des étoiles (Night of the stars)
Friday 14 August 2020 at the Parc André Citroën (15e)
Saturday 15 August 2020 at Jardin Villemin (10th)
Thursday, August 20, 2020 at Parc de Belleville (20th)
Saturday 22 August 2020 at Square Louise Michel (18th)
Sunday, August 23, 2020 at the Jardin des Grands-Explorateurs (6th)
Tuesday, August 25, 2020 at Belleville Park (20th)
Thursday 27 August 2020 at Parc des Buttes-Chaumont (19e)
Saturday 29 August 2020 at the Jardins d'Eole (18th)
Saturday 12 September 2020 at Parc Montsouris (14th arrondissement), preceded by an afternoon of sun observation as part of the as part of the Fête des Jardins
All the practical details of the "Paris under the stars" evenings