July 8 to September 2, 2023
- FREE -
WE love : stargazing in the mild summer
Free: for everyone
When: July 8 to September 2
schedule from 10 p.m. to 1 a.m. in July and from 9 p.m. to 12 a.m.-1 a.m. in August and September 9 p.m. to 1 a.m.
Location: in 15 Paris parks
THE EVENT "PARIS UNDER THE STARS"
The French Association of Astronomy (AFA) organizes star-gazing evenings during Parisian night-time
In 15 Paris parks, open exceptionally until a late hour with 20 dates scheduled
The event is free
The animators (skywatchers) will help you discover the planets, their colours and their position. They will help you to identify and locate different constellations.
They will be equipped with glasses and telescopes
A very family event which should please your children. Don't forget your binoculars and your little wool because evenings can be cool.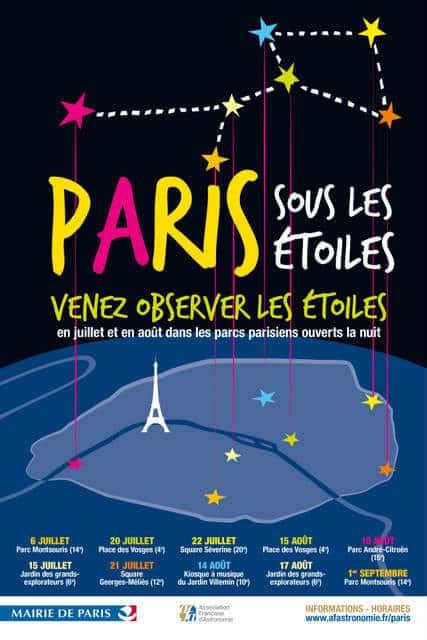 The program for Paris under the stars Edition 2023
In July
Saturday, July 8 - Square Séverine 20th
Thursday, July 13 - Parc Monceau 8th
Saturday, July 15 - Parc de la Butte Chapeau Rouge 19th district
Saturday, July 22 - Parc André Citroën 15th
Sunday, July 23 - Chapelle Charbon Park 18th arrondissement
Friday, July 28 - Square Georges Méliès 12th
Saturday, July 29 - Jardin des Grands Explorateurs 6th
Sunday, July 30 - Parc Martin Luther King 17th
In August
Friday, August 04 - Jardins d'Eole 18th
Saturday, August 05 -Jardin du Ranelagh 16th
Friday, August 11 - Parc Montsouris 14th - NDE
Sunday, August 13 - Square Louise Michel 18th - NDE
Saturday, August 19 - Jardin Villemin 10th
Sunday, August 20 - Square Séverine 20th
Friday, August 25 - Square Georges Méliès 12th
Saturday, August 26 - Place des Vosges 4th
Sunday, August 27 - Parc des Buttes Chaumont 19th arrondissement
Wednesday, August 30 - Jardin Shakespeare 16th
In September
Friday, September 1 - Allée Royale Bois de Vincennes 12th arrondissement
Saturday, September 2 - Parc de Choisy 13th arrondissement
All the news in Paris this summer