Free concerts on the forecourt of the Paris City Hall
July 3, 4 and 5 from 5 pm

WE love
: 3 days of free and open-air concerts with big names in music



Age : 

for teens


When: 

the 3rd, 5th and 5th of July from 19h


Location: 

Square of the City Hall (Paris 4th)


Rate : 

Free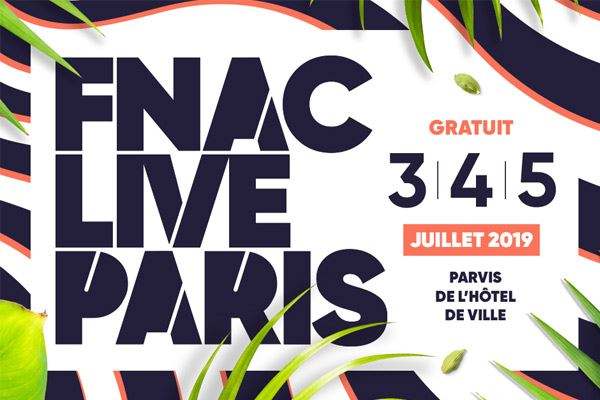 Fnac Live Paris: thirty free concerts
For the 9th year in a row, the Fnac Live Paris festival welcomes great artists for 3 days of concerts on the forecourt of the Hotel de Ville and in the salons of this one
It's free, subject to availability
For concerts on the forecourt, no reservation. Try to come early!
For concerts in the salonson the other hand, it is necessary tostretch his invitations in the ticket offices of Fnac Paris and Ile-de-France from July 2 to 12 (2 max invitations per person).
It's 100% free and open to everyone
Attention, for security reasons, the metro and bus access on the forecourt side of the Town Hall will be closed.
PROGRAMMING WEDNESDAY JULY 3, 2019:
Scene of the Parvis
17h00: Place aux Indés! Label Pias
18h00: DELGRES
7:00 pm: RADIO ELVIS
7:45 pm: LÉONIE PERNET
20h10: GOOD ENTENDEUR
9:05 pm: SUZANE
9:30 pm: AYA NAKAMURA
23h00: ÉTIENNE DE CRÉCY SPACE ECHO LIVE
Stage of the Salon
7:40 pm: STEPHAN EICHER
PROGRAMMING THURSDAY 4 JULY 2019
Scene of the Parvis
17h00: Place aux Indés! Talitres Label
18h00: Pépite
7:00 pm: CLARA LUCIANI
7:50 pm: NELSON BEER
20h15: FLAVIER BERGER
9:05 pm: SILLY BOY BLUE
9:30 pm: PARCELS
23:00 EDDY DE PRETTO
Stage of the Salon
6 pm: RONI ALTER
6:45 pm: BLICK BASSY
19h45: BERTRAND BELIN
PROGRAMMING FRIDAY JULY 5, 2019
Scene of the Parvis
17h00: Place aux Indés! Nowadays Records
18h00: GLAUQUE
19:00: KIDDY SMILE Live
19:45: ZED YUN PAVAROTTI
8:10 pm: COLUMBINE
9:05 pm: HERVÉ
9:30 pm: THERAPY TAXI
11 pm: AGORIA LIVE
Stage of the Salon
18:00: CANINE
18h55: JOHAN PAPACONSTANTINO
7:50 pm: ANNA CALVI