WE love
: une belle pièce dans un des 5 théâtres nationaux français
Age:
from 8 years old
Duration:
du 11 au 22 décembre
Location:
Au théâtre de la Colline (Paris 20e )
REDUCED RATE

:
25 euros 1 child place + 1 adult place
* 25 euros per adult place + child place (instead of 40 euros)
Réservation en ligne ou par téléphone au 01 44 62 52 52 avec le code FAMILY19
.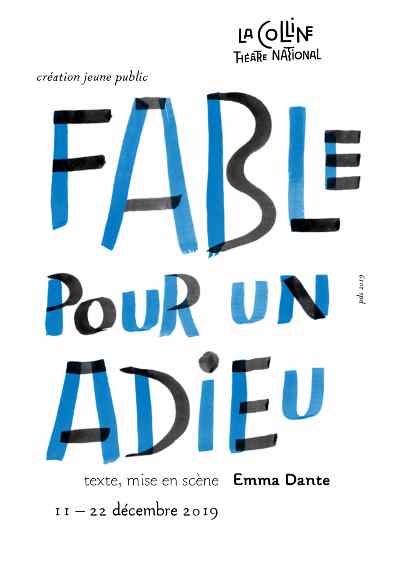 Fable pour un Adieu : adaptation moderne du conte "la petite sirène"
Every winter le théâtre de la Colline prend rendez-vous avec la jeunesse avec la création contemporaine pour le jeune public. Le théâtre de la Colline est l'un des 5 théâtres nationaux français. Les spectacles sont reconnus pour leur grande qualité.
Cette année, il s'agit de Fable pour un Adieu, a contemporary tale où la mort côtoie la magie.
C'est un conte : "il était une fois' … inspiré du célèbre conte de "la petite sirène". Une jeune sirène, préférant la terre ferme, passe des heures à contempler l?infini sur un rocher. L?amour l?amènera à faire un choix crucial qui, peut-être, bouleversera sa vie…
This modern tale, like all modern tales deals with existential questions et invite petits et grands à se confronter aux peurs, aux dilemmes et aux rêves de celles et ceux qui se sentent exclus de ce monde.
Un spectacle d'une durée de 1h05.
Chaque année en décembre, le théâtre de la Colline accueille les enfants comme des rois !


L?espace mezzanine du 2e étage se transforme en salon avec tapis et coussins.
Envie d?une BD, d?une boisson chaude ou rafraîchissante, d?une partie endiablée de baby-foot ? Vous êtes les bienvenues et les bienvenus à partir de 14h.
copyright Carmine Maringola
copyright Carmine Maringola