1h30, 2h or 3h of private navigation on the Seine or the Marne
As a couple, with family, with friends, in a group ...
Choose your boat and let us take you on board!
Sail on the Seine, the Marne or the Canal Saint Martin
We like to cruise on a private boat?
It is an original and unusual outing aboard magnificent boats
Renting a boat in Paris, it's like a vacation!
The boats are superb; it is a cruise on the Seine so chic!
Paris from the Seine, it is so beautiful
All pretexts are good! Stroll with family or friends, birthday to celebrate, desire for a floating aperitif ...
It is very playful with children
All the formulas for renting a boat in Paris:
Boats of different sizes for 2, 4, 12, 50, 80, 150 people ...
The choice is yours: from the size to the style of the boat
Choose the elegance of the Riva (as in Venice!) or the comfort of the pleasure boat or the barge for larger groups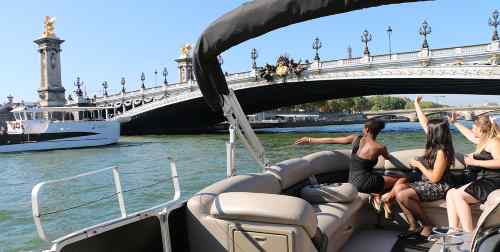 Cruises: 4 different routes
The classic : the cruise on the Seine
Cruise of your choice from 1h30 to 3h
The course, time and progress is organized at your convenience
The departure is from Paris, towards the end of the Ile aux Cygnes with a view of the Statue of Liberty, the Eiffel Tower, and the François Mitterrand Library. Return to the mooring point
During the cruise, you will discover the Conciergerie, the Notre-Dame cathedral, the Louvre, the National Assembly, the Statue of Liberty, the Eiffel Tower and the beautiful bridges that cross the Seine
Boarding is in Paris. Different places of departure according to the boat and the chosen formula
Prices: prices vary according to the weather and the boat chosen :

The 1st price is 71.5 euros per person for a 1h30 cruise (minimum billing for 6 people)
2h : 82,50 euros per person (minimum billing for 6 people)
The bucolic one: the cruise on the Marne
It is an original and exotic journey
This bucolic cruise on the Marne will leave you with an exceptional memory
You discover the beauty of the peaceful banks of the Marne, the atmosphere of the guinguettes and the landscapes of the impressionists
Choice of a 1 or 2 hour cruise ? Departure from the marina of Nogent sur Marne (94)
1 hour cruise:

Departure from the port of Nogent sur Marne, tour of the Isles of Love and Wolves, half turn at the level of La Maltournée, return to the port
Price : 38,50€ /person (minimum billing : 6 persons)

2-hour cruise:

Departure from the port of Nogent sur Marne, tour of the Isles of Love and Wolves, half tour at the level of La Maltournée, tour of the island Fanac, return to the port
Rate: 60,50?/person (minimum billing: 6 people)
The romantic : the cruise on the canal Saint-Martin
You sail in the heart of Paris on different canals, away from the hustle and bustle of the city
You discover the charm of the Saint Martin canal
During this cruise, you will cross lift bridges, locks and cross mysterious vaults to discover romantic footbridges?
Departure from the Bastille and arrival at the Parc de la Villette
The unusual: the cruise around the Ile Saint-Germain
The cruise to discover an unusual Paris and to sail at high speed
After a passage in front of Eiffel Towerto the west of Paris and theSaint-Germain Island
Just before arriving on the Ile Saint-Germain, you navigate the speed pool of the Seine. This is a unique opportunity to sail at high speed
Then, arrival on the Saint-Germain island and its floating village. An unusual place near Paris, cut off from the world