Every day at 2pm (in French)
Duration: 2 hours
For adults and young people from 12 years old (min 30kg)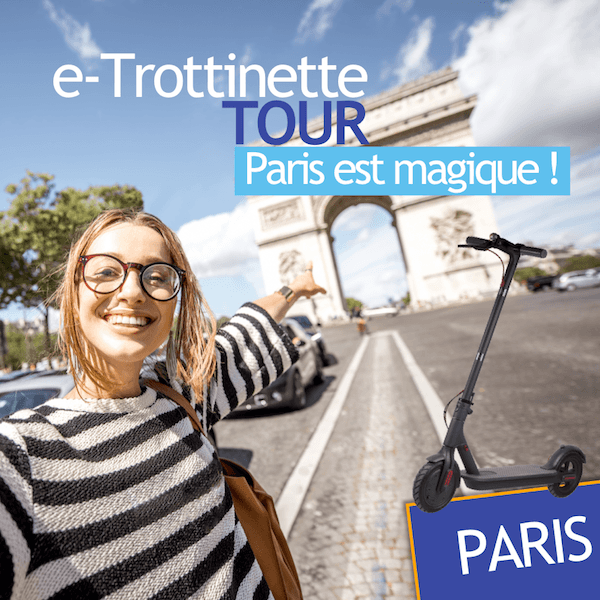 The electric scooter ride
You will go for a 2 hour ride (including the initiation) on an electric scooter, with a professional guide
The course is very nice : you will bypass Notre Dame de Paris, go past the Louvre Museum, the Musée d'Orsaythe Place de la Concorde, the splendid Pont Alexandre III, the Grand-Palais, the Pont de l'Alma for a superb view of the Eiffel Tower
It is very fun and easy. We all know how to ride a scooter. An initiation is proposed for the beginners and for all some instructions and rules of the road
The atmosphere is joyful and very fun. You are here to have fun and enjoy the best of Paris
The walk is both fun and cultural. It is punctuated with anecdotes and historical reminders
To the outward journeyBetween the Hôtel de Ville and the Eiffel Tower, you will stop a dozen times in front of the most emblematic places of Paris
On the way backFrom the Eiffel Tower to the center of Paris, you go along the quays. It's fun and the route is totally safe.
Reduced rate on the walk from 2 reserved places
Practical information
1 departure per day at 2pm
Every day of the week
Price : 42 ? per person (public price 45 ?). You pay a deposit of 20% at the time of booking. The balance is to be paid in store
Tour duration: 2 hours
Minimum age and weight requirements for children: 12 years old minimum and 30kg
Language in French only (privatization for English tours)
It is recommended toarrive 10 minutes in advance about
Group of 20 people max. + 1 professional animator for 8 people
Departure / arrival : Hôtel de Ville district (in the 4th district)
Material and equipment provided: electric scooter, helmet and cap, protections
Terms of receipt and validity of tickets
You pay online a deposit of 20%. The balance will be paid directly in the store, the day of your ride
Once your payment has been made, you will immediately receive a printable voucher by email
Tickets are valid for the day and time chosen at the time of purchase. They can only be changed in consultation with the organizer.
The tickets are neither cancellable nor refundable, except for weather conditions that do not allow to make the walk
If you do not receive the voucher, please check your mailbox (including your junk mail box because of the many spam mails). If the voucher is not in your mailbox, Contact us by email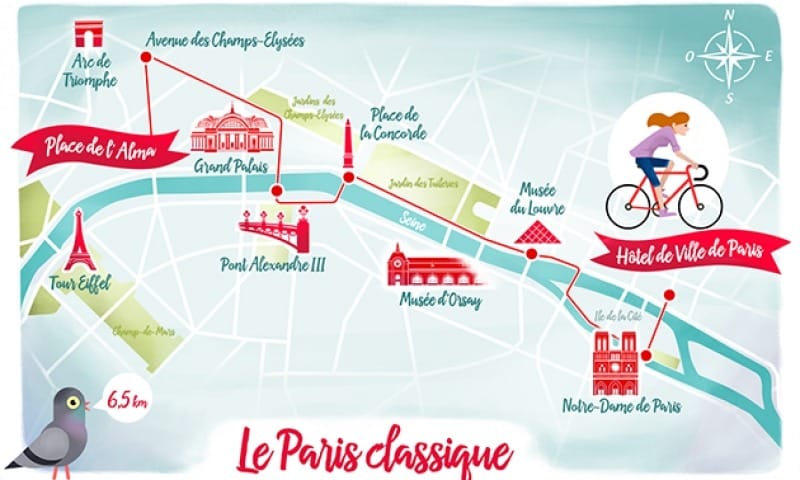 Find the list of our reviews
- Amazing! Welcome, initiation, course, comments of our guide, everything was well organized, friendly. To do again without hesitation! Thank you.
Written by EVELYNE DUCHESNE, on 26-02-2023
No difficulty to reserve. Nice welcome at the place, at the time said. Never been on an electric scooter, the initiation was precious to me, but finally it's very easy and the material is of good quality, so no danger if you respect the instructions of the Guide. Unforgettable day with my grandson. Our very nice guide was patient, clear and always friendly. We discovered beautiful places, everything was very well orchestrated. I recommend this trip to everyone, even grandmothers and grandfathers! We will certainly come back to do this tour again and we keep a great memory of it.
- Cool and relaxed visit
Written by Marie-Noëlle, on 12-01-2023
Cool and relaxed tour, perfect for young people (and their parents)! Samih finds the best places to stop and comment on the great spots in Paris. Forget the boring guides and let his stories guide you. In winter, think of gloves and hat ;-).
- Really beautiful
Written by Bernadette Degove, on 04-01-2023
What I appreciated the most was the kind patience of the facilitator because I thought I would not be able to participate in the activity and he held on. Thanks to him I will recommend this fun and physical activity, I was with my grandchildren (11 and 8 years old and I am 69 years old) and it was raining. We had a good laugh.
- Fun, instructive, friendly and funny walk thanks to our guide, in complete safety, despite the rain
Written by Nathalie NASTORG, 18-11-2022
I recommend
- Fantastic to do!
Written by cecile alexandre, on 13-11-2022
A quick way to discover the emblematic places located around the city hall. Nice staff, we feel safe! Icing on the cake: the weather was with us
- Fun and nice moment with family or friends
Written by Aurélie Dierckx, on 07-11-2022
Good activity that I recommend. Fun moment shared with my children. The guide was not careful enough on the scooter and the explanations were interesting but a little too basic. Thank you for your help!
- A great experience accessible to everyone from 12 years old!
Written by Mu, on 30-10-2022
We enjoyed this beautiful Parisian tour on the bike paths along the Seine to meet remarkable sites. A very nice guide who explained briefly but sufficiently the history of the different monuments. The teenagers enjoyed it and even those who had never ridden an electric scooter managed. 2 hours. To be recommended!
- Interesting and fun
Written by Fabienne MINSE VAN KRAAIKAMP, 21-09-2022
A nice activity to do with friends or family, and thanks to the guide who I must admit was really TOP! we learned a lot about Paris ..... Thank you! I highly recommend this activity!
- Nice and instructive activity
Written by Asher AYACHE, 28-08-2022
We were 2 adults and 2 children. On the 4 scooters, 2 had technical problems (battery and mudguard broken) and we had to return to the starting point. Otherwise nice guide, who makes participate the teenagers
- A moment of pure happiness
Written by Joëlle SEPTIER, on 28-08-2022
To visit Paris with your family it's ideal. Axel, who did not know Paris, was able to have a small idea of the whole while having fun. Notre Dame de Paris, the Louvres, the Eiffel Tower, the quays of the Seine, etc.... The handling of the scooter is very easy. The guides are very nice and give some historical explanations or anecdotes. Reservations and payments are easy. I recommend it.
- Excellent and original way to visit Paris ????
Written by Marie TAYMONT, on 15-08-2022
Visit of the main monuments of Paris, with a clear and concise speech each time, with a great guide with the banana all the time. Novice for this mode of transport, I was afraid on the sidewalk of the departure and I enjoyed the whole trip. Memorable family ride.... I highly recommend
- Great experience and great guide!!!
Written by Myriam Takla, on 09-08-2022
I liked everything about it. And I highly recommend it!
- Top Family Stroll
Written by sophie fontaine, 08-08-2022
When we arrived the meeting place was not obvious! But once in Jerry's hands we had a great time! We loved this discovery of Paris and learned a lot of things!
- A very good moment
Written by Christophe Hellec, on 04-08-2022
A very good time spent with our guide who told us interesting anecdotes about the main monuments of Paris. To be recommended.
- Fun activity with a teenager!
Written by Julien PRATS, on 21-07-2022
Very nice activity done with my 13 years old son. The circuit allows to discover most of the monuments near the Seine. The return trip allows you to have fun on a scooter.
- Nice but the cultural content is too light and the price is high
Written by Virginie Moyrand, on 19-07-2022
Hello It was nice but the guide took a little time to relax. His relationship with the clients is not necessarily immediate. His cultural knowledge is limited. In the end, We spent a good time but I found that it was expensive compared to a simple scooter rental? Not sure I would recommend.
- Very nice
Written by JSP, on 28-06-2022
Very nice walk, with a good mention for the host, Moha, always smiling and attentive to his customers
- Atypical
Written by Johanne MARIS, 26-06-2022
Mohamed was a great discovery. We had a great time and particularly appreciated Mohamed's transitions?
- What a great activity!
Written by Mathieu Pelletier, on 25-06-2022
Moha, our guide, was friendly and fun. A great and fun way to visit Paris. Our teens loved this activity! We recommend it without hesitation.
- Rediscovering Paris
Written by FLORENCE SEVIRAN, on 18-06-2022
This ride guided by Moha allowed us to learn a lot of anecdotes about Paris in a relaxed atmosphere. It was really nice!
- Poor organization
Written by Martine Flamand, 07-06-2022
Sorry that the animator was not there at 14:00 for the activity without anyone being warned ... after waiting organization of a visit not to disappoint my two teenagers, with guide, not professional, but the manager at 50 rue des Lombards managed as best he could ... see for the following
- A great ride
Written by virginie GAILLARD CASSIN, 06-06-2022
We had never ridden a scooter before and we loved this ride in Paris! A great team of young guides who combine tourism and humor. We recommend this ride and will come back for the night ride ????
- Super cool
Written by Sophie Secka, on 30-05-2022
My 12 and 14 year olds loved it!
- Topissime
Written by rudy grzelczyk, on 29-05-2022
At the top !!! thanks Moa?.
- Disappointing.
Written by Sonia Golay, on 22-05-2022
They cancelled 30 minutes before the tour. They sent me an email that I couldn't check because I didn't have wifi. Not serious, not professional.
- Great
Written by Laura Levard, on 12-05-2022
We had a great time with Mohamed who was really a great guide. The tour of the monuments is great and safe. To do without hesitation.
- Original stroll in Paris
Written by France Bovero, 05-05-2022
A big thank you to Jerry for his scooter ride in the districts of Paris. His good mood, his smile and his comments on the monuments allowed us to spend a very good time. I recommend without reservation. Marie and Cali
- An excellent experience
Written by ELODIE HAUTEM, on 27-04-2022
It was a great experience with a great guide! With lots of anecdotes!!!
- Very nice to do with children, adorable and very fun animators
Written by Celine, on 26-04-2022
Good atmosphere, very nice to do with children or teenagers
- NICE BALLAD
Written by Annie Chan on 25-04-2022
Original tour through Paris for teenagers. No difficulty for the reservation on internet I recommend
- a pleasant moment with the family
Written by Olivier BILLON, 24-04-2022
Nice walk on a classic circuit. A different way to discover Paris without hurrying.
- little historical knowledge
Written by Philippe Kuster, on 23-04-2022
The visit went well. The material provided was of good quality. The supervisors, however, do not have the required level of knowledge to share the life of the monuments with the clients - the level of French of the latter left something to be desired... Nevertheless, the attitude of the supervisors was good, they cared about their clients and listened to them. Overall, a great experience....
- Perfect
Written by Dominique Chesneau, on 23-04-2022
Yes
- Very good!
Written by virginie seiler, on 22-04-2022
Very nice and safe walk ! The guide gives indications all along the route. A family walk is highly recommended.
- Visit not to be missed
Written by Fanny Wolf, on 22-04-2022
Great guide and 2 very nice guides! It's an unusual visit with a bit of history and a lot of anecdotes! Very easy to book. I highly recommend this activity.
- Perfect for teens
Written by Sabine , on 21-04-2022
Yes
- Perfect for teens
Written by Sabine , on 21-04-2022
Yes
- A nice moment of discovery of Paris
Written by Stéphane P., on 21-04-2022
A pleasant stroll in Paris with Jerry, a friendly & dynamic guide. A good moment of relaxation to discover the monuments of the capital under another angle. Nice and smiling team, it's always pleasant. Thanks a lot!
- Superb visit in scooter
Written by johann Loaec, on 20-04-2022
We spent a very nice afternoon under the sun. It was great. Jerry our guide was great, very nice and with lots of anecdotes. The sun was there. Great memory. April 15 hike
- Original, interesting and fun
Written by Carine Guerit, 14-04-2022
Great walk, ideal with 2 teenagers to discover Paris. Pleasant guide who presents the main monuments, gives history and anecdotes and adapts to the participants...
- Great experience
Written by Nathalie HOARAU , 07-04-2022
We had a great time with a nice guide. Very nice way to discover Paris without taking the head with the traffic. The route is safe and with children it's great...they even listen to the information we give them
- Highly recommended. Great fun!
Written by Sian , on 08-03-2022
I really enjoyed my first experience of an electric scooter. Almost all of the tour takes place in excellent cycle lanes. There were some children in our group who managed very well . The Guides were well informed but the information was mainly in French. One of the guides provided a translation for any who could not understand but this was not as comprehensive as the French commentary. Plenty of stops to see the main sites. Watch out for the cobbles as the ride is very bumpy! We had great fun and I would certainly recommend this tour.
- It was very good Jerry was great! In addition we had the sun
Written by Nicole Mathevon Safi, 24-02-2022
I completely recommend
- Nice to do with a small group of friends
Written by Christine Chorin, on 13-02-2022
To do . It distracts and allows to discover a small corner of Paris in a playful way. A nice young guide
- Fantastic
Written by Catherine Lemoine , 04-02-2022
Yet Parisians, we discovered our city in tourist mode. A moment of sharing in family combining "sport" and culture. We strongly recommend this service ????????????
- very nice in spite of a bad weather
Written by karine dolce, on 07-11-2021
Jerry is very nice an interactive visit that our teenagers really enjoyed a bad weather and some damages with our scooters which took water.... but good memories to do with the family
- WALK AGREABLE, I recommend this outing very safe and very well organized. Very nice supervisors !!!
Written by SOPHIE de TOURS, on 07-11-2021
A little more history and anecdotes would have been a plus.
- Top
Written by Cedric Lalliard , on 30-10-2021
Yes
- A great experience!
Written by COLETTE KERJEAN, on 15-10-2021
I liked the fun and cultural aspect of this ride despite my inexperience with electric scooters! Jerry knew how to make me feel confident. My little son was also delighted. See you soon with his brother!
- STROLL ALONG THE SEINE
Written by Michel LEFEBVRE, on 30-08-2021
Beautiful day for all. We were beginners, and our guide initiated us with patience to the use of the scooter. Very nice welcome, equipment provided as advertised. Visit of the banks of the Seine to be done without hesitation with a guide who opens the road to you and avoids the traps of the Parisian traffic. Very satisfied
- A Very Good
Written by annie fagoo, on 19-08-2021
Yes I recommend it
- An excellent way to visit Paris at night, Ibra our very nice guide was very attentive, nice historical annecdotes without being a history lesson
Written by DANIELE FOURNIER, on 11-08-2021
I highly recommend this activity with teenagers, but also for all ages, I went with my granddaughter, and we came out very happy
- Nice walk in Paris
Written by Karen DAHAN , 06-08-2021
A big thank you to our guide Ibrahim who thanks to his patience and kindness, made us discover the electric scooter. We keep an excellent memory of it.
- Perfect!
Written by MURIEL PIOU, 06-08-2021
I recommend +++.
- Very good.
Written by Amf, on 02-08-2021
A change from the usual tours or audio guides.
- To be recommended
Written by Christine CHIRAO, on 26-07-2021
Great ride with two teenagers of 13 and 15 years old who loved it as much as we did! A very nice guide and we were just the four of us! A very good advice, a beautiful trip while laughing. THANK YOU!
- very nice !
Written by marie-caroline REGNAULT, on 22-07-2021
Very good welcome at the store. Very nice guide. Great concept to see the monuments! The only thing that could be improved is the quality of the commentary, that it be more fluid with more anecdotes and details. We are shown 4 statues, it is good to know which one is which.
- Great experience
Written by Sandrine MARTORANA , on 11-03-2021
Very good moment ? Good mood feeling to go around Paris without traffic jam in short I recommend To do again Ps: recommendations to propose other circuits so that we can come back very quickly Thank you ????
- a little bit of an addiction
Written by audrey, on 16-09-2020
A little expensive for approximate explanations and a visit in English would have been welcome because my companion speaks only English and I had to translate everything. To be improved. Otherwise very nice student, maybe better for teenagers?
- Nice walk but too expensive for a family
Written by Gaëlle THOMIN, on 07-09-2020
Big drawback: The price! Indeed, we had paid 42 ? on the site and it was not our surprise to discover that it was 42 ? per person to pay on the spot. It is not at all detailed in this way or very badly because we had not seen it. We still paid and went on the tour because it was promised to the children but if we had seen it before booking we would not have done it. We are 5 and before the last day of the vacations, the price of this walk was a very bad surprise. Even if the tour was very nice and the children loved it, I think that 210 ? for a family of 5 is exaggerated.
- Great
Written by Arnauld Le Ber, on 19-08-2020
To do again without hesitation, Paris in all its splendor .....
- Don't go with just anyone
Written by Françoise BLICK, on 15-08-2020
The reservation was made without problem, time of RV fixed. I presented myself at the indicated address, it was a store of vapotage. Some scooters were taken out of the basement. The accompaniment was limit secured, I was alone adult with a child of 13 years and some young people who were presented to me as accompanists in training. From the beginning I had problems with the material which was really in bad condition. I ended up with a violent fall. I had to return to the starting point. No care, no attention was given to me. Probably there was no insurance. So it was a bad experience that left me with some physical marks after 2 months. A piece of advice: make sure you leave with professionals of tourism and sports supervision.
- Nice
Written by valerie ROBERT, on 10-08-2020
Warm welcome, a young team, a nice guide. Beautiful ballad.
- Scooter ride
Written by Françoise Gugenheim, on 22-07-2020
Very good for very satisfied teenagers.
- Rabid teens
Written by MZEN, 05-07-2020
Comments sometimes brief To be recommended
- Great trip
Written by Christophe CHRISTOFORIDÈS , 24-02-2020
Very nice to go around Paris on a scooter and to take the time to see this beautiful city. A tour by night would be nice with all the monuments lit up. Great welcome and thanks to Tony.
- Super walk under the sun
Written by Sylvia Rousseau, on 19-11-2019
To be recommended, except for the price, damaged material and visiting hypersuccints....
- Too bad the guide doesn't know Paris that well!
Written by Dey on 10-24-2019
Original walk, too bad the guide doesn't know Paris
- Great!!!
Written by isabelle bex, on 22-07-2019
This was my first time riding an electric scooter and it's not complicated at all. The trip is really pleasant and safe. The explanations on the monuments are brief but perfectly adapted when you are accompanied by teenagers. I highly recommend this activity. The guide was very pleasant.
Our latest articles