More than 13,000 specimens presented in 70 tanks
Open 7 days a week, even on holidays
Reduced rate from 2 adult or child tickets purchased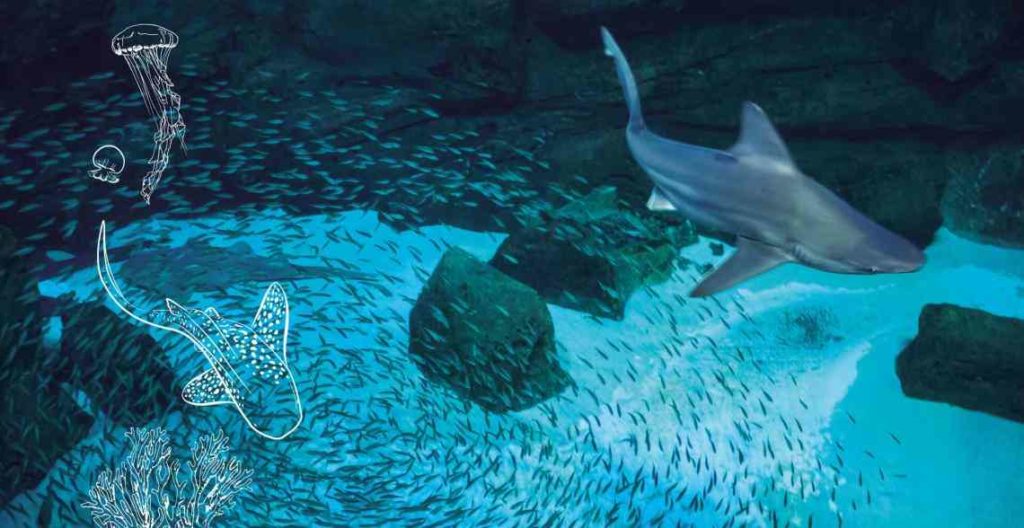 A very nice family outing
From January 14 to May 12, 2023, the exhibition ?The Rabbids at the Paris Aquarium(included in the price of the entrance ticket)
A touch pool to pet carp and goldfish (fish love it)
A medusarium absolutely fascinating and hypnotic with its 25 pools filled with jellyfish of all colors ?
of the shows and workshops for kids
of the pedagogical animations and creative workshops
The Paris Aquarium
The Paris Aquarium is the most beautiful aquarium in Paris
It is a very educational place and perfectly adapted to children
The Paris Aquarium is 70 basins which present the whole of the French coasts of Metropolitan France and Overseas, a giant aquarium full of sharks, in front of which you can sit and watch the ballet of the fishA shark tunnel, 3 aquariums ?nursery?, a medusarium, the largest exhibition of jellyfish in Europe...
Children will also discover a shark tunnel and a tank with sometimes shark eggs. They will be able to attend feeding of fish and can carp and goldfish stroking
Useful information
Open 7 days a week, including holidays
Duration of the visit between 1h and 1h30
Schedule From 10am to 6pm (cash registers close at 6pm)
Free for children under 3 years old
Included in the price of the ticket for the Paris Aquarium
From January 14 to May 12, 2023
?The Rabbids at the Paris Aquarium? seek to raise awareness among young people and adults about 3 R with an exhibition (Reduce, Reuse, Recycle), a game trail and small shows (from 2 1/2 years old).
Ticket information
E-ticket immediately on your smartphone (no need to print the ticket)
In order to respect the sanitary norms, the tickets are time-stamped: thank you to come on the day and the hour chosen at the time of the reservation
Once your payment is made, you will receive your e-ticket by email to be scanned at the entrance of the museum. No need to go to the cash desk
The reservation date can be changed, if necessary. However, once issued, tickets are neither cancelable nor refundable.
The Aquarium of Paris, during the Christmas vacations
For Christmas, the terrace in front of the Paris Aquarium is transformed into a real Swiss village
Typical chalets, in front of the Eiffel Tower! With attractions, miniature train?
A catering offer is proposed with real half and half fondue, raclette Saint-Niklaus, meat from the Grisons, veal sausage, meringues with double cream and Ovaltine?
Inside the Paris Aquarium, it's Christmas too: luminous trees, fairy automatons, garlands and other decorations?
Find the list of our reviews
- A magnificent aquarium with potential to be developed
Written by Alexandra , on 24-03-2023
The aquarium is beautiful, the reception is pleasant. It is a pity that the café restaurant was closed. I also wonder about the prices of the playground, which is under construction in front of the aquarium. The entrance tickets are still quite expensive + the souvenir store which you have to pass through to get out (even if the products sold are of good quality and affordable prices) + the games area? All this gives a feeling that we want to empty our pockets. It's a pity. Here are some ideas: make the place for waste more visible to raise awareness about the pollution of the seas. It's always impressive to see what you find there. On the other hand, for small children the visit can seem a bit monotonous. They would be happy to run around and play with the images of the interactive projection for example. I wish you good luck with the work!
- very nice visit
Written by Frederic LAMBERT, on 21-03-2023
Hello, we visited the aquarium of Paris with the children. They were delighted to see so many fish and to be able to touch some of them.
- much too expensive
Written by Dominique Amouyal , 20-03-2023
It's way too expensive Impossible to get a refund for an adult ticket (sick person) not enough fun apart from the koi carp area very interesting jellyfish room, magnificent specimen
- Good
Written by isabelle , on 14-03-2023
The Little Mermaid show was much more
- Much appreciated by young and old
Written by Renaud Guilianelli, on 11-03-2023
Very diverse Great forum on jellyfish Rabbits and Cretins activity, good in spirit but too offbeat
- Disappointed
Written by Sandra B, on 05-03-2023
No problem to book online. The plus of booking your slot is that we are not on top of each other. I went with my 2 children of 5 and 8 years. I paid 58 euros. Honestly I was very disappointed with the lack of variety of animals from the sea. The exhibition around the "rabbits" was more than lame and did not bring the fun side I was hoping for. For me the price is not worth the quality of the service.
- A very nice outing
Written by Sarah Ayed on 03-03-2023
The children enjoyed themselves, we appreciated this outing to the aquarium. There were not many people, it was small and very pleasant.
- Disappointment
Written by Mallory, on 22-02-2023
For a city like Paris, I expected better. The tour was done quickly, so not great in terms of value for money. An outing that keeps the kids busy in case of bad weather but not essential otherwise. The + of the visit was the pond with the carps that the children can touch. Easy booking on familinparis with discount, I recommend booking through this site!
- Nice discovery
Written by CHRISTOPHE CHIOCANINI, on 19-02-2023
- The size of the aquariums and their diversity; - Easy booking with discount on the familinparis website, no waiting line at the entrance; - Yes, we have already recommended this activity to our relatives.
- very good
Written by ingrid pompa , 19-01-2023
the access to the interior of the aquarium all the way with strollers very complicated
- Very good
Written by Christophe MASSENA, on 21-11-2022
Very nice outing that our 2 twins of 4 years old appreciated a lot. On the other hand a lot of people especially at the 2 shows.
- A little disappointed
Written by Linaelle Morisset, on 15-11-2022
It's nice to see the wonder of the children but the aquariums are a bit repetitive. The sharks are only visible on two large windows. For the fame of Paris, this is a little light as an activity. One pays for the Trocadero's setting but not for the semplendor of the aquariums.
- Nice visit but rather fast so a little expensive
Written by Magali Bataillé, on 13-11-2022
Immersive visit in the marine world that delights young and old alike, but quite fast
- Immersive, educational and beautiful.
Written by Nicole, on 22-08-2022
No difficulty in booking or on site. The "playful" animations were not very attractive (for the adults as well as for the young child (3 years old) who accompanied us). The aquariums (presentation, diversity, explanations) were very pleasant and interesting to observe. The signposted route and the general design allow you to avoid stepping on your feet and to have easy access. Not accessible to all.
- Very good moment birthday gift for our 5 years old son
Written by Aline Sabourdy , 12-08-2022
No waiting on arrival. The fish, the aquarium and the sublime mermaid. The staff is very welcoming, friendly and available. The toilets are very clean. What it is necessary to spend a good moment, possibility of sitting down for the people who need it on all the course. We had to change our tickets because there was no train to come and the person on the phone to make the change was very kind and understanding of our difficulties. We recommend this activity moreover we have shared on Facebook these good moments.the only regret mob husband being blind he has no audio guide.
- Very beautiful and interesting.
Written by Marina Capalbo, on 10-08-2022
No problem. The medusary is very rich. I would have liked to have seen larger sharks.
- VERY PLEASANT VISIT.
Written by NANOU, on 07-08-2022
Simple and fast booking. Very beautiful aquarium and diversify....the basin with carps which let themselves be caressed, for the children: it is fabulous! Superb visit that I highly recommend.... It is really to see!
- We loved it
Written by tassadit belhamdi, on 31-07-2022
I highly recommend
- Great
Written by Geraldine Garcia, on 26-07-2022
Very nice! Playful and educational, this aquarium is magnificent.
- Superb
Written by Kevin Garcia on 16-06-2022
I really recommend a great day
- Top
Written by Massidé Diallo, on 14-06-2022
Great aquarium my kids loved it
- The children liked
Written by amelie boulanger, on 05-05-2022
Having done nausica in Boulogne we were a little disappointed but for those who have not done nausica it is good
- Too fast and expensive
Written by Géraldine COPY, on 29-04-2022
very quick visit, not enough hooks for toddlers
- Disappointed
Written by Laura Paillet, 14-04-2022
Super disappointed I did not find it crazy. The big aquarium has been covered and is therefore less impressive. I went there several times and I was really disappointed. And 25? for the adult entrance is too much.
- Great
Written by Benjamin Clermont, on 09-04-2022
I had a great day! Very instructive for my daughter to whom this day was obviously excellent! Great time. ?
- TOPISSIM
Written by Zaharia Aboudou, on 13-03-2022
We liked all the big as the children especially them a great time to spend Ok will come back when we come back to Paris
- Great!
Written by Fabrice, on 08-03-2022
Very appreciated by children and adults, excellent welcome by the staff, rich in lessons: not to be missed!
- Nice but fast
Written by Fanny R, on 08-03-2022
It was nice but the visit is quite fast for the price
- Overstocked
Written by L, on 26-02-2022
Much too expensive for what it is. Very crowded. Aquarium very badly maintained.
- Great
Written by yasmina achitouv, on 24-02-2022
I recommend
- Too expensive
Written by Irene , on 21-01-2022
Aquarium very small and very cluttered. Price too high for the offer.
- Very nice visit
Written by Magali MAROTEL, on 18-01-2022
Yes, I recommend it.
- Good
Written by Birgul Fiore, on 12-01-2022
A very good idea for an activity with children
- Lousy
Written by Marie Pavalloni, on 04-01-2022
I do not recommend this activity because the aquarium is poor in species and very poorly maintained. Too many tanks are empty. It is undignified for the aquarium of the capital.
- the children were very happy with this visit
Written by gerard ruffier, on 27-12-2021
I recommend this activity
- Great moment
Written by Hajar SADAOUI, on 20-12-2021
Great time with my son. We were amazed by the countless species present. There is really something for everyone. The carp petting pool was just sensational. The only drawback is that access with a stroller is complicated because there is no elevator outside and the one in the aquarium to reach the hall was out of order.
- VERY GOOD MOMENT
Written by Marc Bessou, on 01-12-2021
Very good moment with my little boy of three and a half years He discovered in movement what he was looking at in books until then and his joy was intense. Beautiful scenography moreover. He complained a little about the absence of whales, I told him that it was a little complicated to install !!!!
- Nil
Written by Jérémie Gaudet, on 25-11-2021
Waiting in the rain while we booked our tickets online The children got sick You ruined our vacation? Your organization is really pathetic Very bad, very bad
- what a disappointment
Written by Alexia, on 17-11-2021
the aquarium is much too small, the variety of fish is not optimal too many people, you should reserve days for schools, it was hellish easy to book
- Very satisfied9
Written by francoise vallat, on 10-11-2021
Yes
- uninteresting
Written by Martine POMMIER, on 10-11-2021
1. Little diversity in the presentation of flora and fauna, 2. Serious breach of safety standards during the small show of the Mermaid, room 10: too small, too many people accepted, about 4 people sitting on the floor / m², jostling and irritation or even insults from some, performance of the mermaid too limited and not enough to be seen by children (apparently little breath so forced to go up often to catch his breath at the surface). 3. we will not recommend this offer
- Very nice experience!
Written by Khadija Souidi, on 09-11-2021
I highly recommend for the little ones to the big ones!
- Interesting but too many people.
Written by Guillaume Saby, on 08-11-2021
We had a reservation for three people on Sunday 31 October at 3:30 pm. The aquarium itself is really nice with a lot of species to discover but unfortunately the crowds and too many people at the same time spoiled our visit. Why ask for a visit time when everybody can come back at any time. At the same time for an aquarium to be squeezed like in a sardine can...
- Too many people and not adapted for strollers
Written by Armaud Gaydon, 06-11-2021
It was very crowded when we went there on Monday 1/11/2021, we had to queue in front of every window and it was hard to move around. It was almost anxiety-provoking. Place not adapted at all for the strollers, we had to carry it several times (notably at the entrance) We will not go back there!
- Satisfied!
Written by lalala, on 06-11-2021
My 3 year old son really liked it. It's a little expensive and currently you have to wait in line for the health pass. These are negative points.
- *
Written by philippe le cossec, on 05-11-2021
Too expensive for what presents
- Very good
Written by Marie , on 23-10-2021
Yes
- Fun
Written by Bangaly Kaba , on 15-09-2021
More
- Very nice. Funny little show for children.
Written by david mazzoleni, on 12-09-2021
I recommend, good organization, everything went well.
- a magical underwater world with dry feet.
Written by Maryse LEGHLID, on 19-08-2021
The atmosphere is magical for both children and adults, with the colors and the diversity of the animals presented. A small drawback is the absence of a document distributed at the entrance that allows you to visit the aquarium in its entirety without losing the thread of the visit. Another drawback: the information on the contents of each aquarium is not indicated.
- I recommend
Written by valerie fauvet, on 12-08-2021
Great color, well laid out and explanations for each aquarium
- Top
Written by Marie Nicaud, on 29-07-2021
Stroller access problem
- Top
Written by Fatima A. on 27-07-2021
Very good, my child loved being able to touch the fish, she didn't want to leave the tank in question. I recommend it.
- A great family visit!
Written by Charles Bernet, on 15-07-2021
We booked the 6:30pm slot on a Saturday not realizing that the aquarium closed at 7pm. Everyone seemed surprised by the existence of this slot but let us in thinking that we were early for the 7pm nocturne! In the end, it was magical since we were alone between 2 slots (for the jellyfish and the sharks it was really worth it). We even did the circuit a second time (for our son who had fallen asleep). On the other hand, we realized that some of the pools were no longer lit, which is a pity for those who only go at night. In short, a nice opportunity and a good time with the family
- Disappointed
Written by Roseline Sayag, on 13-07-2021
The time of the show was not communicated to us. We arrived at the end! And it was not possible to see it again later. What a pity!
- Disappointed
Written by Charlotte Spadotto, on 13-11-2020
I went with my children (11 and 8 years old) during the All Saints' Day vacations. The little one was delighted because she saw a mermaid, for my part 2 min of show.... It's class!!! The children appreciated to be able to caress the fish. The visit lasts 1 hour, not more as I saw in other reviews. This aquarium is very good for little ones, not really interesting for older kids. I strongly advise against the restaurant !!!!!
- pleasantly surprised by the quantity and diversity of fish
Written by corinne B., on 02-11-2020
yes I recommend, there are many fish and other, well presented, a pleasant moment with the children and even a playful interlude with the caresses to the fish.
- Aquarium of Paris
Written by jean-luc Zanin, on 02-11-2020
Perfect fast reservation with correct price for a family pack recommended
- Expensive, crowded, and siren animation too short
Written by Anna , on 30-10-2020
The entrance tickets are not given, the wait is long before being able to enter the site. The animation with the mermaid lasts 5 minutes, the children leave frustrated. The aquarium on this Sunday morning was full to bursting, honestly it was absolutely to avoid in this period of pandemic but impossible to turn back for the children.
- Good
Written by Axel L, on 28-10-2020
Yes
- Disappointed
Written by Ltg, on 27-10-2020
A place not very well maintained, many empty basins. A very high price In short, it's not worth it, we enjoyed the tropical golden door aquarium much more.
- Very nice outing
Written by Raphaële A, on 26-10-2020
An original and very interesting outing for children from a very young age. The pools with the fish are very beautiful, and the attraction Claire La Sirène fascinated them. I recommend it and we will go back.
- A nice disconnection
Written by laetitia savoye, on 26-10-2020
Thanks to the family offer, we were able to escape for a day to the aquarium of Paris. We had a great time and we were amazed by all these little wonders. Our visit lasted much longer than the others, since my 8 year old son didn't want to leave the petting pool anymore. It's a great idea to have done this. ???? The sharks, jellyfish, nemo etc... were a treat. This day, we also had the chance to attend Simon's show, or how to learn while having fun.
- Top
Written by Oumiya Founasse, on 13-10-2020
My 3.5 year old son loved it! It was cool on the kid-friendly pool
- Nice for a rainy afternoon
Written by Philippe Bénistant , 11-10-2020
+ carp to pet - children running around
- The happy buyer
Written by Vera Lúcia DA SILVA, on 02-10-2020
I highly recommend buying the tickets with "familinparis". No problem, everything went very well.
- Disappointed...
Written by karinette, on 24-09-2020
Well, that's just fine. The visit is short, in one hour if you take the time, it's over. The shark tunnel is not a tunnel at all, it's average. The only positive point is the basin where you can stroke the fish, it is very nice. We go there once but we don't go back.
- Very nice visit
Written by BL, on 15-09-2020
Beautiful
- At the top
Written by Ana Alves, on 12-09-2020
Very quick booking. Not many varieties to see but a good time with the family anyway
- nice place, recommend it
Written by pascale becaas, on 11-09-2020
perfect visit, little waiting at the cashier, reservation on the net, recommend !!!!
- Disappointment
Written by Clémence Waldisberg , 06-09-2020
Our visit lasted 30 minutes in all. Big disappointment. Apart from the sharks, not much to see.
- Expensive and disappointed
Written by Jennyfer Jules, 31-08-2020
Too expensive for what it is time slot reserved at 17:30 and at 18:40 we close the store in the nose while the aquarium closes at 19h! Impossible to buy a small souvenir for my son who was also very disappointed!
- Huge disappointment
Written by Marie Christine Fromont, on 30-08-2020
The aquarium is very outdated, the animations are very low-end ... Big disappointment, but thanks for the reduced price, of course .... The booking went very well, especially when I asked for a change of date. But I thought the aquarium was more modern. The museography sucks, the show is below what you can expect in a city like Paris. I would not recommend this activity to anyone. The small tropical aquarium of the Porte Dorée is more fun. Too bad.
- Very satisfied
Written by Josiane Montjean, on 28-08-2020
Very interesting offer, very satisfied
- Disappointing
Written by Amandine Moreau, on 23-08-2020
Very short and not at all spectacular. It was my first aquarium and I am very disappointed.
- Decu
Written by pascal moscatelli, on 22-08-2020
Disappointed by the aquarium, it is common and not very large and even less grandiose .... I was disappointed compared to other that we visited for the same price! It is done quickly.
- Very nice discovery
Written by Aurélie Keller, 21-08-2020
Very nice discovery in the heart of Paris. The children (2, 3 and 5 years old) were amazed. The price is a bit high but it's understandable considering the location and the infrastructure. We had the chance to do this visit at 1:30 pm when it was not too crowded which greatly contributed to the success of this experience.
- Beautiful discovery that this aquarium of Paris. Visit having lasted 1h20 with two children of 5 and 2 1/2 years. Very nice time spent stroking the fish. I regretted not being able to attend the show of Claire the Mermaid because of the crowd
Written by Françoise MERLET, on 20-08-2020
No difficulty for the reservation
- Rather disappointed
Written by Nathalie Amand, 18-08-2020
Compared to other aquariums visited, this one is rather low, even if some species like jellyfish are worth a look
- an exceptional, wonderful and educational place for children and even adults. Thank you
Written by Philippe GUERIN, on 12-08-2020
-All is well -No difficulty, Covid + Heat wave = few visitors a real happiness, we can enjoy much longer aquariums - To see and to see again, I recommend
FAQ
What to do near the Eiffel Tower?