From 15 months (and up to 30kg max.)
Where to ride a pony in Paris?
Where to get a pony in Paris? This is a classic of the activities offered in parks and gardens in Paris. And a nice idea when it's sunny. Tickets for the pony rides are on sale at the venue.. The organizers reserve the right to cancel pony rides in case of bad weather or inclement weather. It is not possible to book in advance. It is a cheap outing.
PONY RIDING IN THE JARDIN DU LUXEMBOURG (IN THE 6ÈME)
Useful information
Days: Wednesday, Saturday, Sunday, public holidays and school holidays (zone C)
Hours: from 15h to 18h
Prices: 1 ticket: € 3.50, 2 tickets: € 6, 10 tickets: € 25, 20 tickets: € 40
Access to the park: rue de Médicis or rue de Vaugirard
Getting there: RER B (Luxembourg station)
PONY RIDING IN THE 12TH.
Lake Daumesnil with TROTT'IN Ponies
Days: Wednesdays, Saturdays and Sundays, from 13h to 19h
Public holidays (excluding school holidays): from 13h to 18h30
The baptism: 5 € (5 minutes)
The great walk: 12 € (15 to 20 minutes)
Conditions of access: from 18 months and 1m15 maximum
Tel: 06 81 34 47 19
Lake Saint-Mandé with ANIMAPONEY
Days: Wednesday, Saturday, Sunday, public holidays and school holidays (zone C)
Hours: from 15h to 18h
Prices: 1 ticket: € 3.50, 2 tickets: € 6, 10 tickets: € 25, 20 tickets: € 40
Access to the lake: Chaussée de l'Etang,
Getting there: by metro (line 1, Saint-Mandé station) - By bus (lines 86 or 325)
Tel: 06 07 32 53 95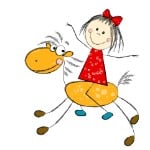 A PONY RIDE IN THE MONTSOURIS PARK (IN THE 14TH)
Useful information :
Days: Wednesday, Saturday, Sunday, public holidays and school holidays (zone C)
Hours: from 15h to 18h
Prices: 1 tickets: € 3.50, 2 tickets: € 6.00, 3 tickets: € 8 50, 10 tickets: € 25, 20 tickets: € 40
Access to the park: boulevard Jourdan, avenue Reille or avenue du Pont-René-Coty
Getting there: RER B: (university Cité station)
Tel: 06 07 32 53 95
A PONY RIDE IN THE PARK GEORGES BRASSENS (IN THE 15TH)
Useful information :
Days: Wednesday, Saturday, Sunday, public holidays and school holidays (zone C)
Hours: from 15h to 18h
Prices: 1 tickets: € 3.50, 2 tickets: € 6.00, 3 tickets: € 8 50, 10 tickets: € 25, 20 tickets: € 40
Two courses: Petit Parcours: 6,00 € or 2 tickets and Grand Parcours: 8,50 € or 3 tickets
Tickets are on sale on site
Access to the oarc: rue des Morillons or rue Brancion or rue des Périchaux
Getting there: by metro (Vanves station or Convention station) - By bus: lines 89, 95 - By tram: line T3a (Georges-Brassens or Brançion station)
AT THE LOWER LAKE OF THE BOIS DE BOULOGNE (IN THE 16TH)
Useful information :
Days: Wednesday, Saturday and school holidays from 14h to 18h30. Sunday and public holidays from 10:30 to 18:30.
Prices: 1 pony for 1/2 hour: 15.00 €, 2 ponies for 1/2 hour: 25.00 €, 1 pony for 1 hour: 25.00 €, 1 pony for 1/4 hour: 8.00 €, 2 ponies for 1 / 4 hours: 15.00 €
Free walk of 15mn or 30mn in the wood dsur
Tickets are on sale on site
Access to wood: Carrefour du Bout du Lac
Getting there: by metro, line 2 (Porte Dauphine station), line 9 (Rue de la Pompe station) - By RER, line C (Avenue Fosch or Avenue Henri-Martin stations)
ATTENTION: children must weigh less than 30kg
Tel: 06 07 32 53 95
PONY RIDING AT PARC MONCEAU (IN THE 17TH)
Useful information :
Days: Wednesday, Saturday, Sunday, public holidays and school holidays (zone C)
Hours: from 15h to 18h
Prices: 1 tickets: € 3.50, 2 tickets: € 6.00, 3 tickets: € 8 50, 10 tickets: € 25, 20 tickets: € 40
Access to the park: 78, boulevard de Courcelles or avenue Velasquez or avenue Van Dycq or avenue Ruysdaël
Sy rendering: By metro (Monceau station)
Two courses: Petit Parcours: 6,00 € or 2 tickets and Grand Parcours: 8,50 € or 3 tickets
Tel: 06 07 32 53 95
PONY RIDING AT THE BUTTES-CHAUMONT (IN THE 19TH)
Info (practical information :
Days: Wednesday, Saturday, Sunday, public holidays and school holidays (zone C)
v: from 15h to 18h
Prices: 1 tickets: € 3.50, 2 tickets: € 6.00, 3 tickets: € 8 50, 10 tickets: € 25, 20 tickets: € 40
Access to the park: Manin Street or Crimée Street or Botzaris Street
Getting there: by metro (Buttes-Chaumont or Botzaris stations)
Tel: 06 07 32 53 95
Did you know ? Shetland, Connemara, Dartmoor, Pottok, Fjord, Haflinger, Landais, Highland, New Forest, French Saddle are 10 pony breeds found all over the world