Concerts gratuits sur le parvis de l'Hôtel de Ville de Paris
Les 3, 4 et 5 juillet à partir de 17h

WE love
: 3 days of free and open-air concerts with big names in music



Age:

for teens


When:

les 3, 5 et 5 juillet à partir de 19h


Location:

Parvis de l'Hôtel de Ville (Paris 4ème)


Rate :

Free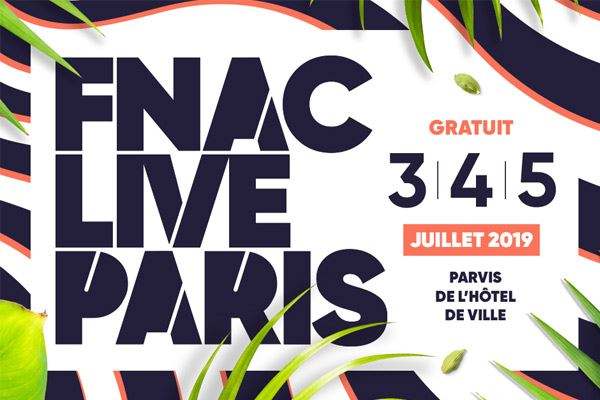 Fnac Live Paris: thirty free concerts
Pour la 9ème année consécutive, le festival Fnac Live Paris accueille de très grands artistes pour 3 jours de concerts sur le parvis de l'hôtel de Ville et dans les salons de celui-ci
C'est gratuit, dans la limite des places disponibles
Pour les concerts sur le parvis, pas de réservation. Essayez de venir tôt !
For concerts in the salonson the other hand, it is necessary tostretch his invitations in the ticket offices of Fnac Paris et Ile-de-France à partir du 2 juillet à 12 (2 invitations max par personne).
C'est 100% gratuit et ouvert à tous
Attention, pour des raisons de sécurité, les accès de métro et de bus côté parvis de l'Hôtel de Ville seront fermés.
PROGRAMMING WEDNESDAY JULY 3, 2019:
Scène du Parvis
17h00 : Place aux Indés ! Label Pias
18h00: DELGRES
7:00 pm: RADIO ELVIS
19h45 : LÉONIE PERNET
20h10: GOOD ENTENDEUR
9:05 pm: SUZANE
9:30 pm: AYA NAKAMURA
23h00 : ÉTIENNE DE CRÉCY SPACE ECHO LIVE
Scène du Salon
7:40 pm: STEPHAN EICHER
PROGRAMMING THURSDAY 4 JULY 2019
Scène du Parvis
17h00 : Place aux Indés ! Label Talitres
18h00 : PÉPITE
7:00 pm: CLARA LUCIANI
7:50 pm: NELSON BEER
20h15: FLAVIER BERGER
9:05 pm: SILLY BOY BLUE
9:30 pm: PARCELS
23:00 EDDY DE PRETTO
Scène du Salon
6 pm: RONI ALTER
6:45 pm: BLICK BASSY
19h45: BERTRAND BELIN
PROGRAMMING FRIDAY JULY 5, 2019
Scène du Parvis
17h00 : Place aux Indés ! Nowadays Records
18h00: GLAUQUE
19:00: KIDDY SMILE Live
19:45: ZED YUN PAVAROTTI
8:10 pm: COLUMBINE
21h05 : HERVÉ
9:30 pm: THERAPY TAXI
11 pm: AGORIA LIVE
Scène du Salon
18:00: CANINE
18h55: JOHAN PAPACONSTANTINO
7:50 pm: ANNA CALVI