Classical concerts and jazz concerts
jazz tea party, participative concerts, musical workshops...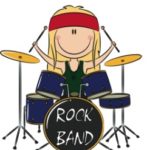 The objective of these "educational concerts" is to
To discover the instruments, the great French and foreign composers, the major works of the classical or jazz repertoire to the children and even to toddlers. The Philharmonie de Paris, theOpera Bastille, the Sunset Sunside or the House of the Radio offer music workshops, jazz snacks (from the age of 1) and participatory concerts on Wednesday, Saturday or Sunday.
The symphonic and musical repertoire is carefully chosen and the music is told to the children. It is in a warm, family and happy atmosphere that parents and children will share a unique moment around music. To give children a taste for music and the desire later to push the doors of classical or jazz concerts.
Our advice: book well in advanceMost of these events are very successful!
All of these concerts are a huge hit with parents and children. Check out the program at the beginning of the season and remember to reserve your seats in advance. Otherwise, they will go under your nose!
To be kept informed of cultural news in Paris with your family and above all to not miss anything, subscribe to our Newsletter or follow our Facebook page.