Cinema sessions dedicated to the little ones
and at a very low price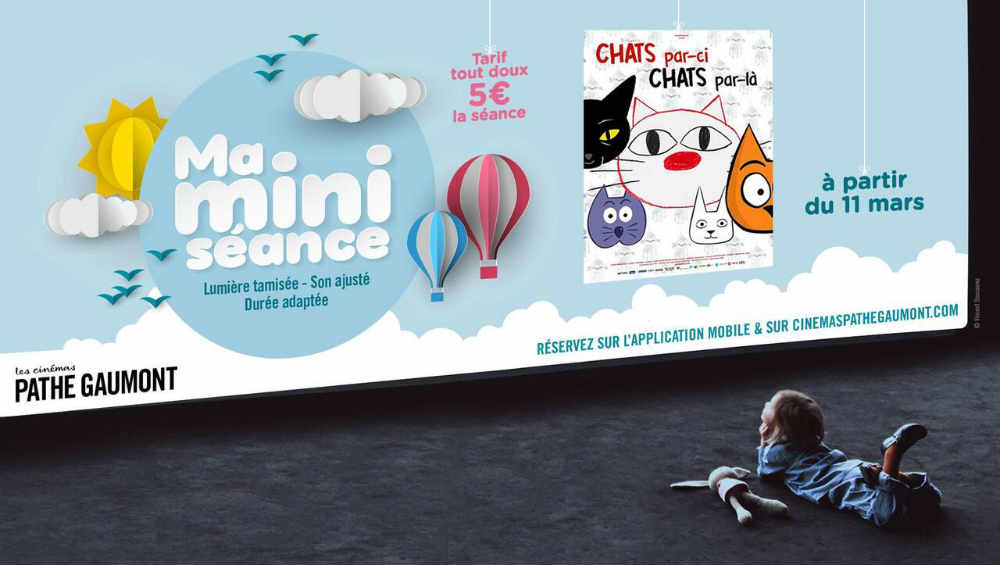 LOVE:
dimmed light and sound level adapted to the little ones
LE PETIT + :
coloring, face painting or reading workshop will be offered to children
DURATION OF THE SESSIONS :
maximum 1 hour
AGE:
from 3 to 6 years old
RATE :
5? per session
WHEN:
Wednesday, Saturday and Sunday depending on the room
PLACE:
in 8 theatres in Paris and 8 theatres in the Ile-de-France (and also in the provinces)
MY MINI MOVIE SESSION
The objective of these film screenings is to awaken the youngest to the 7th Art. They have been scheduled since March 11, 2020 in several Gaumont and Pathé theaters in Paris, in the Ile-de-France and in the provinces. To enhance the movie screenings, activities will be offered to children: face painting, coloring or reading workshop.
In the program : news films (on display), medium-length films or even repeats
A soft and subdued light (some kids are afraid of complete darkness)
An adapted sound level to young ears
A projection duration adapted to the young public with sessions lasting no more than 1 hour
THE PROGRAM FOR THE COMING MONTHS
From September 30 to October 11, "My mini-session" offers you :
Ernest and Celestine in winter Ernest is a big bear from Charabie. He likes to play music and eat jam. He took in Célestine, a little orphan mouse, and they now share a house. The two companions are never bored! As the first snowflakes approach, they prepare for Ernest's hibernation: they have to take care of Bibi, their wild goose, who will fly away before the cold weather sets in, and they have to go to the Mouse Ball to celebrate the first day of winter. Finally, they must not forget to bake good cakes so that Ernest falls asleep with a full stomach!
A selection of four episodes from the Ernest and Celestine series: Bibi, The Accordion Button, Blizzard and The Mouse Ball.
Starting October 14, "My Mini-Session" offers you:
The Unloved: Our planet is full of life, and it is our responsibility to protect it. But can this protection exist or be effective when we are unaware of the role and functioning of most species, or worse, when some of them scare us? This program of 4 short films shows with gentleness and tenderness the universe of some of these "unloved" species to which tales and legends or simply prejudices have unfortunately given a bad reputation.
THE GAUMONT AND PATHÉ THEATERS THAT PROGRAM THE MINI-SERIES
In Paris:
In the suburbs: