Discover the backstage of the biggest cinema in Europe
Grands Boulevards district
From 6 years old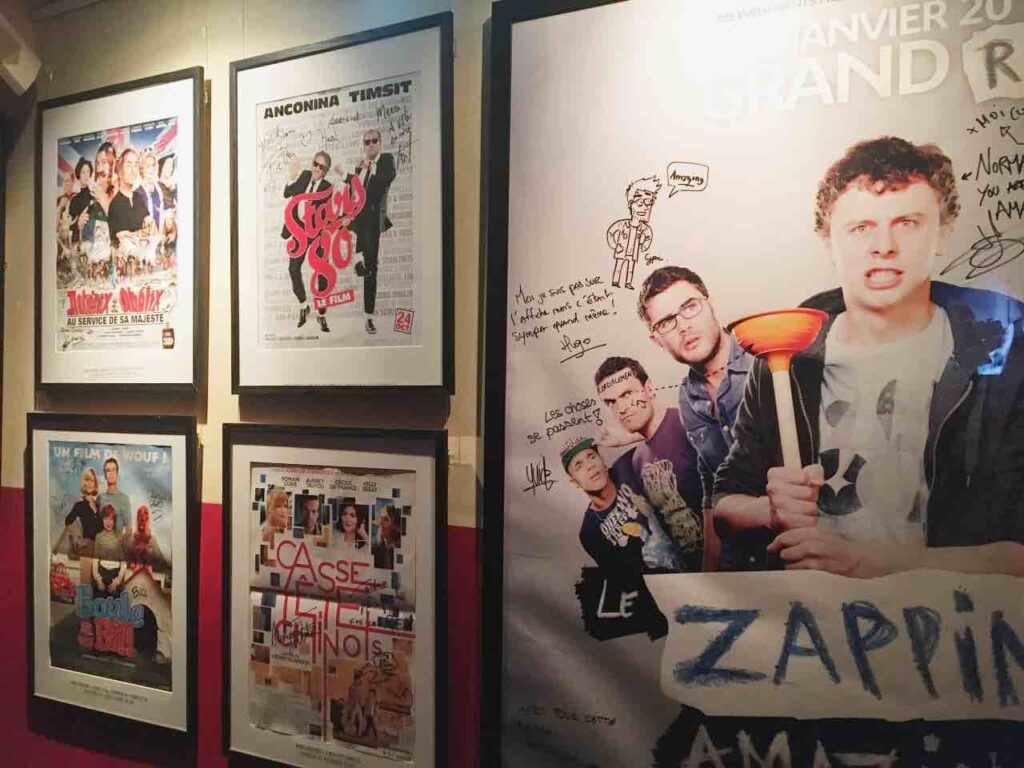 The visit of Rex Studios
A new course completely renovated with new attractions
It is an ideal family visit with children (from 6 years old) and teenagers
It is a very original outing at the same time playful and educational
You become an actor, discover dubbing, special effects?
It is an interactive audio tour that plunges you into the secret and captivating world of the 7th Art.
We discover the creation of a film through a series of settings: projection booth, director's office, film set?
It is a great classic for a family outing (children and teenagers love it)
The great hall is not crossed during the visit
Tickets are neither cancellable nor refundable
Undated bill
You come whenever you want, without reservation
---
Schedules and information
Out of school vacations :

Wednesday, Thursday from 1pm to 7pm
weekends and holidays from 10am to 12pm and from 1pm to 7pm
closed on Monday, Tuesday and Friday

During the school vacations of the zone C :

every day from 10am to 7pm

Open on all holidays
Departures every 5 minutes (so very little waiting)
Duration of the visit 45 minutes
All audiences, from 6 years old
Visit in French, English, German, Italian, Spanish and Russian
---
Strong points
Tickets are valid all year round
Tickets are neither dated nor time-stamped
You come on the day and time of your choice (no reservation necessary)
Tickets valid for 1 year from the date of purchase
Non-nominative tickets (you can give them to anyone you want)
An immersive journey in one of the most original places in Paris, the Rex Studios. Objective Solve 8 puzzles (8 missions) in the 8 rooms you pass through on the way. You score points at each step, the goal being to get the highest score. It's your turn to play!
Duration of the game 45 minutes
A team game for 2 to 7 people
For all audiences (from 10 years old)
When Wednesday, Thursday, Saturday and Sunday from 10am to 12pm (including holidays). And every day during school vacations (zones A, B and C)
Find the list of our reviews
- Visit rex studio
Written by SABRINA DENIS, 03-03-2023
Great museum my oldest daughter 13 years old wants to be an actress she loved it! My second 9 years old was also very interested I highly recommend it!
- Studio grand rex
Written by Claire De laage, on 10-02-2023
Super, well done, fun, surprising although a little less quality than a decade ago (more confetti, the film with us is less good ... the western andzit great)
- Very nice family visit
Written by Julien Berge, on 15-01-2023
We spent a good time, I advise.
- Visit of the Rex Studio
Written by Nathalie Collette, on 09-01-2023
Very nice family activity. Fun guaranteed
-
Written by Joelle LONCOL, on 06-01-2023
- Backstage tour of the Grand Rex
Written by Christine JUVIGNY RIDEREAU, 04-01-2023
Great visit...my 10 year old grandson was enchanted just like us grandparents...I highly recommend it!
- Studio Rex
Written by Florian Balmes, on 04-01-2023
Nice activity to do with children, duration of one hour, the little ones had a lot of fun even if the activities are quite basic.
- REX for children
Written by Hervé Robert , 02-01-2023
Very well organized, very detailed and well commented but the children under 7/8 years old did not enjoy it very much or even felt uncomfortable...
- Funny and informative
Written by Elisabeth GIROD, on 01-01-2023
We had a really good time with our two teenagers of 12 and 14 years old. We learned a lot of things, the course is really playful. Great time! Bravo
- Visit rex studio
Written by Alice LEPEZ, on 26-12-2022
Not enough live interactive situations and too short course! We would have really liked to know more about the different techniques of the special effects used, the synchronization of the different stages of the realization.... But despite everything we really enjoyed it even if the duration of the course was too short and we were disappointed not to see the big room!
- Total immersion
Written by Alexis Tarassenko, on 11-12-2022
Perfect for discovering the behind-the-scenes of cinema by participating in the making of a film. Great with children from 8 years old!
- Rex studio
Written by Roger Quittelier , 13-11-2022
Nice animation
- Very nice
Written by Dominique Fillon, 11-11-2022
We spent a very nice time in these legendary walls full of memories. The tour is well done.
- A great time
Written by Virginie Sarthou , on 30-10-2022
What a great surprise! A magical place, breathtaking and full of surprises. My 8 year old son and I enjoyed it from beginning to end. A big thank you
- Interesting
Written by Martine MENTIGAZZI, on 30-10-2022
A little quick explanation
- Rex studios : to do for the fans of Cinema !
Written by Aurore Bayère, on 28-08-2022
We had a great hour! It's very interactive, very informative and really fun! Thank you for this discovery at a great price!
- Nice activity, and a bit rewarding.
Written by Valérie Pernelle, on 21-07-2022
I don't remember much of it actually! But it was a great time with my nephews?
- Rex studios
Written by Joel Guisthau on 02-07-2022
Very good welcome. A good moment full of surprises. One regret: a lack of information on the history of the Rex and its studios.
- Good surprise
Written by Nathalie Bruet, on 15-06-2022
Very good time spent in family with a small course full of twists and good surprises
- Great activity!
Written by corinne FIFI, on 25-05-2022
My children and their friends were delighted to discover this activity, and extremely surprised by the surprise that was reserved for them! A must do.
- Rex Paris
Written by Francette Carré, 10-05-2022
Studio visit
- backstage at the Grand Rex
Written by Nicole VAUTRIN, on 07-05-2022
excellent visit the 2 children of 7 years old particularly appreciated the playful part of course (us too)
- Nice experience with children
Written by Etienne Anquetin, on 07-05-2022
We had a great time as a family with the kids!!!
- Interesting discovery
Written by René Henri OLIVE, 05-05-2022
A privileged moment with one of my grandsons to discover the backstage of the cinema. A real treat for him, as for me.
- pleasant and playful
Written by Anne-Paule Chopineau, on 04-05-2022
By going behind the scenes of the Grand Rex studios, you will discover the history of this place and the different steps necessary to the elaboration of a film. You also participate personally. A pleasant and playful moment.
- Visit to the Grand Rex Studios
Written by Catherine BERTRAND BEAUDENON, 21-04-2022
Fabulous!
- Rex Studio
Written by Sandrine Gillet, on 15-03-2022
Very nice and playful visit
- visit studio grand rex
Written by marie christine papin, 06-03-2022
really beautiful discovery my two little sons 7 and 11 years old loved it
- rex studios
Written by Gisele LAFFORGUE, on 27-02-2022
very well done
- Grand Rex
Written by Catherine Pardal, on 26-02-2022
Good visit. Regrets of the children not to have been able to see the big room.
- Behind the scenes of the mystery
Written by Jocelyne Silcret, on 23-02-2022
Great, it's a pity that our participation in the little video was not explained to us at the beginning?we would have been less "shy".
- Rex studio
Written by florence mery, on 19-02-2022
Super Warn everyone to speak loudly when recording the voice
- Tex studios
Written by Catherine Krajcar, 14-02-2022
Incredible and surprising visit to do again
- To be recommended
Written by Christine Le Cuziat , 04-02-2022
Very nice activity to do with the family
- Excellent!
Written by Maeva Bautin , on 27-01-2022
I discovered it by chance on the website, we wanted to try it and we didn't regret it! It was great
- Rex studio
Written by chloé durier, on 22-01-2022
Very nice and fun. Short visit.
- Rex studios
Written by G Michet, 16-01-2022
Not bad without more, very old, visit that must not have evolved for decades. No health pass required on December 21. A part of the visit in an elevator with 12 people squeezed together.
- Excellent! A must do
Written by Cathy EVENO COSTA, on 11-09-2021
The beginning of the visit is a bit old-fashioned but the end is magnificent. An extraordinary family experience. We bought the flash drive of our visit. We laughed so much.
- Very nice experience for kids and teens!
Written by giliane faure, on 05-11-2020
Experience it with your family!
- Thank you for this proposal it was perfectly adapted
Written by Anne Marie Veloso, 05-11-2020
The activity was really perfectly adapted to the children, the children loved it and I liked it. We were surprised by the quality of this outing. Thank you for this proposal. Excellent
- Very good for children from 5 to 10 years old
Written by Sylvie , on 26-10-2020
The explanations of the Paris monuments by the hostess as well as her magic tricks are of very good quality. On the other hand, for the others, big disappointment on the sound quality of the audio descriptions (the sound is bad and there is much too much music and few explanations), for the price (20 ? per person) it is too expensive.
- Very good visit
Written by Violette Teodoro, on 14-10-2020
Everything was good and well organized. I recommend this visit
- Nice original and surprising
Written by severine COIGNEAU, on 06-10-2020
no difficulty for the reservation. Outing made with 2 teenagers who loved it. Everyone participates which makes this visit pleasant. The end is surprising and unexpected...
- Great! To do with the family ....
Written by CHARLEY FABIN, on 17-09-2020
To do with family, well done and really to discover! To be recommended
- Disappointing
Written by Franck Letrouvé, on 08-03-2020
No visit of the big room. It should have been announced beforehand, knowing that the price of the visit is the same. Moreover, technical problems of synchronization in the elevator in particular.
- Nice
Written by Chiara, on 01-03-2020
Fun and instructive activity. Too bad we couldn't see the hall because a show was in preparation (check if the big hall is visible before booking your visit)
- Good surprise
Written by annick verret, on 27-02-2020
Original experience in the backstage of the mythical cinema, the Grand Rex in Paris. Very beautiful settings, good dialogues of accompaniment on the tone of humor. We remain however on our end at the end of the animation which lasts approximately 30/35 minutes. We could not see the big cinema because a show was preparing at the same time. Really too bad! My little girl did not understand that we were in a cinema in fact...
- Fun and a change from the usual activities
Written by Agnès FAVRE, on 27-02-2020
The atmosphere is nice for all ages. Easy reservations but I didn't notice that I only printed one ticket, luckily I had the bill. Yes, I recommend
- Too short
Written by Nadine MOREL , on 27-02-2020
Much too short for the price One remains on its hunger Nothing is explained about the editing of a film We don't even visit the room....que on a screen
- Very fun with the family it's great
Written by Annie BETRON, on 26-02-2020
Yes with great pleasure
- Interesting and fun
Written by Sophie, 26-02-2020
The building is beautiful. Everything is very well thought out to interest young and old. I recommend this outing to families.
- Disappointed
Written by Fanny Bordelet, on 26-02-2020
It is a pity that customers are not informed of the work in progress, which deprives them of access to the main hall when buying tickets on the Internet.
- Great activity!
Written by Marine Pourtauborde, on 24-02-2020
Great activity, especially with children! Very interactive and interesting. Too bad we couldn't see the big room because of rehearsals... Everything else was great!
- Unbelievable!!!
Written by Audrey Frisicaro, on 23-02-2020
My 11 year old daughter and I loved this fun and surprising course. We were on time, no waiting and only 8 people. A must do!
- Very it visit in the whole
Written by Chantal KRAUS, on 21-02-2020
This visit was very good and full of surprises, just a little lack of not being at the end of the visit on the stage to admire the whole room and especially its size! Some problems with the reservation on the internet impossible to print my tickets, I called your site and they arrived 3 hours not very cool ... No worries I will recommend this activity! Continue...
- Great with kids!
Written by SOLANGE LARA , 19-02-2020
To do with children not too small (minimum 7 or 8 years old to enjoy). Total immersion...we loved it!
- Good but a little short
Written by vanessa CHILLOU, on 18-02-2020
The activity is very interesting but would deserve to last about ten more minutes. Indeed, in the 45 minutes there is the passage by the store. So the visit lasts in reality 35 minutes. The little film at the end is very nice with children. Buying the tickets is very easy.
- To do with children! I recommend
Written by Sophie GAIFFIER , 02-01-2020
Please note: it is imperative to print the counter marks to have access to the rex studio. This should be clearly stated on the familinparis website. For the rest I recommend without hesitation!
- first visit to the rex studio
Written by Delphine Bray, on 02-01-2020
very nice visit with the family (two adults, two children 9 and 12 years old) very interactive. Too bad the souvenir is so expensive. Suggestion: at 5? via a link there would be more takers.
- very nice but...
Written by Sébastien D., on 24-12-2019
the visit is really nice, with some funny surprises. we spent a good time with our daughters of 10 and 12 years old, everybody liked it. only drawback, the elevator which passes behind the screen, we are supposed to see the film which passes but not chance, we fell between two sessions a priori therefore room in the dark, the only thing which we saw was the curtain of the stage... very pity... apart from that, for the price paid with familin, 9.4e adult and 7.4e child, it was very good. I recommend it without any problem.
- Deception
Written by Franck LAINAULT, on 11-11-2019
Not much explanation. Apart from 1 or 2 nice moments, we don't see much and there is no possibility to see the big room.
- Very good experience
Written by Louisa , on 04-11-2019
Good surprise that can please both young and old! Maybe a little too short! Good group of very friendly and respectful visitors!
- Suitable even for people not initiated to video games. Good walk and discovery of a district of Paris.
Written by LYNCEE Nycia on 02-11-2019
I would recommend this activity to the teenagers around me.
- Super interesting
Written by Nathalie Tourbier , on 02-11-2019
We enjoyed this visit very much, we just forgot the visit of the great hall, too bad that we have to wait for the time slot to visit it, that's why we didn't do it. made
- Original
Written by Aude Bertozzi, on 01-11-2019
Very nice to do with children
- GREAT!!!
Written by maryse MIDANI-DUPONT, on 01-11-2019
RAS Yes
- Very good, fun and interesting experience.
Written by Monique Fourmond, on 01-11-2019
No problem to book. I have already recommended it, especially with young children and teenagers. Also very good for adults.
- rex studios
Written by francine GUILLEMET, on 01-11-2019
fun activity that my 12 and 9 year old grandsons really enjoyed. Good organization and friendly welcome. I recommend it!
- Very good
Written by christine sraiki, on 01-11-2019
Interactive experience that the youngest ones really enjoyed!
- I registered for a visit with my grandson but I could only print my ticket, not my grandson's. What can I do?
Written by Monique Garric, on 04-10-2019
It was on Thursday, October 3rd that I registered.
- Very good family time
Written by Anne Dombrowski, on 01-10-2019
Yes, I recommend it. It's both informative and fun: you get behind the camera and learn a lot about the Great Rex. The young teens (two 12 year olds) really enjoyed it.
- To do
Written by Jeremy Jata on 01-09-2019
Very good. I regret that the room changes are so fast because there are many details that we do not have time to see and enjoy. But great experience all the same
- moderately interesting
Written by Isabelle , on 10-08-2019
Without more
What to do in the Grands Boulevards area?