Duration: 2 hours
Admire Paris and its illuminations on board a Tootbus panoramic bus
Departure near the Carrousel du Louvre
? Buses with 100% clean energy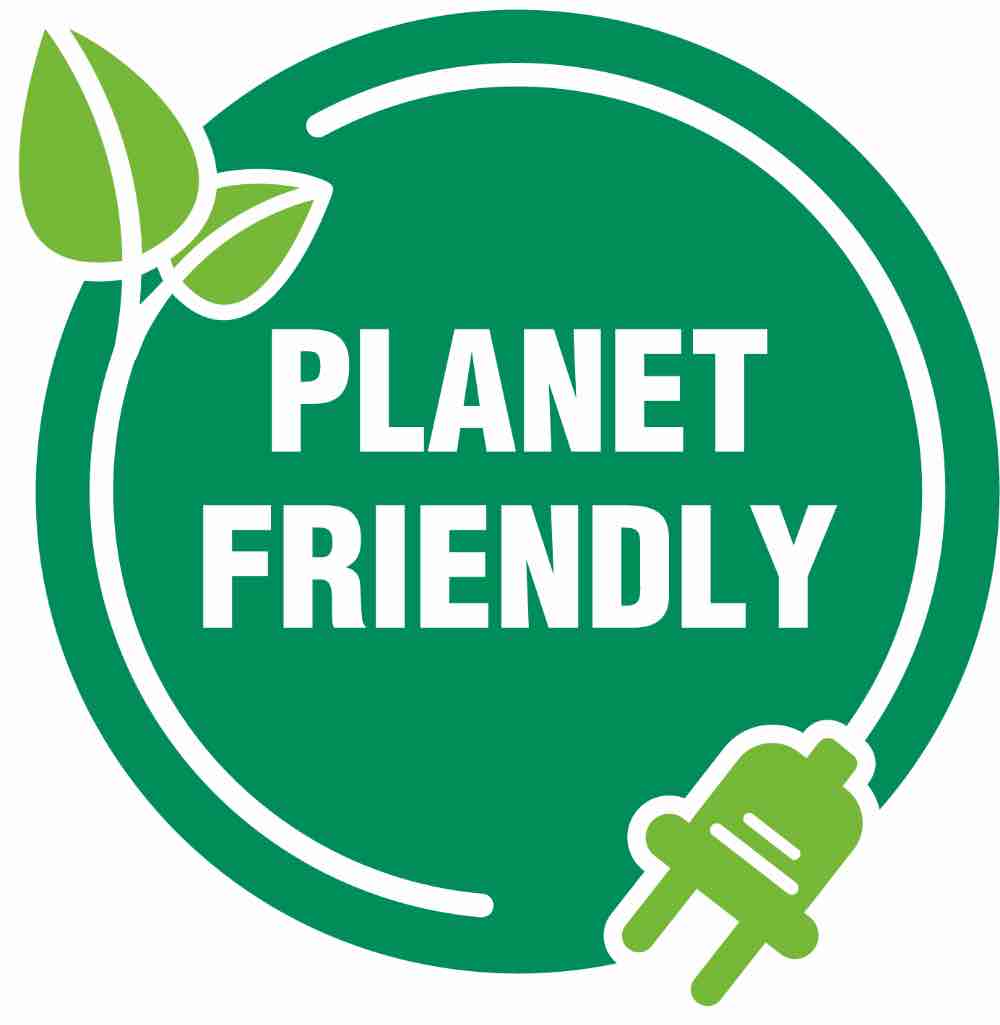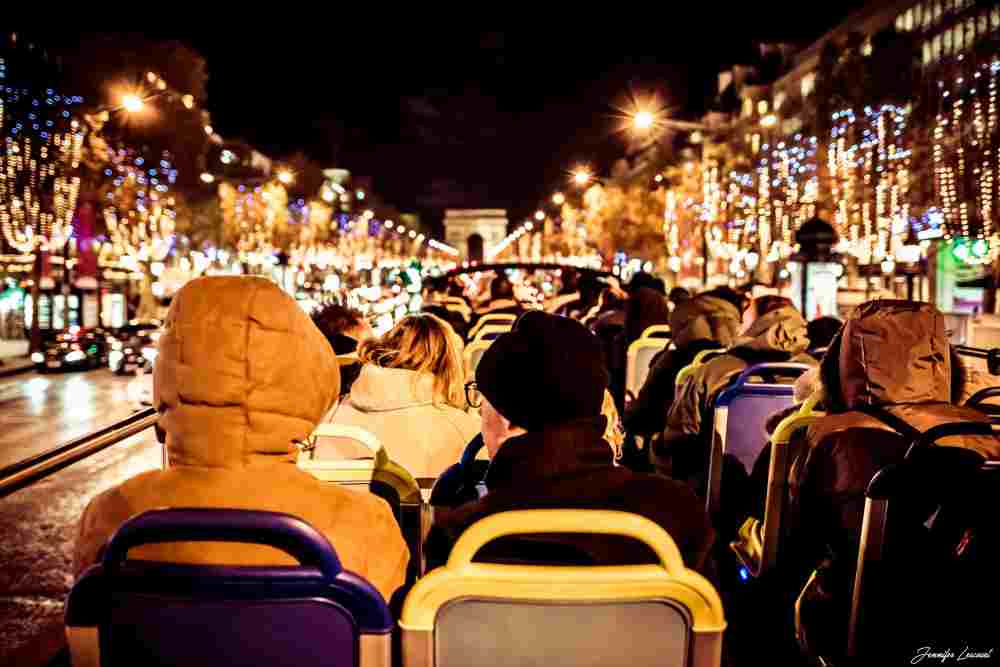 Visit Paris by night in a panoramic bus
Tour duration : 2 hours
Audio commentary available in 5 languages: English, French, German, Italian and Spanish
Audio commentary for children specially designed for the little ones (in French and English)
Panoramic buses eco-responsible
Tootbus (Open Tour Paris) buses run on 100% clean energy (electricity or gas).
The bus company also strives to reduce plastic and paper waste and to promote tourism and sustainable development.
From November 25 to January 7don't miss the christmas lights tour by panoramic bus !
-15% on all tickets (until Nov. 23)
Free for children under 4 years old
From November 25 to January 7: the Christmas lights tour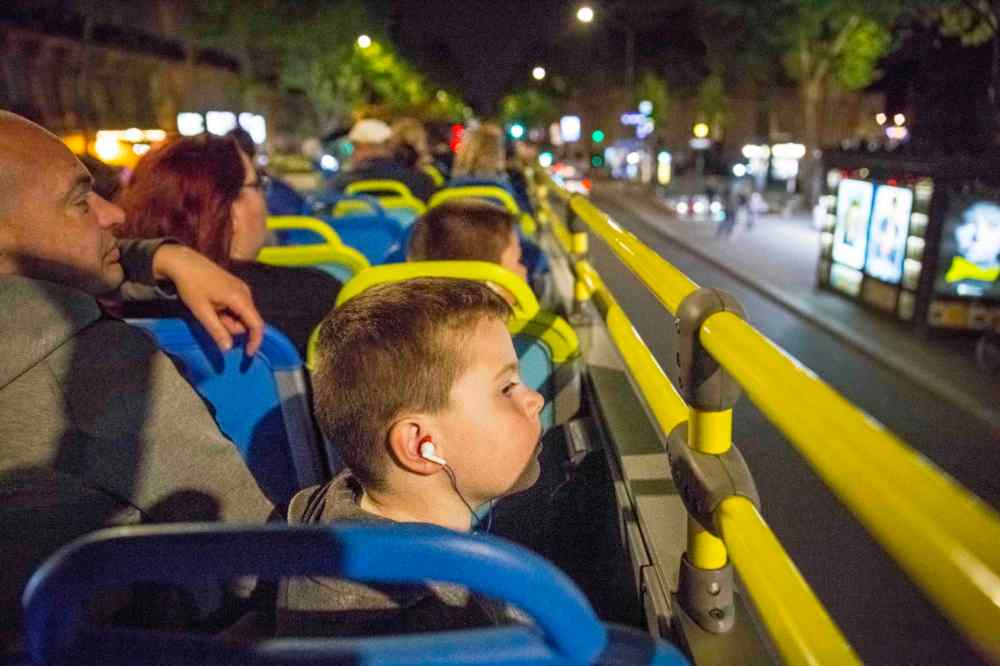 Tootbus timetable
From October 1st to November 24th: departure at 8pm
From November 25 to February 28: departure at 6 pm
From March 1st to April 30th : departure at 8pm
From May 1st to September 30th: departure at 9pm
Place of departure
Departure and arrival departure Place du Carrousel du Louvre (Paris 1st), metro Palais-Royal
You must arrive 15 to 20 minutes before departure
Reservation required
---
Receipt and validity of tickets
You will receive your e-ticket for the night tour immediately by email
Present your e-ticket to the Tootbus driver either directly with your smartphone or in printed form
Tickets are valid for the day and time chosen at the time of booking
Tickets are neither cancellable nor refundable
They can be modified in agreement with Tootbus
Find the list of our reviews
- Well-designed course but.....dehumanized!
Written by sylvie de la croix, on 03-11-2022
Very disappointed by this activity. Completely dehumanized with very "light" audio comments, wrapped in a soundtrack that quickly becomes unpleasant. Some buildings are not identifiable if you don't already know them (no indication like right, left, in front of ....). Moreover, on 4 audiophones, 2 did not function correctly.... and that does not interest absolutely the only human being present on board!
Reply from FamilinParis
Written by the Familin'Paris team
Hello, Generally this bus tour of Paris is a great success. We will pass on your remarks to Tootbus. There may have been a problem on the evening of your tour.
- Almost perfect ....!
Written by Jean-Louis GAUTHIER, on 29-10-2022
TootBus /Tour in Paris by night/ All good for the tour except maybe a small detour to better see the Invalides. On the sound side : hum, not great! Quality of the sound really mediocre, individual adjustment improbable by the fact, certainly of the accessibility of the small desk related to the quasi obscurity to reach the adjustments.
- Nice ride
Written by Mirelle Da Silva, on 05-10-2022
Very nice to do, Paris at night in height like this is great.
- Great
Written by Fanny Poullard, on 22-08-2022
Very good bus tour for the price I recommend it. Contact on the phone very pleasant and accommodating
- The outing did not take place, the bus broke down
Written by Isabelle MENOU, on 22-08-2022
It was an event for my 14 year old daughter And the bus was broken down. So it was a frustrating evening I'm waiting to hear from you about the ticket refund.
- It was perfect
Written by Georges Rakotovao , 14-08-2022
The staff are really friendly I had no problem staying there Yes, I highly recommend to others to live this adventure
- Nice ride
Written by Lilian GIAUFFRET , 08-08-2022
To do! We learn, we discover. Paris is very beautiful in the evening!
- Nice but too bad it starts too early
Written by Marie-Charlotte CURNILLON , 24-07-2022
Nice walk to see Paris differently without getting tired and with children. It's a pity that the tour starts at 9pm in summer, because we pass by the Champs Elysées and the Eiffel Tower (among others) before it gets dark, so before they are illuminated...
- I was completely satisfied. It was the best way to have a global vision of these magnificent monuments.
Written by Josette Quartenoud, on 12-07-2022
Yes of course
- A disappointing experience
Written by Francois Girard, on 20-06-2022
If the use of the website does not pose a problem, the absence of human reception, the obligation to beg for an earpiece that does not work, make it an automatic service, dehumanized and without warmth. Then people rush to enter the bus first, we hear very badly the text and we leave with the impression that it is not at the level of the quality of the place.
Reply from FamilinParis
Written by
Thank you for mentioning that your purchase on Familin'Paris went well. We will forward your comment to our partner Tootbus.
- Not up to the advertised performance
Written by ALAIN MOUISSON, on 20-06-2022
First of all, the title does not correspond to reality: "Paris by night", we leave at 9 pm and the night falls at 10:15 pm (only 3/4 hours left!). Moreover we pass in front of interesting buildings when it is daytime and in unimportant streets when it is nighttime! Look for the mistake ! Very disappointed to have practically paid 30 ? /person for this bad experience.
Reply from FamilinParis
Written by
We are sorry that this service did not meet your expectations. We will pass on this feedback to Tootbus.
- Beautiful
Written by JULIE Briongos, 21-04-2022
Everything went very well
- Whoa
Written by Virginie LELAIDIER , 13-04-2022
Super audio guide, nice discovery
- A very nice visit
Written by Catisate, on 12-03-2022
A very nice moment with my daughter? Paris by night is great I would love to do it again with my whole family!
- The essentials of Paris by Night
Written by Sophie, on 28-02-2022
By arriving a little in advance, we had the chance to be in front of the bus, the big windshield allowing a clear view! The tour starts during the day, too bad (6pm at the end of February, it's still daytime). But the night quickly takes its place and Paris sparkles ???? But unfortunately some rain drops come to blur the big windshield and nothing to do about it, no windshield wiper until the top ???? Visibility reduced and photos become impossible. In spite of this small disappointment, we discover Paris by night with pleasure and the audio guide is very nice. The little tour through Pigalle was unexpected and really nice too. This 2 hours tour with children is great!
- Very nice discovery of Paris
Written by Florence Faure, 31-01-2022
Very nice city tour! A small tour of Montmartre would have been complete. The 11 and 13 year olds found the end a bit long (night tour).
- Beautiful but... I was cold
Written by Pascal CERISIER, on 27-11-2021
Beautiful... but I was cold
- Beautiful Paris by night
Written by Marion B, on 19-11-2021
Great experience to visit Paris at night, it's wonderful, especially outside the bus (despite the cold - why not some blankets in winter). I regret the quality of the audio commentary, so much more to say and some omissions (National Assembly, Invalides)
- Nice at night especially on the floor but the comments could be coordinated with the places and monuments
Written by PETRA SEGUY, on 19-11-2021
To do when you don't know Paris no problem of reservation but that the comments are coordinated to the places or monuments no correlation when you don't know
- Ideal to discover Paris
Written by Frédérique WOLFGANG, on 09-11-2021
Superb night stroll to visit Paris and its lights
- disappointing
Written by BS, 09-11-2021
The positive: a different way to visit Paris and to admire the city of light. Commentary for children quite good. The disappointing: - windy and cold from beginning to end: a good part of the trip on the bus floor to enjoy a decent view. Then forced (by the cold) to go back down and only finding separate seats for my 11 year old and me, all in the back and with our backs to the ride. That is to say that we didn't enjoy the second part of the trip so much that the child fell asleep - the noise of the traffic prevents any correct listening in the headphones and on top of that some tracks are completely out of order - the very impersonal and not very friendly character at the entrance of the bus and during the journey - as a result, the quality/price ratio is definitely below the acceptable average To be recommended only in the best season, or with buses completely closed on the floor (I observed that such a bus was following us, why didn't you propose us to occupy preferentially this one?) The trip was too long and lacked interest for the children.
- Great opportunity to discover the monuments of Paris
Written by visit weekend, 08-11-2021
The + : visit the most beautiful monuments of Paris, the must to do if you want to have a global visit of the capital very appreciated in night mode - reinforces the beauty of the City of Paris with its lights The - : no "instructions" on the narration so at the beginning we "missed" the visual of different places because badly synchronized. a little expensive that said but the duration of the visit (almost 2 hours) can explain the cost. It's a pity that there are no children prices because not always adapted: my child fell asleep!!!
- Great
Written by marina iché, on 05-11-2021
Yes
- Very good
Written by Fabien Bourrut, on 04-11-2021
The tour is very complete for a visit of the main monuments of Paris. Covered roof to avoid the rain. Commentary with headphones, original and nice.
- Nice experience
Written by Stéphanie Fenie, on 04-11-2021
It is a unique experience to be able to see the important, historical monuments of Paris on board this bus. At night it is even more magical.
- Very good appreciation
Written by Nicole Léger, 03-11-2021
Magnificent tower of Paris at night View of the glittering Eiffel Tower No difficulty for the reservation I recommend this activity and especially in the time of Christmas. It must be sublime.
- Nice visit
Written by Anne B., on 03-11-2021
Paris at night is really a must see.it is when it is most beautiful.don't hesitate to do this tour at night.even with children.the comments are adapted.arrive early if you want to be seated next to..my children loved it.
- Unbelievable!
Written by celine guigue, on 31-10-2021
A beautiful moment and a wonderful walk!
- Very nice experience
Written by Charbel, on 25-10-2021
Very good experience to discover the monuments of Paris by night with children
- Super tour of Paris
Written by chantal BLANC, on 18-10-2021
The two people who accompanied me did not know the Capital. They loved it.
- FÉERIQUE
Written by VALERIE MAILLARD, on 16-10-2021
Very pleasant welcome from the bus driver What a joy to discover Paris at night The 7pm time is however a time when the traffic is too dense and the customer undergoes the traffic jams Well chosen itinerary but seeing the Place des Vosges at night would be a plus instead of seeing the Palais Garnier several times The choice of songs that accompany the words of the recording is not top and more repeated with the same songs ?? to review The price is very reasonable. The place of departure of the bus is very accessible and easy to find I will recommend this activity
- Magical
Written by Régine Gréant, on 20-09-2021
Nice fairytale tour especially the eiffel tower Good price for children A bit expensive for adults My little girl loved it
- Very good but...
Written by Lili, 31-08-2021
I found that the explanations on the monuments were too superficial. The tour is well done (but the Sacré Coeur is missing). The illuminated monuments of Paris are beautiful. I recommend this activity.
- Good
Written by annie chevrel arribas, 28-08-2021
Reservation is made in English ???? Visit made with family. Very interesting sites. The price is correct because 2 hours of visit through Paris. I put 4 stars because of the comments....
- Good experience
Written by Emmanuelle Petitjean , 26-08-2021
We liked the explanations during the visit, but we missed the comments on whether the building described was on the right or left and why they were currently under construction. Nice experience despite everything to do again during a next stay.
- Very good
Written by helene carron, on 25-08-2021
Yes, I will recommend this activity to others.
- Ideal visit to discover Paris illuminated
Written by laurent BARDET, on 17-09-2020
Very pleasant visit but big problem to get the tickets (e-tickets never received by mail)
- Wonderful discovery of Paris!
Written by Sidonie, 31-08-2020
Easy online booking and ticket collection in the dedicated area. Adapted to discover Paris with family, children and people with reduced mobility. The ride was a treat: Paris illuminated to the eye!
- Nice and relaxing
Written by sandra Gremillet, on 25-08-2020
A beautiful walk in the streets of Paris! We often walked a lot to visit Paris and the Opentour tour by bus allows us to see a lot of monuments without getting tired, which is really appreciable. The soft rhythm of the bus is soothing and we would like that it lasts all night, even if the tour is already consequent (between 1h30 and 2h according to the traffic). The comments are rather interesting, although sometimes a little bit out of sync (the building is sometimes already behind you when the commentary arrives). The reservation by internet is easy to make and the meeting point not far from the Opera is rather easy to find. Note that in summer, the 7:30 pm tour is not done at night because it is still daytime, but at least, you can see everything very well. The only drawback for me is the price because for 2 adults, 1 teenager and 1 child, we paid 98?, which immediately weighs down the budget of the stay. But it is still very nice to do and it remains for me one of the best moments of our stay.
- Nice!
Written by Agnès , on 19-08-2020
Another approach of Paris. Superb views of the great monuments illuminated. To be done in addition to the daytime visits.
- Super nice.
Written by Djamel.B, on 17-08-2020
Small problem at the arrival to print the tickets. But the hostess was at the top. Otherwise the proposed circuit is great. To do.
- Discover Paris differently.
Written by Laetitia MENARD, 10-08-2020
Very pleasant night tour. Discovery of Paris illuminated. Perfect family outing.
- Very good
Written by Sandra Miroglio, 07-08-2020
Superb visit, I recommend it!
- Nice evening.
Written by François Charonnat, on 08-01-2020
I highly recommend . A different way to see Paris.
- Great!!!
Written by VALENTINI Brigitte, on 01-01-2020
Nice and well organized visit. The plus is the hot drinks and blankets, offered at the end of the visit. It is nice. We recommend this activity.
- Disappointing
Written by valerie , on 29-12-2019
The welcome was long and perilous (many people at the same time, flash code readers that didn't work, connection problems, some tension...) : no precise indication on the bus to take... Hot drink and blanket appreciated. The time is probably not ideal: a lot of traffic. The comments of the audioguide during the visit are disappointing: few, out of sync with the monuments and not updated (almost a year after the fire of Notre Dame we talk about it as in 2018!). What a pity!
- Very good
Written by Carole CUVELIER-PAYET, on 07-12-2019
Paris by night is really worth it
- good but a little cold
Written by dominique besson, on 06-12-2019
nice visit of paris at night a little bit fast on the illuminations of the department stores and the Champs-Elysées and a little bit too long on the rest (Notre Dame, the assembly): the theme is the Christmas illuminations a little too much waiting before setting up and especially cold in spite of the cover
- Superb visit of the monuments of Paris illuminated
Written by tifenn mongermont, on 15-11-2019
Superb visits of the monuments of Paris. However in small plaid or other to keep us warm would be welcome. Fortunately we have smartphones because indication not very clear by mail concerning the tickets to board the bus.
- Very good. Schedule respected and interesting visit
Written by MONIQUE MERCIER, on 05-11-2019
No problems at all. To be recommended
- Good discovery
Written by Aude Bertozzi, on 03-11-2019
Lack of comfort in the bus, no place to wait before departure. And too low temperature in the bus
- paris by night
Written by veronique BLONDEL, on 03-11-2019
What I didn't like was the wait in the rain while the driver was on the bus. No information to say that it was necessary to go and validate the ticket at the agency, we learnt it when we got on the bus the commentary for children did not work, it's a shame otherwise the tour is very good and the commentary too it will be necessary to update the commentary for Notre Dame It's a pity not to go to Montmartre especially in the evening tour to recommend
- ideal visit of Paris
Written by Valerie, on 03-11-2019
The tour lasts 1.5 hours with views and information on all the important monuments of Paris At night, the illuminations are very nice Only small drawback, the Opentour has different buses, some of which are covered with glass roofs. At 21:30 at the end of October, it would have been nice to have one of these buses to be less cold
- Driver : OK, the comments are good
Written by Serge FONTAINE, on 30-10-2019
Activity to recommend (it was a discovery of Paris for my little girl)
- A pleasant way to see the main monuments of Paris illuminated.
Written by Lucien FAYOLLE, on 28-10-2019
We were able to show our grandchildren the most beautiful city in the world with all its historical monuments.this tour is very complete with explanations through earphones.our grandchildren were delighted. The only drawback was that the Arc de Triomphe and the Obelisk of Concord were not illuminated, which was a shame. The Eiffel Tower, magnificent with its blaze. I highly recommend it.
- very appreciated and pleasant evening
Written by VERONIQUE NORE, on 04-10-2019
illumination of the eiffel tower, no difficulty at the time of the reservation, I have already recommended it
- Great...These lights that make you dream !!! unforgettable...even to renew as soon as we can come back to Paris in August !!!
Written by maurice , on 16-09-2019
The Eiffel Tower sparkles...the Arc de Triomphe lights up...
- very good service
Written by DOAN on 04-09-2019
I am used to red buses in other cities and it was a great surprise to experience the "illuminations de PARIS" with a ratp partner bus. I am proud of it and wish long life to this French line...clean, on time, affordable price
- Wonderful discovery of Paris by night
Written by nicolas BEYLER, on 04-09-2019
Very well organized, user-friendly booking website. A must do, excellent value for money.
- Great!
Written by Jean Philippe Tinel, on 31-08-2019
very good evening we recommend to everyone pleasant surprise: a stop in front of the Eiffel Tower to not miss its illumination!
- Not to be done in rainy weather
Written by FRANCOISE PHIL, on 22-08-2019
The concept is great, great comments, well synchronized. Under the rain we lose a good part of the pleasure. Too bad for taking pictures or videos! Fortunately, the beauty of the monuments makes us forget the inconvenience of the rain.
- Very good
Written by Aleksandra, on 22-08-2019
My daughter and I really enjoyed this activity, the tour and the explanations of the audio guide. The only drawbacks were the long wait before getting on the bus, and the technical problems with the audio guide: the beginning of the presentation was replayed at least 7 or 8 times.
- The evening tour is a must
Written by Marie-Claude Raymond, on 19-08-2019
I recommend the evening tour without hesitation
- Great!!!
Written by Assia Abdellaoui , 10-08-2019
To do to see all the monuments of Paris illuminated, just magnificent !!!!
- delighted
Written by KARINE LAURIERE, on 11-06-2019
it was our 1st visit to Paris, and this night visit seemed to us an essential. we chose the bus covered with its glass roof (because of some rain drops), which protected us from the drops and the cold. the visit was great with anecdotal explanations (headphones) on the monuments; and we waited at the trocadero in front of the Eiffel tower to discover, oh surprise, the glittering lighting of the Eiffel tower at 23h. it is the moment surprise and magic, to take full eyes for tourists like us for whom it was the 1st time.
- The Magic of Paris by Night
Written by Sandrine SARRIO, on 06-06-2019
A beautiful experience to discover Paris from another angle, immersed in the traffic, in the heart of the City, the night falls as our course advances. The monuments present themselves to us in their light. The commentaries and music, in different languages, accompany the journey and reveal stories and anecdotes. Bonus to our super driver who allowed us to have the best viewpoints and respect the perfect timing to be in front of the Eiffel Tower at the moment of its glittering. Just plan to cover up because even on a nice day, the "outdoor" visit is done in the drafts and if the day has been busy, it can be a bit late for children who might not fully enjoy it.
- GREAT
Written by Pascale SLIMEN, on 03-05-2019
Yes I recommend this ride
- A magical evening
Written by Fabienne Ounadjela, on 02-01-2019
Very beautiful fairy evening
- Perfect gift
Written by Maria SEGUIN, on 01-01-2019
Original activity to discover Paris, especially at Christmas time
- To do!
Written by Virginie Huant, on 30-12-2018
Wonderful discovery of Paris with the illuminations.
- Great, we take a lot of eyes!
Written by Corinne VIZARD, on 30-12-2018
Efficient organization, everything was perfect. The blankets offered are an appreciable plus.
class=uagb-post__inner-wrap>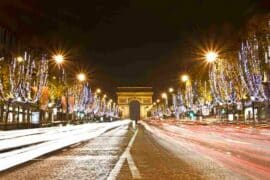 class=uagb-post__inner-wrap>
class=uagb-post__inner-wrap>
class=uagb-post__inner-wrap>
Latest articles