WE love : shopping and free entertainment
Free: free admission for the youngest
When: June 9, 2019
Location: at the Auteuil racecourse
Age: from 3 years old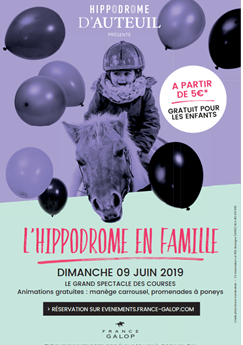 Free races and animations for children with France Galop on June 9th
The Auteuil racecourse, located in the Bois de Boulogne (Paris 16ème) is transformed into an adventure park on the occasion of France Galop on June 9th. On the program of this festive and family day, from 12:00 pm:
Attend horse races
Pony rides, carousel or giant inflatable structure
Enter the skin of a jockey for the time of a race by learning to ride with mechanical horses
It's a low-budget outing. Admission is free for children under 18 and the ticket for adults is 5 euros.
Cool idea: you can bring your own picnic, there are areas set aside for lunch breaks.
Around Longchamp:
If you want to take advantage of this escapade in Longchamp to discover the Bois de Boulogne, get up early, because there are many nice outings to do in the Bois de Boulogne!