Swimming pools in Paris
(aquatic centre, outdoor swimming pool, baby pool, municipal swimming pool)
An outing to the pool is an activity that always wins with children, in summer (especially if it's very hot) and winter. Teens will go alone with their friends (the Aquaboulevard is ideal), the youngest with their parents, grandparents or babysitter. For toddlers, parents will prefer pools with small pools or paddling pool.
If it's hot weather and the pool does not tempt you, we can also cool off with the jets of water from the Jardin d'Acclimatation or those of André Citroen Park. It's fun and the kids love it (do not forget the swimsuits). Or go green in one of the many Parisian parks or gardens.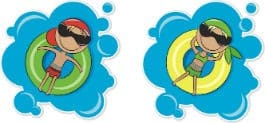 And all the neighborhood swimming pools...
Impossible to list all the neighborhood pools in Paris, their number is too important. We advise you to consult the website of the city of Paris for addresses and schedules (very changing depending on school periods and vacation periods). The site of the city of Paris: all municipal pools by borough