The eventful exhibition at the Fondation Louis Vuitton
Until August 28, 2023
5% discount with code FAMILIFLV5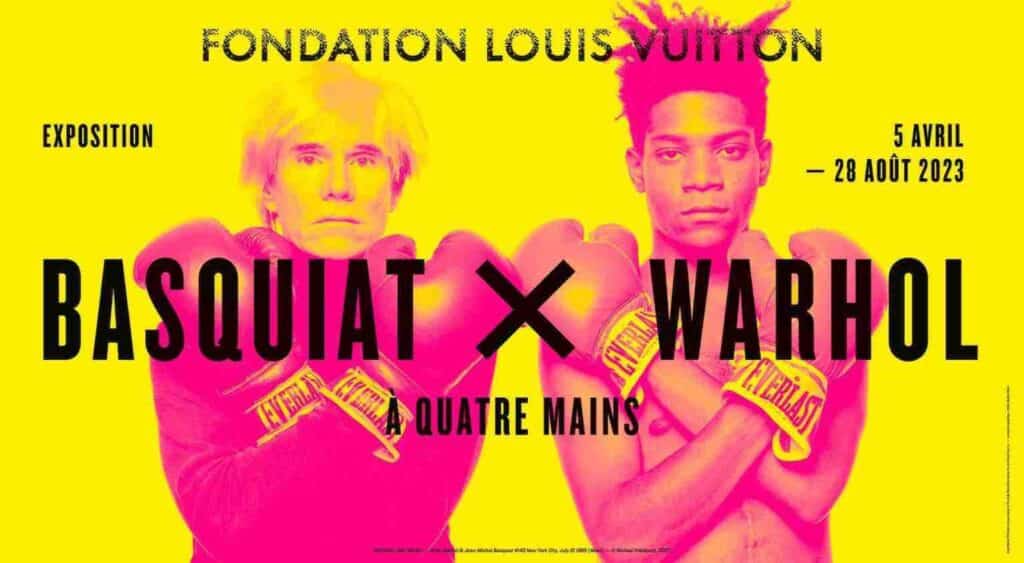 WHERE at the Louis Vuitton Foundation (16th)
AGE : for all, From the age of 8
DURATION : 1h30
DATEuntil August 28, 2023
HOURS 10am to 8pm Saturday, Sunday and Monday / 11am to 8pm Wednesday and Thursday / 11am to 9pm Friday (nocturne)
OPENING Every day (except Tuesday)
NOCTURNE Friday until 9pm
TO KNOW: the ticket gives access to all the exhibitions and collections of the Fondation Louis Vuitton as well as to the fabulous terraces of the building and to the Jardin d'Acclimatation !
"Basquiat ? Warhol, Four Hands."
It is a meeting between Andy Warholfigure of the Pop Art, so well known for its Marilyn or its cans of soup Campbells made in serigraphy, and Jean-Michel Basquiat an undeniable character of the New York underground scene of the 80s, inspired in his painting by the graffiti and the street Art.
This unique exhibition reveals the works that Basquiat and Warhol produced together, signed "four hands" - thus operating a symbiosis of their art, a third entity in a way! An extraordinary face to face !
To visit the most important exhibition ever devoted to this group of works in the buildings of the Fondation Louis Vuitton is to enter into an artistic universe in fusion!
From their meeting and from the world of the night will be born a deep friendship between the two artists who, mutually, nourish a still unknown artistic energy
It is a very beautiful Parisian exhibition which gives to see and feel several levels of reading, different emotions. Children will immediately find their marks in front of the works of Jean-Michel Basquiat, which calls upon the line of the drawing of child and the graffitias well as those produced in series and so colorful of Andy Warhol.
5% discount with code FAMILIFLV5
An explosion of colors and shapes that will catch on the whole family, without a doubt ! An ideal outing with the children and teenagers even when it's sunny to enjoy the incredible outdoor areas the architecture of the Foundation's building LVMH
The Louis Vuitton Foundation and the architecture of Franck Gehry
The Louis Vuitton Foundation and its exhibitions that enchanted us
"Franck Gehry Architectural Tour": from March 01, 2023 to April 02, 2023
"Monet / Mitchell" October 5, 2022 to February 27, 2023
"Simon Hantaï. The Centennial Exhibition": May 18 to August 29, 2022
"The Morozov Collection. Icons of Modern Art": from September 22, 2021 to May 03, 2022
"Cindy Sherman at the Foundation" From September 23, 2020 to January 03, 2021
Exhibitions currently or soon in Paris
What to do in the Bois de Boulogne and 16th district?