Mini-Rock en Seine
WE LOVE : discovering Rock culture and when children are looked after
AGE : ages 6 to 11
DATE: August 25 to 27, 2023
LOCATION: National Domain of Saint-Cloud
ATTENTION Book your tickets in advance as they go very fast - Registration before August 19
TO KNOW: The sound can be loud - The festival is therefore forbidden to children under 3, and it's best to wait until your child is 6 before going.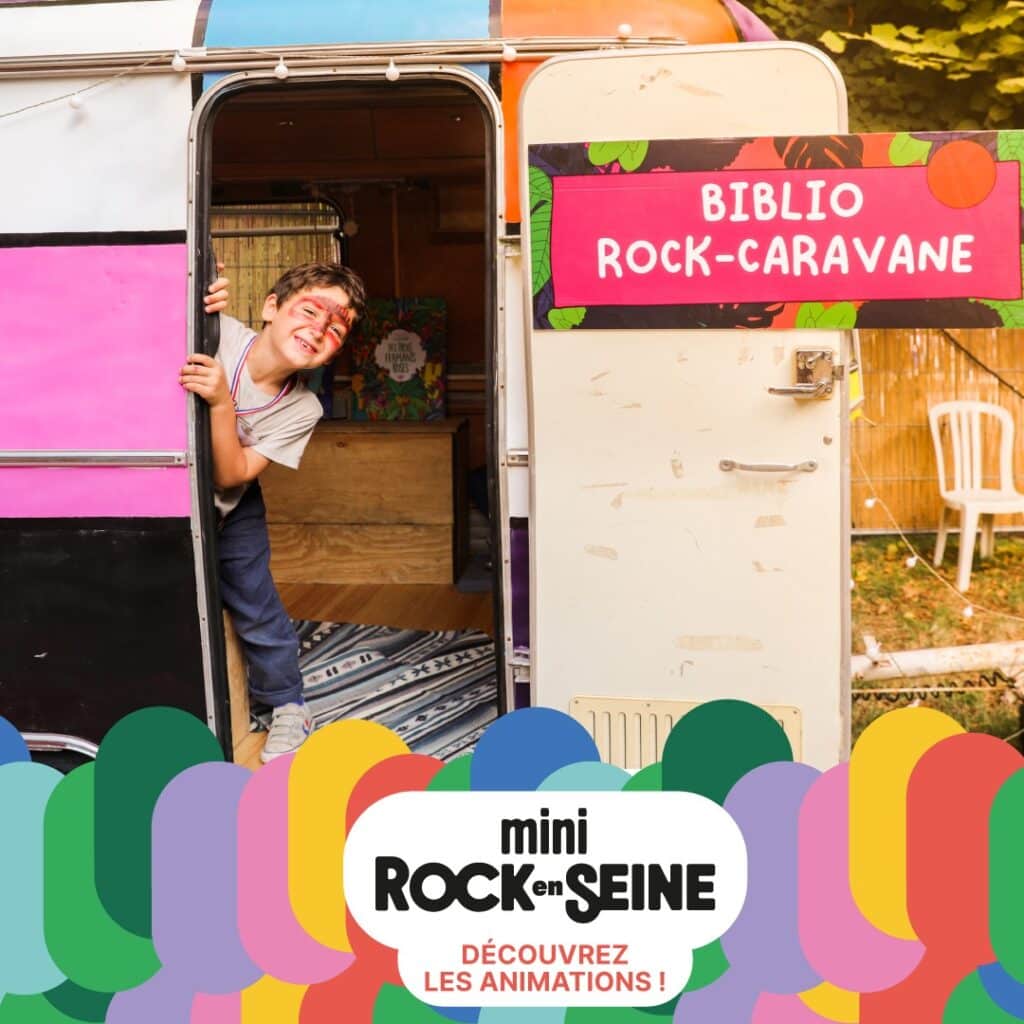 MINI ROCK IN THE SEINE
A rock festival nothing for kids ! While parents attend a concert, children are looked after in a fun and friendly atmosphere, away from the crowds. Because at Mini Rock en Seine, they're there for enjoy, to play, dance, sing.
Mini Rock en seine was conceived as a true place of expression but also to give the taste, envy and initiate youngsters to the workings of a festival. By taking part in Mini Rock en seine, future festival-goers will learn all the basics of festival management. Rock cultureand music creation professions !
Children aged 6 to 12 can register if at least one parent has a Rock en Seine ticket
Children under 6 years old are not accepted.
Programming specially designed for children:

16h45-17h30 / 18h15-19h - Song creation workshop or the discovery of writing, melodies and composition. With rehearsals, singing practice, and even the recording of a piece ... before the live concert!
Friday and Saturday from 4pm to 8pm / Sunday from 3pm to 8pm - Dj Mix Workshop - each child will have his or her own mixing board to try his or her hand at mixing
17h45 - 18h30 / 19h - 19h45 - La radio Mini Rock - learn about radio with a Cafézoïde presenter
8pm to 8:30pm - Concert: New Kidz followed by a DJ set until 9pm! - Rock and Metal played by the kids after their creative workshop: from AC / DC to Jack White - extra! Attention Pogo fans in short pants!
9pm-9:30pm: storytelling - a quiet moment under the big top after an emotional day
Continuous: Le Photomaton Rock - photo montages where kids can see themselves on the front page of Inrock' or at a great Rock en Seine concert
Continuous: the Rock Caravan library - a quiet place where children can relax with a book! A selection of children's books and games in a comfortable space
Continuous: The Playground - A funfair atmosphere! Giant bubbles, wheel of fortune, Dr. Evil ... and so many other games, each funnier than the last!
Continuous: A participatory fresco - no holds barred for creativity! Make way for a colorful fresco at POSCA
Ongoing: the Mini Rock playbook! For adventures with family and friends

The evening meal is not provided: think about giving your child a small picnic for his dinner
.
CONCERTS FOR YOUNG AUDIENCES :
Outdoor events this summer