The beach in Paris and swimming at La Villette
It's free, it's the vacations!
From July 9 to August 21, 2022
This year Paris Plages celebrates its 21st edition! Paris Plages is deckchairs and palm trees along the quays of the Seine with a variety of activities every day for children and adults alike... It's ideal when the weather is beautiful in Paris ! Paris Plages is an artificial beach in Paris with swimming areas at the Bassin de la Villette and in other places too with ephemeral pools. Finally, another novelty of Paris Plage 2022: a new space dedicated to sports in the Trocadero garden.
Paris Plages, it's every summer in Paris, it's a good idea when you wonder what to do in Paris this weekend and ... it's free !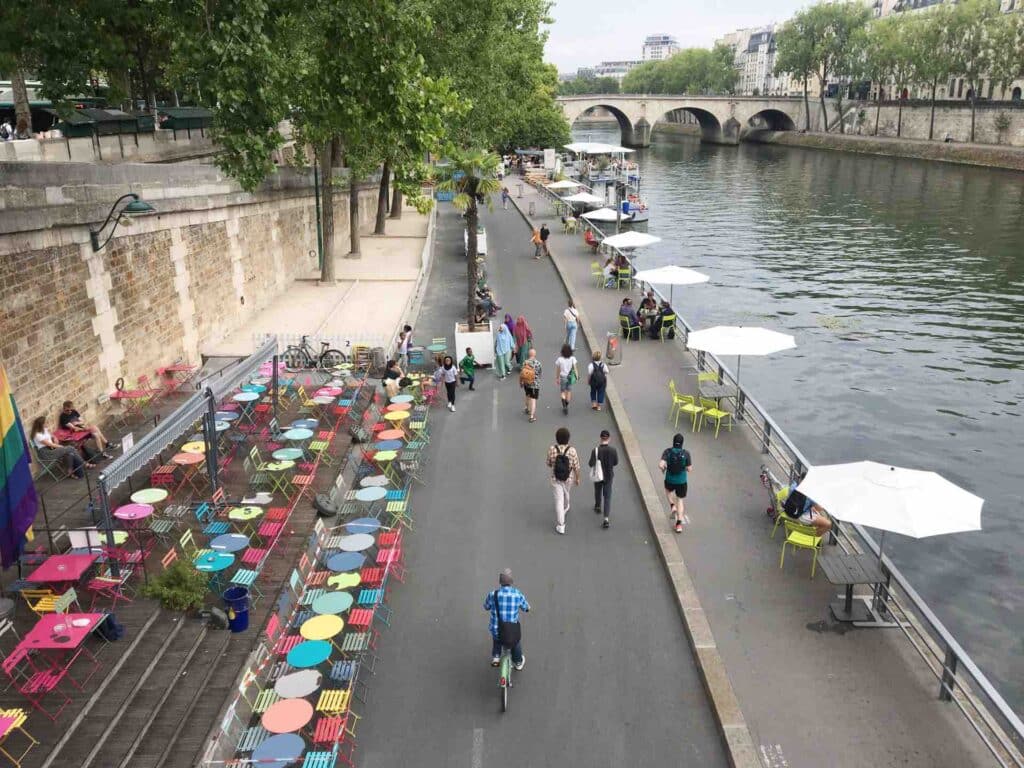 The festivities of Paris Plage 2022
Paris Plage offers free cultural and sports activities for all: exhibitions, sports classes, games library, library outside the walls?
This year, Paris Plage offers more greenery with more palm trees, more mulberry trees, new areas of misting ...
Paris Plage welcomes you at the Parc des Rives de Seine (deckchairs, walks, picnics...) and at the Villette for swimming in addition
Three swimming pools at La Villette
New in 2022: more ephemeral pools
PARIS BEACHES ON THE QUAYS OF SEINE (RIGHT BANK AND LEFT BANK)
Paris Beach Right Bank extends from Pont de Solférino (Paris 7th) to Pont Marie (Paris 4th)that is to say from the height of the Musée d'Orsay to the island of Saint-Louis.
Paris Plages is hundreds of sunbeds, umbrellas, palm trees, misters ...
It is also play and relaxation areas (mini golf, petanque, beach volleyball...)
Various animations.
It is necessary to stroll, to stroll quietly along the quays.
The beach is open every day from 10am to 6:30pm
To have all the latest information about Paris Plages Rives de Seine, it's here !
PARIS BEACHES IN THE VILLETTE BASIN
The basin of Villetteis located quai de Loire (metro Jaurès, Stalingrad or Laumière)
The bassin de la Villette is transformed during the summer into a real free nautical base, with swimming areas and water sports: canoeing, kayak polo, stand up paddle, pedal boats, bicycle pedal boats...
Paris Plage at the Bassin de la Villette is 3 pools of 1600m² with different depths with notably 2 paddling pools (play pools) with a depth of 0.4 m of 100 m² for accompanied children
There are cabins, showers and sanitary facilities with free access, as well as changing rooms, lockers and deckchairs
Decent bathing attire is mandatory
The swimming area is limited to 2,300 people per day and is supervised by lifeguards
Warning, children under 10 years of age must be accompanied
The nautical zone is open free of charge every day, Monday to Friday from 10am to 10pm and Saturday and Sunday from 10am to midnight
The maximum attendance has been adjusted according to sanitary requirements, based on 60% less than the usual standard (pools and solarium)