- Musical comedy -
Awarded 2 Molières
With pre-teens and teens
WE LOVE : an irresistible and playful comedy. A great moment!
AGE : with teens
DATE :

until June 25, 2023

DURATION: 2 hours
LOCATION: at the theater of Paris (Paris 9ème)
THE PITCH A producer on the verge of ruin imagines an insurance scam by mounting the worst musical, with a poor script, directed by the worst director, with an unlikely cast... nothing will happen as planned. An exceptional opportunity to rediscover the caustic, irreverent and crazy humor of Mel Brooks.
Molière for the best musical and Molière for the male revelation for the actor Benoît Cauden. 140,000 spectators already have this musical not to be missed!

This musical has been the most awarded show on Broadway. It is directed in Paris by Alexis Michalik, one of our most talented directors ("The History Bearer", "Edmond", "The Circle of Illusionists"...)
Ideas for outings with a teenager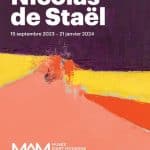 WE LIKE: an extraordinary retrospective of the work of Nicolas de Staël, who...