- Musical show -
For everyone, from 7 years old
WE LOVE : a show full of humor and great acting
AGE : from 7 years
DATE :

from April 12 to September 3, 2023

HOURS: Wednesday and Saturday at 2:30 pm, Sunday at 2 pm
During school vacations zone C: Tuesday to Saturday at 2:30 pm, Sunday at 2 pm
DURATION: 1h10
RATE : 13.50€ child or youth rate - 15€ adult rate
LOCATION: Théâtre du Lucernaire (Paris 6e)
Odyssey, the musical conference
The famous story of the Odyssey told, sung and danced by 2 performers who play 15 characters.
Odyssey, the musical conference, is the crazy epic of Ulysses told to children
After the Trojan War, Ulysses decides to return home to Ithaca.
But fate and the gods are not of this opinion and the return journey will be full of pitfalls. Facing monsters of all kinds, witches, Cyclops and other sea creatures, Ulysses will find Penelope 10 years later...
A new, concentrated and explosive version!
Trophy for the musical comedy for young audiences 2022.
The press speaks about it
TT. To laugh and learn. TELERAMA OUT
Crazy. TATOUVU
A musical that is full of energy. WHAT A STORY
Performed by two inventive and humorous actors. TRUE STORIES
Explosive adaptation. OPERETTE MAG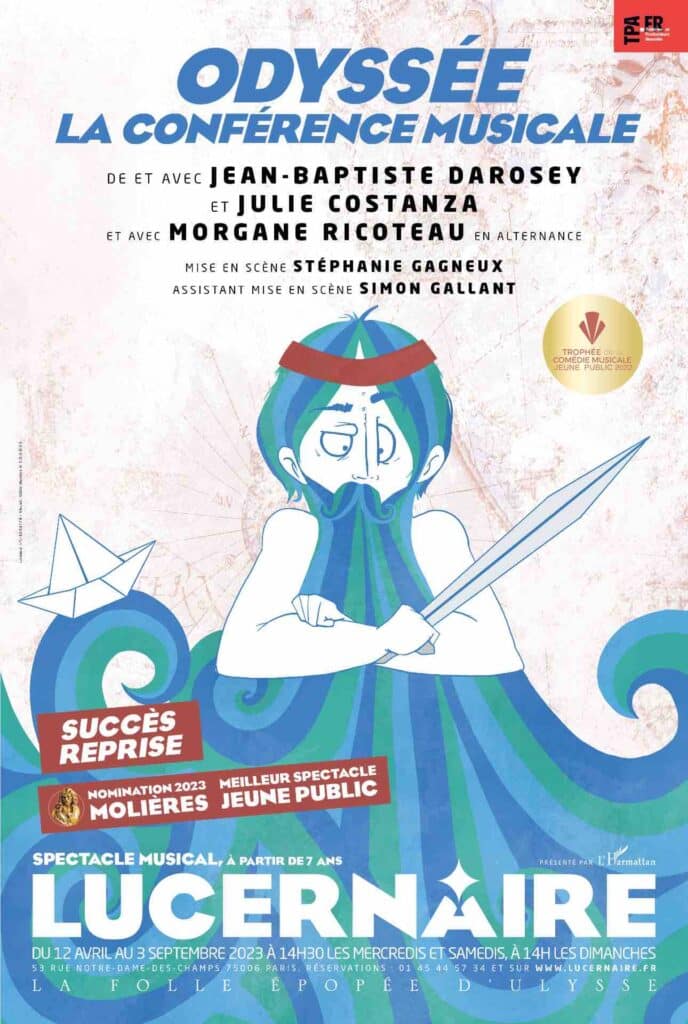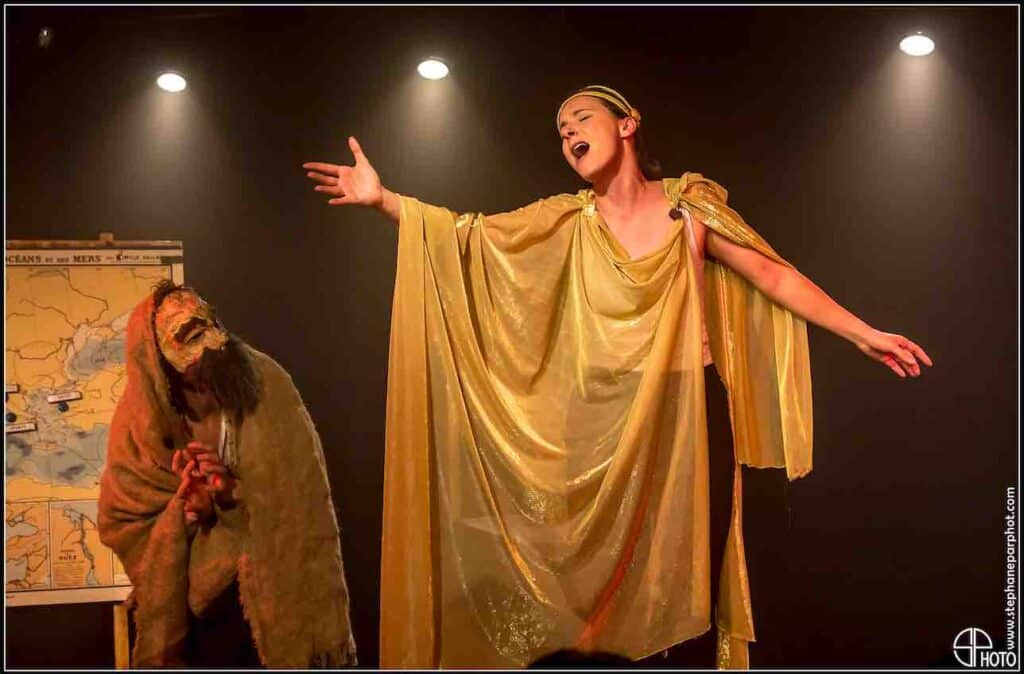 Find the list of our reviews
- Fabulous
Written by Magali Anselme, on 27-05-2023
Performers with few resources and lots of imagination. Our 10-year-old son really enjoyed it.
- Laughter guaranteed for both children and adults
Written by myriam lereah, on 15-05-2023
The story of Ulysses told by a duo of very good actors with a lot of humor. A pure moment of laughter for both children and parents! A big thank you for this very good moment and these reminders of the odyssey
- Great
Written by julie pleuvret, 07-05-2023
The play is really funny and the two actors are exceptional. My children, ages 5, 9, 12 and 14, loved it. A must see.
- Perfect!
Written by Véronique, on 30-04-2023
Very good advice on the choice of show for children. Follow-up by email very serious and very clear explanations. I recommend it !
- an interesting approach to this great classic
Written by jean-pierre BONNIOT, on 21-04-2023
The show is lively and animated from beginning to end thanks to the dynamism of the actors who give themselves without reserve. The classical references presented with simplicity bring a more modern vision of this ancient story that could seem boring to the youngest. The spectators, young and old, are caught up in the whirlwind of this long journey full of twists and turns. I had a good time with my grandson. Concerning the practical aspect: booking things can be done easily on the internet. I highly recommend this show.
Ideas for outings with 7-12 year olds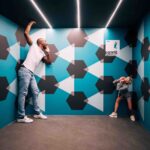 BOOK ON LOVE: the most offbeat family experiences - Your photos will...