WE LOVE : a cultural, fun and free nocturnal stroll
AGE : for everyone
DATE :

June 3, 2023
HOURS from 6 p.m.
FREE free for all
LOCATION: in many places in Paris and its surroundings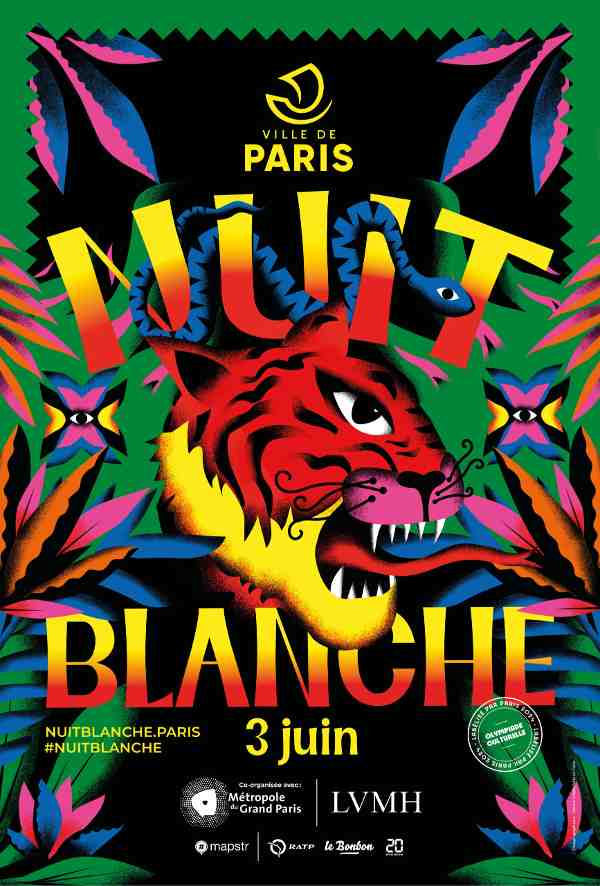 The Nuit Blanche is going to summer time! And will take place June 03This is when the days are longest. No more Nuit Blanche in autumn. Indeed, for 20 years, this cultural, fun and free nocturnal wandering was held every October.
On the occasion of the Nuit Blanche, the time ofan evening or one night, Many museums and public places are open all or part of the night, free of charge. This year, Nuit blanche celebrates its 21st anniversary!
Like last year, the theme of the Nuit Blanche aims to put bodies in motion by bringing together art and sport. The audience is no longer a simple spectator. It must participate with its body, move, experiment, interact, dance. This year, special attention is given to the SeineAll this under the watchful eye of Kitty Hartl, who was reappointed as artistic director after a successful 20th edition in 2022.
By taking place in new places, such as a swimming pool or a church, Nuit Blanche aims at the widest possible audience to show that art is not confined to the museum or the theater and that the symbolic borders of culture have no place during Nuit Blanche.
And of course, it is like every year, a free event!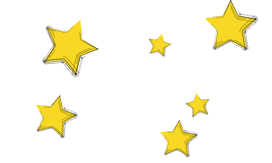 SLEEPLESS NIGHT : OUR FAMILY TOPS
La nuit des petits (at the Philharmonie - Paris 19e)
From 6 to 10 pm - from 6 years old
A an evening placed under the sign of the sounds of nature and their musicality
A concert phantasmagorical drawn, In the Jungle The sounds of the rain, the singing of insects, the chirping of small birds and the rumbling of wild animals.

A Dj set festive and dancing by Marc de Blanchardentitled Tropicoolwhere children will be free to rock out to the sounds of Hawaiian guitars and tropical rhythms

A musical fable wordless and anachronistic of Sébastien Lladoentitled Gnéwhich relates the improbable meeting of one of our distant Neanderthal ancestors with an electronic looper pedal, where while walking in the nature, we realize that we can make music with almost everything: shells, trees, stones, branches...

A DJ set of plants from the collective Playtronica. Leaves and stems vibrate under the delicate touch of the musicians and compose a subtle and bewitching music. The public will be invited to take part in the experience of a 100% electro-plant concert.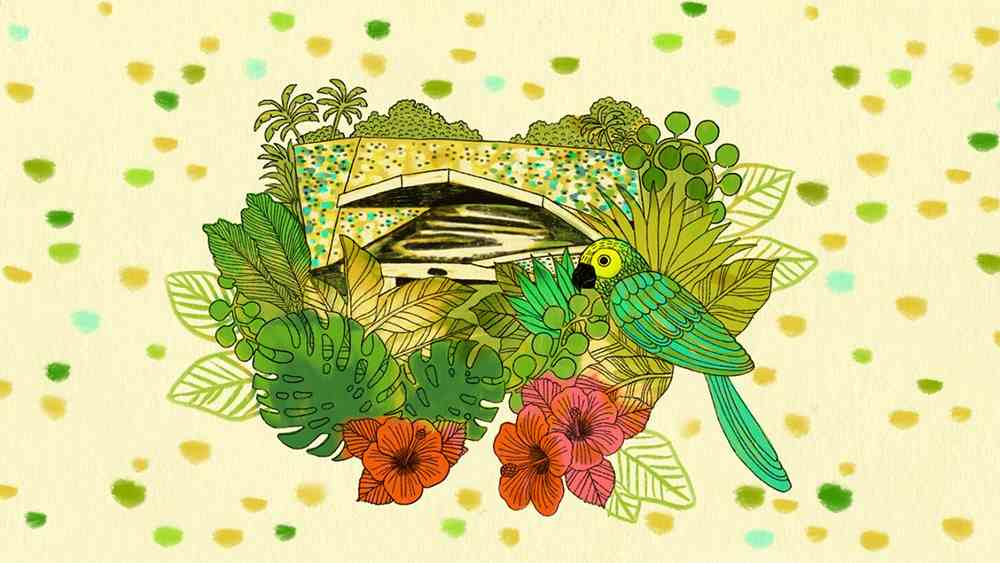 La Rumba (Parvis de l'Hôtel de Ville - Paris 4e)
From 7pm to 9pm - from 6 years
The forecourt is transformed into a strange place where hybrid creatures gather, a colourful jungle where all the arts mingle: costume, design, visual arts
PLAYSACK, 1968 - REISSUED 2023 : (costumes)
Designer Fredun Shapur (1929-2019) created a colorful composite body of work between 1960 and 1980 that remains a benchmark today, particularly for the toys he designed.
Thehildren will don a costume made in a paper bag with a humorous and colourful design to wander around the square and form an adorable set of 12 little animal creatures - and children can take home their costumes!
THE DANCE OF THE LIONS (acrobatics, performance)
Dancers and acrobats in lion costume perform a traditional Chinese dance. A symbol of prosperity in Chinese and Asian culture, these strange hybrid beings bring together man and beast in the night world
YETIS POP (mobile textile design)
A score of cheerful, colorful creatures made from lightweight materials and perched on rollerblades, will stroll around the forecourt among the audience! A magical moment for children! Les Yétis Pop will accompany the fanfares in a whirlwind of colors until 1am on the banks of the Seine.
LES FANFARES
Walk along the quays in the footsteps of the TECHNO BRASS AND GREEN LINE MARCHING BAND brass bands. The crazy, costumed showmen will get the Yetis Pop dancing! A strange colony gathered to the sound of brass or electric guitars, depending on the set!
Orchestre Les Forces Majeures (Forum des Halles, Terrace -1 - Paris 1st )
From 7pm to 9:30pm - for all
Get your bikes in tune!
Major forces is an orchestra made up of professional musicians brought together by shared values (social, environmental and festive) that they wish to convey through their musical performances.
Get your bikes in tune! is a committed artistic project that brings together sport and music. 80 amateur and professional musicians will play, while cycling, in a ephemeral orchestra symphony concerts in various locations between Saint-Denis and Paris.
Strauss's "Le beau Danube bleu", Vanessa Paradis & M's "La Seine" and Offenbach's "La Barcarolle" will be part of the closing concert of the Orchestre Les Forces Majeures' Accordez vos vélos festival!