Immersive and happy journey to the land of the Smurfs
EXPO "The Smurf Experience
WE LOVE : an immersive journey to the land of the Smurfs and for the older ones the final flight on the back of a stork
AGE : for all, from 2 years old
DATE: until 20 October 2019
LOCATION: Paris Expo - Porte de Versailles (Paris 15th)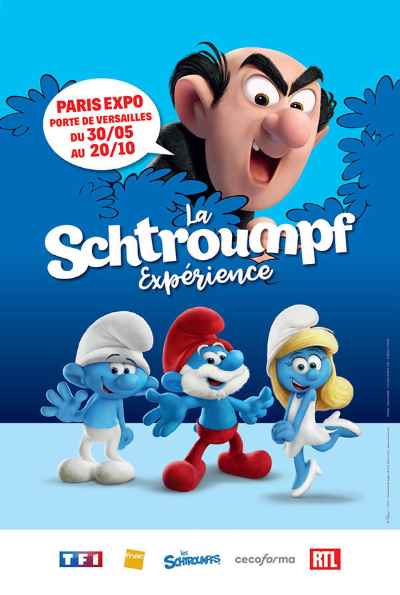 The Smurf experience, a smurf adventure!
It's about a immersive and participative experience who transports you to the enchanted forest and leads you to become a smurf!
Life-size sets, holograms and virtual reality immerse you in the life of a Smurf village. You will meet of course Smurfette, Smurf with Glasses or even Smurf Costaud to name but a few. Come and live a Smurf's life, at the height of 1,20m.
Gradually ds room in room, you become more and more smurf; you speak smurf, you are about the size of a smurf, you are a smurf
Stork flying is the ultimate highlight of the Smurf Experience. This is a virtual reality 3D experience. For 7 minutes on a stork you cross a magic forest to return to the village of Smurfs. It's simply stunning!
The Smurf experience, an exhibition created for 60 years of the Smurfs
The Smurfs were created in 1958 by the Belgian designer Peyo.
The exhibition "The Smurf experience" was conceived for the occasion and was first shown in Brussels where it welcomed more than 250,000 visitors.
Since then, this exhibition meets all Smurf fans and tours around the world.
The little ones will love to visit the village of the Smurfs, look through the windows of houses, watch the holograms and play with the suspension bridge or the slide.
The older ones will love the stork ride!
The TOP EXHIBITIONS of the moment