Free entertainment and Family Friendly
Every Sunday of August, from 16h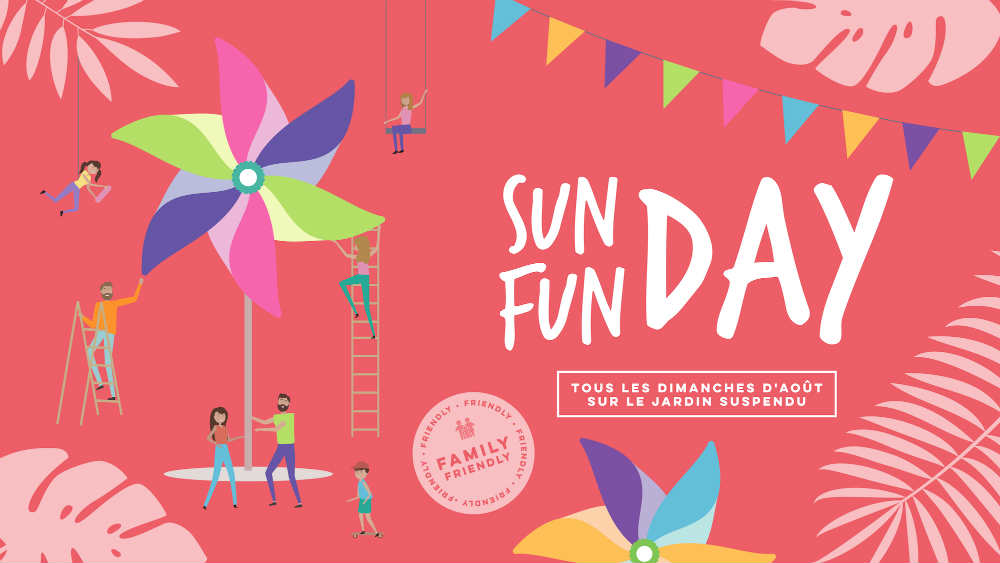 We like : it's free and it's fun
For whom: for the whole family, free access
When: in August, Sundays from 4pm
Location: At the Hanging Garden, in the 15th district
THE SUNDAY FUNDAY PROGRAM
"Kid Friendly" activities every Sunday of August, from 16h.
Sunday, August 4 at 4 pm, "Sunday Funday - Game Game Game": About sixty board games are available to parents and their children. Animators are present while everyone has fun!
Sunday, August 11 at 4 pmSunday Funday - La Schtroumpfade": for the youngest, a Smurf hunt is organized on the 3500m2 of vegetated rooftop. This game is organized in partnership with the exhibition "The Smurf Experience". For the older ones, a blind test of cartoons will be proposed
Sunday, August 18, from 4 pmSunday Funday - Le Jardin des Mystères" : animations for children with magicians, witches and werewolves from 4pm, with " ". Until 8pm, the youngest will enjoy dedicated animations. And from 8pm, adults will be offered activities around the divinatory arts.
Sunday, August 25, from 4 pm, "Sunday Funday - Village Festival": festive and musical games and entertainment organized by the Suspended Garden teams for parents and children. It's a real village festival that will be proposed to them
THE SUSPENDED GARDEN
The Hanging Garden is the biggest green rooftop in Paris. It is located on the roof of a Paris Expo Porte de Versailles car park, in the 15th arrondissement.
It's a ephemeral place, installed for the summer (2nd season) from June 13 to September 8, 2019: flowers, trees, plants and relaxation areas.
On the program for the summer: music and small quiet corners to read, chat, play, sip a drink...
"Kid Friendly" activities every Sunday in August, from 4pm, on the occasion of the Sunday Funday