FREE / OPEN DONATION
For everyone
October 8, 2023
Parc Martin Luther King (Paris 17th)
In sneakers with Paulette
WE LOVE : the solidarity run & walk in pairs
WHEN: October 8, 2023
LOCATION: Parc Martin Luther King (Paris 17th)
FORMAT : 8 km run or 4 km walk - easy level
AGE : for everyone, from age 4 for walking and 16 years for the race
DURATION: 3h approx.
RATE : free registration or donation
TO KNOW :
Parental consent is required for underage participants.
A medical certificate is required for runners. Not necessary for walkers.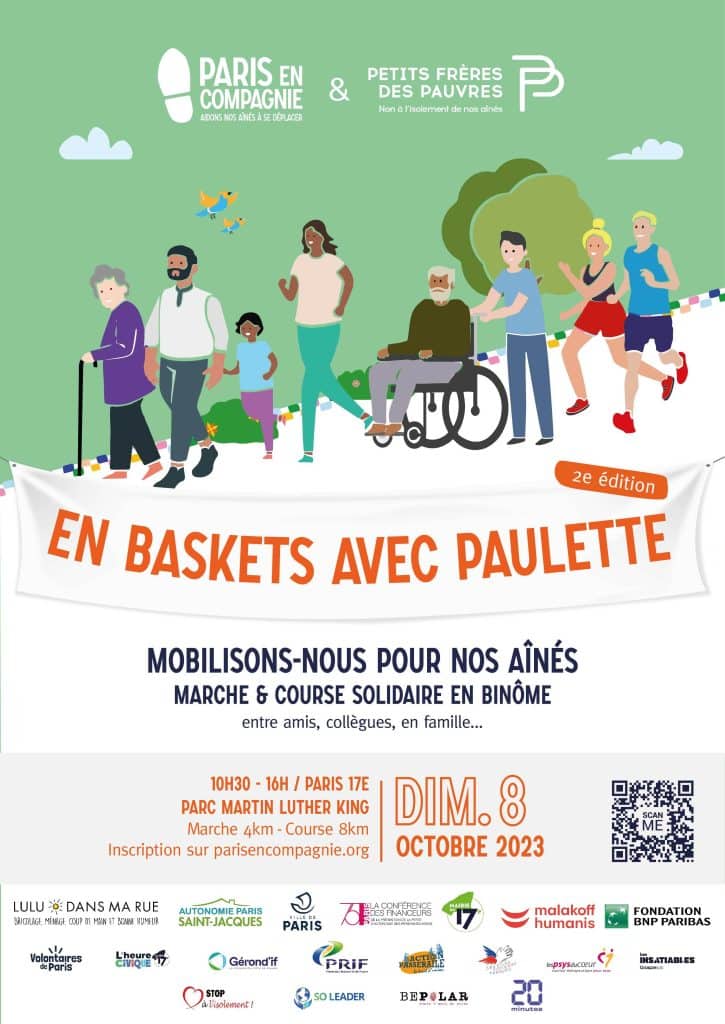 "En baskets avec Paulette" (Sneakers with Paulette): running and walking in pairs to help the disabled and the isolated.
An original race that must be done in pairs : adult and child or senior and child or able-bodied and disabled person ...
2 formats to suit your preferences and abilities: running (8 km) or walking (4 km)
To raise public awareness of the issue of isolation and mobility of seniors
Sunday, October 8, collective warm-up at 10am / Start of walk and run from 10:30am.
From age 4 for walking, and age 16 for running
Numerous events will be held along the route from 10:30 a.m. to 4 p.m.
THE PROGRAM
Accessible to tous!
Pair walk (4 km): from age 4 upwards
Pair race (8 km): from 16 years upwards
HOURS
10:30 am - 4 pm : entertainment in the solidarity village
9h - 10h : bib withdrawal
10h30 : warm-up
11h : start of the walk
11h30 : start of the race
THE COURSE
Martin Luther King Park
by way of the parc des Batignolles
and the 17th district town hall
WITHDRAWAL OF RACE NUMBERS
You can collect your number and that of your partner at the following locations
– Thursday, October 5 between 2 p.m. and 7:30 p.m. at 16 cité Voltaire (Paris 7e)
- Friday, October 6 between 2pm and 7pm at the Mairie du 17e reception desk
- Sunday, October 8 between 9 a.m. and 10 a.m. at the entrance to Martin Luther King Park (Paris 17th)
ACCESS TO THE VILLAGE
Meet us at Villages Solidaire, at the entrance to Parc Martin Luther King in the 17th arrondissement, between 10:30am and 4pm. The site is accessible to wheelchair users.
Bus : N°28 - 31 - 66 - 94 - 163 / Metro Pont Cardinet (14) / Vélib N°17016 Brochant - Square des Batignolles / N°17111 Lemercier - Cardinet
What to do in Paris in October?