This formula no longer exists
THIS PRODUCT NO LONGER EXISTS
OTHER CRUISES ON THE SEINE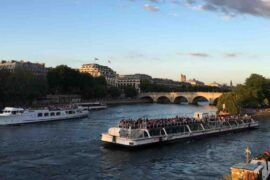 The circuit of the cruise in Bateaux-Mouches (7 days a week) Take the boat for a cruise on the...
DESCRIPTION OF THE CRUISE + PIZZA PACKAGE
The formula includes a 1 hour cruise on the Seine, commented by a guide present on the boat + 1 pizza menu.
You can choose to have lunch or dinner before or after the cruise. The pizza is consumed at the dock.
The Vedettes de Paris cruise on the Seine lasts 1 hour. All the information about this cruise on the Seine here.
The pizzas are homemade and prepared when you order. You can eat them on site, on the terrace (outdoor seating area with heated arbour).
The setting is exceptional A place to relax : feet in the water, at the foot of the Eiffel Tower, on the banks of the Seine, with a view of the Palais de Chaillot.
The Pizza Cruise package includes 1 hearty pizza + 1 drink (1 glass of wine or 1 beer or 1 soft drink) + 1 cruise of 1 hour on the Seine.
The pizzas are hearty and the formula is flexible: kids can take a pizza for two or a child can share a pizza with his parents.
The pizza kiosk is open from 12pm to 10pm. Service without reservation.