HEART STROKE
- THEATER -
Until November 5, 2023
WE love : a very good and funny piece, so funny!
Age : from 12 years old
Date :

until November 5, 2023
Duration: 1:30
Location: at the Michel theater (Paris 8ème)
Pitch : we all have a look-alike in the world. What if you met yours? Since they visited an apartment to settle down together, Arnaud has a slight doubt: did Marion have a crush on the real estate agent? By pure chance, he meets the real estate agent's look-alike and asks him to pretend to be the real estate agent. A great idea! Unless the fake agent finds himself face to face with the real one... And a twin brother shows up unexpectedly. Three look-alikes in the same evening is too much for Arnaud!
It's a boulevard play with slamming doors, bursts of voices, quiproquos but all in finesse.
A very good boulevard, funny, comical and we laugh a lot!
Sebastien Castro plays the role of the 3 look-alikes and his performance is phenomenal and bluffing
An excellent piece that puts you in a good mood!
Ideas for outings with teenagers in Paris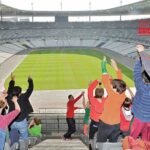 Book my tickets (free for -5 years old) Stade de France® - Macary, Zublenaet Regembal,...