NEW, the tour of Paris especially for children
Animations: clown or costumed animators, storyteller on the history of Paris, balloon sculpture, mini magic tricks...
duration: 1h30
WE love The tour of Paris, ultra playful, especially adapted to children.
THE ADVANTAGE: it's an ideal family outing, even with young children. The kids will love it!
LE +: everyone is guaranteed to be on the upper deck - max 40 seats per tour
RATE : 20 € for adults and 25 € for children (4-12 years old)
HOURS: October 11th at 2.30 pm + from Wednesday to Sunday at 2.30 pm during the All Saints' Day holidays
THE KIDS BETTING OPEN TOUR:
It is a formula that is both fun for children and interesting for parents
The parents admire Paris quietly by double-decker panoramic bus with an open upper deck
While children, divided by age, enjoy fun and original animations with a costumed animator on board
Animations for children consist of stories told around Paris, magic tricks, puppet show on Parisian History, balloon sculptures or quizzes for children over 6 years old...
The Kids Tour is suitable for all children from 2 to 12 years old. The little ones (from 2 years old) are delighted: we get on board a bus (!) and the animations with balloon sculptures enchant them. The 7-12 year olds love the quizzes and fun learning about Paris.
This 1h30 tour is focused on the discovery of Paris with notably: the Opéra Garnier, the Place de la Concorde, the Avenue des Champs Elysées, the Eiffel Tower... It is the opportunity to see Paris and its must-see monuments
You are guaranteed to be on the upper deck, if you wish.

In autumn and winter, the buses are covered (transparent bubble) to protect themselves from the sometimes uncertain weather.

The number of participants is limited to 40 people maximum
THE HALLOWEEN KIDS TOUR:
Kids Tour celebrates Halloween from Wednesday 28th October to Sunday 1st November
The bus is decorated in Halloween colours, the animators are dressed as evil wizards and the animations revolve around the Halloween theme.
Children in disguise are of course welcome...
On the programme: the inevitable distribution of sweets!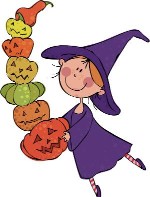 KIDS TOUR SCHEDULE
THE KIDS TOUR of Paris takes place at 2:30 pm:

Saturdays and Sundays outside school holidays
Wednesday to Sunday during school holidays
by reservation only
Departure from the OpenTour Agency located at 13 rue Auber (Paris 9th), subway: Auber or Havre-Caumartin or Opera
You must present 20 minutes before departure
Reservation required - 40 places maximum 
RECEPTION AND VALIDITY OF E-TICKETS:
Your reservation is subject to availability. It will only be confirmed upon receipt of the electronic ticket.
Present your e-ticket at the reception of Opentour (13 rue Auber), either directly with your smartphone or in printed version
Tickets are valid for the day and time chosen at the time of booking.
Tickets are neither cancellable nor refundable
They can be modified in agreement with Open Tour