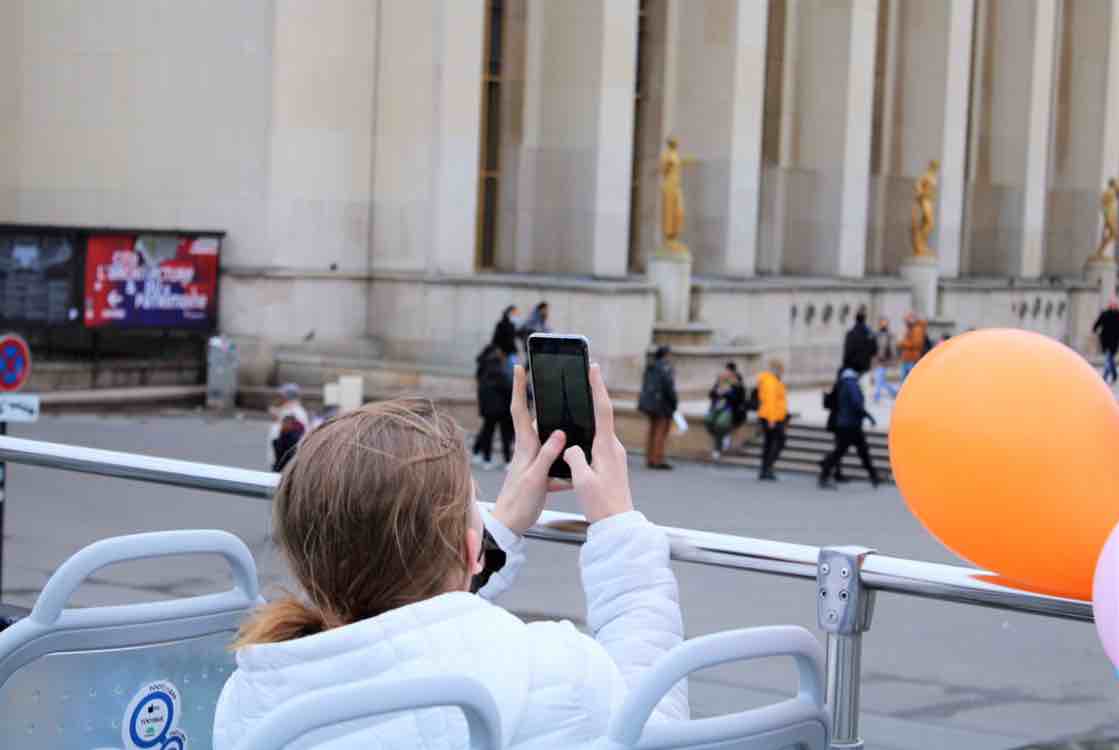 From : 30€ 27€ VAT INCLUDED
Strong points
A guide dedicated to children with some entertaining explanations and storytelling around Paris
Also original anecdotes, quizzes, games and candies to discover Paris while having fun
Ages 5-7 enjoy a bus ride with balloons and sweets at the end of the course and ages 7-11 quizzes and fun learning about the city of Paris
At the end of the tour, you'll receive a diploma from the junior guide expert in iconic Parisian landmarks + sweets. will be given to the children
? Eco-friendly buses powered by clean 100% energy
Kids Tour by tourist bus
This service is very popular during the school vacations. We advise you to book your tickets in advance.
It's a formula that fun and cultural for children and interesting for parents
Points of interest along the route : Opera Garnier, the Louvre Museumthe Place de la Concorde, the Arc de Triomphethe avenue des Champs Élysées, Eiffel Tower...
You are guaranteed to be on the upper deckif you wish
In autumn and winter, the buses are covered (transparent bubble) to protect yourself from the sometimes uncertain weather
Kids Tour schedule
Every Saturday at 2:30 pm
In the event of heavy demand, an additional bus may be offered at 11 a.m.
On reservation only
Kids panoramic bus tour rates
Price: 30€ per person (adult or child)
SEPTEMBER PROMO: -10% on the rounds of September 16 and 23, 2023
Free for children under 3 years old
Useful information
Departure: 13 rue Auber, 75009 Paris 
Metro Auber" or "Havre-Caumartin" or "Opéra" stations
duration : 1h30
Number of participants: limited to 50 people maximum
You must present 20 minutes before departure
Reservation required - 50 places max. to ensure everyone a place on the panoramic platform
Present your e-ticket to the staff at the front of the bus (in printed form or on your phone).
Tickets are valid for the day and time chosen at the time of booking.
Tickets are neither cancellable nor refundable
They can be modified in agreement with Tootbus (subject to availability)
Find the list of our reviews
- Satisfactory performance
Written by Séverine LEGET, on 29-08-2023
No particular comments, we would recommend this activity.
- Deceived
Written by Lin, 28-08-2023
The bus was on time and clean. We had a good welcome. Very friendly hostess. However, we were disappointed by the content, which was a bit heavy. We also found it longer than we expected. 2 hours instead of 1h30. Our 6 year old was perhaps too young.
- Nice circuit
Written by France Leroy de Mijolla , 18-07-2023
The tour is fun
- An interesting moment that passes too quickly...
Written by Marion , 02-06-2023
Hello, We have a few suggestions for you. On the "ticket" received by e-mail, it says "this is not your ticket" (or something similar), whereas this document was in fact the ticket! We would have preferred more child-friendly anecdotes about the city, such as stories so that the children could memorize the information and observe the view, rather than remaining fixated on their game paper. We enjoyed the afternoon and will gladly return in a few years' time. Thank you so much!
- The guide was great for the kids!
Written by Marie-Christine Lebigre, on 08-05-2023
What really missed are indupivudueks headphones, because the sound is not good, and there are places where you can not hear well.
- An experience not to be missed!
Written by Marie CANU, on 05-03-2023
Excellent family experience! As the mother of 3 children aged 11, 8 and 5, and a primary school teacher, I highly recommend this fun-filled activity (an "escape game" with clues to look for and codes for the multiple padlocks in the safe to find together to free the treasure) for the children, but also very instructive (unusual explanations about each monument encountered) for the parents. Other plus points for this kids' tour: comfortable, covered bus with second-floor seating for all, and really close-up views of famous monuments. A must-do, and well worth the price!
- No sound!
Written by Christine Pageaud , 26-02-2023
Very nice walk Super animator Alas no sound so difficult to follow
- MEDIUM
Written by Michel Dhaenens, on 10-01-2023
MEDIUM BECAUSE OF THE OUTSIDE TEMPERATURE
- Satisfactory
Written by Yamina, on 02-11-2022
Interesting tour of Paris in a nutshell. The guide was very good with the children. On the other hand, we almost left with another toot bus, to whom I presented the QR code and who did not check that we were in the right bus.
- Very good
Written by Benjamin LEMATTE, on 17-10-2022
Perfect for children, to discover the capital around some nice quizzes and in a good atmosphere.
- Great!
Written by Fanny Horisberger, on 17-10-2022
Superb discovery of Paris. Suitable for all.
- The ideal programme to interest 6-10 year-olds in discovering Paris
Written by Fabien Anex, on 13-09-2022
The playful approach, the dynamism of the animator and the game aids kept the children focused on the historical and geographical information delivered during the visit. And we, the parents, had a moment's respite while visiting this magnificent city.
- Very disappointed, not at all suitable for children!
Written by Helene Canavan, 13-06-2022
I will certainly not recommend it to others.
- very good
Written by Bastienne Simaeys, on 10-05-2022
interesting walk, very good guide and very nice. I will recommend this activity.
- Excellent
Written by Dominique Boisgontier, on 09-05-2022
Nothing to complain about, no difficulty to book, I highly recommend. The children (not yet so old) were very attentive! The explanations of the guide are clear, playful, concise and interactive. Perfect for adults too. The contest where everyone wins a reward was very appreciated by the children (especially the reward!! ????) I liked to rediscover Paris from above and I was able to take original pictures with new points of view and a sky full of little cumulus clouds (but that's not your fault????????) which make them very poetic! Thank you. Great moment.
- A tour in which adults enjoyed themselves as much as children, an excellent, pleasant and interesting guide, a very well-chosen visit with a view from the floor that made us rediscover Paris.
Written by Elisabeth Acas, on 03-05-2022
I recommend it!
- Thanks to the guide. Very good for children
Written by Myriam FROMENTIN, on 29-04-2022
Good activity for children
- child-friendly guide
Written by B S, on 25-04-2022
It's a little pricey, but perfectly suited to children. A very good way to discover Paris when you come from the provinces. I was a little confused to receive the confirmation in English. The tour guide was great and my 7 1/2 year old daughter loved it.
- Very disappointing
Written by Céline LASCAUX, on 02-04-2022
Unsuitable for children, who pay a higher price. Inaudible explanations. Monuments not clearly visible. No playful references as advertised. We had chosen this tour in the hope that the children would learn something about Paris. Out of 4 children aged 6 to 11, all were bored and learned nothing about Paris on this tour. Out of 4 accompanying adults, the disappointment was unanimous.
Reply from FamilinParis
Written by L'Equipe Familin'Paris
Hello, We are very sorry for your disappointment. Usually this activity is very popular with children and parents. We will forward your comments to Tootbus and get back to you as soon as we have an answer.
- Nice
Written by Nath, on 18-03-2022
The children are together at the front of the bis and the parents are at the back. I recommend it for children aged 5-6 and over, but no younger.
- Very nice, instructive and fun for children
Written by Sophie Le Guillou, 09-03-2022
Kindness of the speaker, fun, informative and it goes by very quickly.
- Disappointment ????
Written by L. P, on 22-02-2022
Outing intended for children, but there's no added value for them. Disappointing entertainment. A tiny bag of sweets offered at the end. Diploma not even personalized. None of this explains the extra 5 € on the ticket price. Misleading" advertising on the Bus Kids website. I wouldn't recommend this activity to others.
- Very good experience
Written by Anne Bialecki, on 09-02-2022
A fun and playful tour of Paris for the children, who could see and listen to the explanations given by the tour guide, who (along with the driver) was able to adapt her presentation to the constraints of the traffic. The children were delighted. A must do.
- Big disappointment
Written by Delphine BUTELET, on 20-01-2022
An extremely disappointing experience that I wouldn't recommend! We didn't really see how this was a children's tour, apart from the three balloons hanging from the bus and two pennants inside. It's not a suitable tour insofar as children are seated in standard adult armchairs, so their gaze reaches under the glass: difficult to admire the scenery! And let's talk about the "guide": a disgrace to the profession! He didn't provide any information other than banalities (e.g. the Eiffel Tower was built by Gustave Eiffel! no kidding!), without ever being able to answer the questions asked. Even my child could have done better. In short, a disappointing experience. The only positive point was the itinerary taken by the bus, which enabled us to discover the main monuments of Paris.
- Great family time - Fun and instructive
Written by Maria Beloqui, on 04-01-2022
The kids (8 and 5) loved it! The guide was great and got both young and old involved. Tour time 1h30 - perfect for the whole family. To be done again and again without moderation!
- Very good activity for a young audience
Written by Marie-Christine CARLA-COISSAC, 31-12-2021
I really liked the concept of visiting Paris through little anecdotes, and it struck a chord with my 5 1/2 year old grandson. On the other hand, you promised special activities for children on the website, but they weren't there... I particularly appreciated the flexibility of the bookings, as Olivia was able to change my booking very quickly following a handling error... I've already recommended this activity to several friends.
- Great visit!
Written by Aurelia Ferraris, on 25-12-2021
My 5-year-old daughter loved it! Great visit with Manon. Anecdotes that kids love, and she learned a lot while having fun! I highly recommend ????????
- Guided tours accessible to children, but where's the fun in that?
Written by Vanessa, on 06-12-2021
Positive: Easy to book, easy to locate. Affordable anecdotes for children. Pretty comprehensive sightseeing tour. Negative : No fun, except for a headband from the guide and candy at the end! The site looks like it could be better... Weather too icy to be in an open-air bus, but no one can help it!
- A little tour of Paris for kids
Written by nicole Stadler, on 29-11-2021
the guide was perfectly able to relate to the children and told them anecdotes they would remember I didn't like having to use my phone to show my ticket (I'm probably old-fashioned, but as it's fickle, I'd have been happier if I'd been able to use a paper format - recycled!) I'd recommend it to parents who want to show off Paris's most emblematic monuments without exhausting their children.
- Kids tour halloween - little could be better
Written by pardo mae, on 24-11-2021
We did the Kids tour for Halloween. The tour is interesting, personally I found it good. The commentator seems to know Paris very well, but much less how to enthuse children. I was expecting a fun presentation of Paris, with anecdotes related to the Halloween atmosphere. Instead, it's just a tour with a commentator wearing a witch's hat and handing out candy as you get off the bus. To sum up: good tour of Paris, but could do better in terms of adapting to children, and could really do better in terms of the Halloween atmosphere. Perhaps in addition to a commentator specializing in Paris, we need a children's entertainer...
- Avoid when it's raining.
Written by Samsam, on 22-11-2021
The guide was great, but the kids, especially the youngest (4), didn't see any of the monuments we were talking about (no booster seat, rain...). So 25 euros per child for 1 hour is really expensive. Very nice Halloween decoration on the bus.
- High-quality service attracts the interest and attention of children
Written by Agnès Maison-Petit, on 21-11-2021
A good time spent together with a very nice and interesting animation Thanks to our host
- Very nice experience
Written by Elodie Vidal, on 20-11-2021
A tour well adapted to the children, and a very nice and pedagogical animator. A nice experience.
- Topissime
Written by Severine Millet, 18-11-2021
We really liked it. Our daughter did too.
- Perfect for children
Written by JEAN JACQUES SOULOUMIAC, on 12-11-2021
Very good overall. Very good tour management by the guide, who knows how to "hook" the children and hold their attention. They're delighted. The price does seem a little excessive, though.
- Great time!
Written by Chloé GUILLOTEAU, on 10-11-2021
The kids tour was a great experience. The speaker was very pleasant, with a speech and terms adapted to children, hyper fun with games and quizzes. The kids loved it, and so did we! To do without hesitation.
- SUPER MOMENT
Written by PAOLA AMARO, on 08-11-2021
interesting, fun and a big BRAVO to the guide who aroused the interest of young and old alike in our beautiful capital, a lovely Parisian interlude :):):):)
- Despite the rain
Written by Catherine GEORGELIN, on 07-11-2021
The cancellation reservation was very inconvenient. The host could have focused the tour a little more in conjunction with Halloween.
- Soaked
Written by Michel Yann, on 06-11-2021
We thought we'd be able to take the ride on the bubble-covered upper level, but only half of it was covered, so we were able to keep the kids safe, but the parents were drenched! To be avoided before the age of 7/8, our children were extremely bored...
- Extremely disappointed
Written by Benoit COUZI, on 05-11-2021
This tour of Paris has nothing for children. The comments are the usual ones for a big-city tour, and my grandchildren were bored. Cer's candy distribution at the end of the tour doesn't make it a children's tour. To be avoided.
- Frankly disappointed
Written by Alice Field, 05-11-2021
The service did not correspond at all to the description on the website Nothing to do with Halloween apart from a few decorations Comments and descriptions of monuments poor, even uninteresting Buses not completely covered, so tour in the rain I've already recommended to friends not to do it!
- Good experience of crossing Paris by bus,
Written by Elodie Féré , on 05-11-2021
What I didn't like: we were expecting something else in terms of animation for the children, it was a Halloween special but apart from the candies at the exit .... For the adults, it was very good. We enjoyed this bus tour in Paris. My kids liked it too but a little more Halloween animation would have been great. Thank you all the same. We will recommend to our friends and family
- Nice experience
Written by Rosane Tiako, 05-11-2021
I recommend it because it is very instructive for children and also for adults ????
- Very disappointing
Written by Katy Novais RODRIGUES , 05-11-2021
We went on the Halloween tour on Saturday, October 30, I was told that the bus was totally closed upstairs in case of rain, which was not the case at all. The guide was nice but completely incompetent! His explanations were more than evasive, he didn't understand the children at all. Big disappointment for our children and for us. I don't recommend it at all.
- A fun little activity for young and old alike
Written by Floriane Perottet , 05-11-2021
I recommend this fun and friendly activity, which my son enjoyed very much, especially for the Halloween period. The children were all dressed up and it was very nice. Visit of Paris and explanations given on the monuments very interesting. Small downside it was not very hot at the top of the bus I thought they closed with the hood so we had to cover my baby of 5 months but otherwise nothing to complain
- nice ride but a little disappointed
Written by dominique HILLIER, on 03-11-2021
The stroll around Paris, taking in the main monuments, was very pleasant all in all. What's more, the sun was out in full force! On the other hand, the Halloween theme wasn't respected and my little girl's costume, bought for the occasion, didn't do much good! I know there were a lot of organizational problems, which may explain this. That said, it was still a lovely ride and we had a great time.
- Fun and educational activities for the whole family
Written by FREDERIQUE SARAZIN, on 03-11-2021
The guide adapted to children is really appreciable, the person who was present told us many historical anecdotes that I did not know, my son of 7 years old loved it and me too
- Nice but not a very professional team
Written by LESLY CHOVINO, on 02-11-2021
The animators are not up to the task, the haloween activity is not very funny and they take the front seat to put their stuff when this seat is the best one
- VERY VERY DISAPPOINTED
Written by BOTREL Annie, on 02-11-2021
I couldn't recommend this activity as I didn't have it. We had booked a kids tour for 2.30pm and when we turned up at 2pm, we were told we were supposed to come at 11am! It was impossible for us to get on this bus and we had to take the normal tour in another bus, without the children's entertainment, without the Halloween decorations... This was not what we had booked for. Familin had confirmed this 2.30pm reservation several times, including on the day itself. We were not the only ones in this situation, as we were told that there was a computer problem. I hope we'll be compensated for this missed activity.
- Totally lame!!!!
Written by MATHIEU MARTIN, on 02-11-2021
Tourist tour that has nothing special for children except the plastic medal and the bag of candy at the end. The guide didn't organize anything for the children, he just showed some pictures of the monuments we were going to see a few minutes later .... We were on the roof, adults and children, and could not hear the microphone (even though we pointed it out at the beginning!) Even we, adults, did not learn anything during this tour. False advertising, absolutely avoid it!
- the children (aged 8 and 4) really enjoyed it.
Written by Jacques grisel, on 02-11-2021
I would recommend without restrictions
- Very good, too bad about the traffic jams
Written by Ghislaine TATIN, on 01-11-2021
Very good for children Very nice guide No difficulties for the reservations. SMS reminder very good. Of course I recommend this activity
- Fun and instructive
Written by Adeline Hérat, on 30-10-2021
Very warm welcome from the team. The animator really gets children of all ages involved. A very fun way for children to discover or rediscover Paris. Full of anecdotes and stories. Interesting for parents too. Lacks a booster seat for little ones to see over the sides of the bus. The price is a little high, especially for children. I highly recommend it, and would certainly do it again with my 5-year-old son.
- Excellent
Written by CÉCILE , on 30-10-2021
The speaker was very interesting. She knew how to capture the attention of the children and the older ones between stories and riddles. Definitely worth doing again.
- Lovely family outing, children very happy
Written by Jean-Paul Chaigne, on 29-10-2021
a great time. the tour shows the monuments that are essential for discovering Paris, each with a very pleasant explanation from the tour guide. the children were delighted.
- Great fun! A must-do even for Parisians
Written by Caroline Fonmarty, on 21-10-2021
I loved it It may be a little long for children 50 minutes would have been enough I think The animator is adorable, she keeps smiling in all circumstances, respect! The weather was nice and Paris is magical
- Average satisfaction
Written by Marie PACAULT, on 25-09-2021
- Late start - Very poor acoustics - Very quick passage in front of the monuments. - Guide-presenter not very understandable and not very exciting for children...
- I recommend
Written by christine LESELLIER, on 20-09-2021
Superb activity the children were enchanted and we learned many things the animator manon was brilliant
- Nice but not fun enough for kids
Written by Nati Lecerf , on 17-09-2021
The speaker was very interesting but I expected more animation for the children.
- Very well suited to children aged 8 - 12; well done!
Written by Rolf Bez, on 04-09-2021
No need to put balloons and flags alongside the bus: it makes a useless and unpleasant noise :-( Booking: impeccable. Recommendation: yes, without reservation.
- Topĺ
Written by Nansika GUERIN, on 01-09-2021
Very nice walk; top speaker; on the other hand, interesting for children from 7 years old, below that age, they lose interest in the explanations. In any case I recommend.
- I do not recommend
Written by Laetitia Holeindre, on 30-08-2021
Hello, this is a nice concept, but the ticket doesn't show the time of the appointment, but the time of the bus departure. As a result, even though we'd been right next door for a while, we didn't show up until the appointed time and found ourselves sitting at the very back of the line, where we couldn't hear very well. My son is small and tried to take part in the quiz, but it was complicated because the guide couldn't see or hear him. What's more, we didn't have headphones, but the people sitting next to us, who were foreigners, did, and the sound was extremely loud, so we couldn't hear very well, and the little we could hear was covered by the sound of the headphones. It's a pity because I liked the idea, but in the end my son gave up and fell asleep. I wouldn't recommend
- bad sharing of guide info hearing
Written by MARYSE LEGHLID, on 29-08-2021
I was with my 9-year-old grandson, who understands French but speaks permanent German. The guide doesn't seem to have been clear about the children's composition of the bus, for example, in terms of getting everyone's attention and taking this into account. There was a major problem with the microphone, which meant that she had positioned herself in the middle of the bus and that, situated at the front to see and hear her well, we were only able to pick up part of what she was saying without ever being able to see her. The side bars hide part of the landscape for children whose eyes are at that height and who can't stand up. That said, my grandson didn't complain and took photos ....
- Mixed
Written by Leslie Porte on 20-08-2021
Very nice, but we were seated in the middle of the bus, so we couldn't hear much of the hostess, which demotivated us to get into the question-and-answer game. What's more, some of the children couldn't see the pictures... maybe think about putting the children in front, so that they can get the most out of their kids' tour. All in all, a mixed experience for us.
- Great for kids
Written by sebdelan, on 16-08-2021
Very good organization for the children, very nice staff, a top lecturer and a very playful tour of the monuments of Paris.
- Very interesting guided tour
Written by DOMINIQUE LETULLE, on 16-08-2021
The organization was good The guide was very interesting and very attentive to the children's needs.
- Very pleasant activity, but for children aged 6 and over.
Written by colmant Sylvie, 14-08-2021
Yes
- Extremely family-friendly
Written by Pierre Nobre, on 02-08-2021
Tour very well explained to children
- A nice way to see Paris from above
Written by Monique RAEDECKER, on 29-07-2021
Speaker perfectly adapted to children's ages. Little guessing games, anecdotes. Good choice of monuments.
- Not suitable for small children, although this is mentioned in the advert.
Written by Lucie , on 22-07-2021
This tour is intended for children over 7 years of age, although it is clearly stated in the advert that it is also intended for children aged 4 and over. We were very disappointed as there were no games or entertainment for our daughters aged 5 and 3, who were just bored... The ad doesn't represent reality at all, which is a shame for a Kids tour.
- Nice but below expectations
Written by Aurélie SARAIVA-LAFON, on 12-07-2021
Nothing to say about the tour itself, which was great, and the professionalism of the team, with a top-notch tour guide who mastered her subject! After that, for children under 7, the fun aspect was missing, with activities other than riddles and quizzes. Some customer comments mention magic, jokes, balloons... On the downside, the lecturer stays right in front, and it's not always easy for children to see what she's showing. What's more, the children weren't divided by age. As a result, my son dropped out a number of times, certainly out of shyness, but also because it wasn't always easy to grasp. I recommend it, but more for the 7-12 age group.
- Disappointing
Written by CATHERINE HENNEQUIN, 10-11-2020
No
- Very good!
Written by nicolas bouteloup, on 04-11-2020
Discovery, Halloween atmosphere, jokes, magic, kids love it...
- Enjoy the ride
Written by Leticia Goueste, on 02-11-2020
Organization at the top as well as the reception. The walk is beautiful. My son being 4 years old a little young to understand everything of the animation which is more for the primary CE1/2 I will say. But we took advantage of the bus, it was the reason number 1 of our come.
- Kid tour
Written by Berangere Vankemmelbeke , 02-11-2020
PLEASANTLY SURPRISED. I WOULD GLADLY RECOMMEND TO A FRIEND.
- Original outing for children and adults
Written by Annie G., on 27-10-2020
Very nice activity that was much appreciated, too bad the magic tricks lacked interest. No problem booking and very good welcome at the agency. I recommend this fun and instructive activity.
- Super guide
Written by Elodie Moussié, on 27-10-2020
The young woman who was our guide was really very good
- Quality service
Written by Catherine HURSUL, on 27-09-2020
A warm welcome, and a children's entertainer who kept the children's attention all the way through, mixing culture, magic, humour... my 4 1/2 year old grandson couldn't take his eyes off the show for a second...
- A whirlwind tour of Paris
Written by PATRICIA GIANNANDREA, on 23-09-2020
Very expensive activity for a bus tour of Paris in the rain, with rainwater reaching us in the basement of the bus. The guide dressed up as a "Princess" or something...; not very interesting! Explanations and magic tricks, more for 2-year-olds than for older children! False information about the height of the Eiffel Tower. My child was not really enchanted. I wouldn't recommend this outing.
- Nice, but needs improvement
Written by Leslie Van Lathem on 10-09-2020
The presenter was very nice and engaged the kids, but the problem was that she was often all the way in the front and the kids in the 5th row and up didn't always see everything she was showing as pictures or magic tricks. Also, major mic issues meant that the kids a little further back didn't always hear everything, let alone the adults. The beginning is perhaps a bit too "theoretical" and the fun doesn't start until about 20 minutes in. The idea is very nice, but the bus needs to be adapted more with a facilitator in the middle of the children, not at the very front. Each child left with a balloon in the shape of an object/animal and a nice little diploma. The tour in Paris is quite complete. The price is correct
- Good contact, good idea, but time not right for midsummer (3pm).
Written by josette JULIA, on 05-09-2020
The reservation went well, especially because I was contacted quickly because of the problem of seats: I had to reserve another child ticket to be able to be two adults with our little girls. This was well managed. Expensive seats, and even more so for children!!!??? On the other hand, the idea of having an open tour adapted to children is a good idea; however, in concrete terms it is difficult because my little girls did not want to stay alone in front of the tour and therefore we could not hear what the hostess was saying. The worst thing is the choice of time: 3pm in the middle of summer: it's in the middle of the heat, and also the children's nap time. It would be better to do it at 10:30 or 11:00!
- Great entertainment for children, very professional hostess who knows how to adapt to children and keep them interested in the visit.
Written by Nadine MORIZOT, on 01-09-2020
Pleasant visit, top-notch entertainment for children, and parents discover or re-discover the monuments of Paris like never before. Price valid for children but a little expensive (25 €) for adults. I really enjoyed it and recommend it without hesitation.
- Not enough entertainment for children
Written by PATRICIA Clevy, 31-08-2020
More anecdotes No rain no clown
- Good, but a few areas for improvement
Written by Adija , on 28-08-2020
I did it with my daughter of 5 years 1/2 and my daughter of 2 years 1/2 I found the tour nice to see the monuments of Paris but it's a bit of a pity that the children have to stay alone in front and the adults behind. My two year old daughter didn't want to stay with her sister so I had to sit in the back with the adults and my older daughter because my children wanted us all to be together. I still prefer by far the enchanted cruise with the fly boat
- Suggestions for improvement
Written by Magda Vialle, on 28-08-2020
- one criterion missing - children under 4 years of age present at time of booking - the magician was very kind - very accommodating reception manager - double deck cover in case of rain fortunately we were provided with ponchos - yes, we've already talked about it
- Kids tours
Written by soundous Kassas, on 27-08-2020
First of all, when we booked the tour, we were told that there would be a total of 25 places, but there were more than 40 of us. Then the entertainment was largely made up for by the children's singing, the magic tricks were very average, and the visit and presentations were botched. For the price, I was expecting much better. On paper, the project sold like a dream, but I wasn't seduced.
- Interesting
Written by Yanis B, on 24-08-2020
It's good for older kids. In my opinion, it is interesting for children from 10 years old. Otherwise really good for older kids.
- Nice
Written by Mariama B, 24-08-2020
Interesting bus tour, with a superb explanation by the magician for each monument. But I found it a bit complicated for children under 8. The questions weren't really suitable for toddlers, so mine were a bit frustrated. At the end, balloons for everyone was great!
- Top
Written by Sarah , on 20-08-2020
A must do! We recommend it! The little ones are captivated by the ballad and the pirate! Fun, appropriate explanations... And during the tour, parents can relax .... great fun!
- Rate
Written by Jean-Pierre NICOLLIN, on 16-08-2020
unfortunately we missed the bus and there was no way to get a refund or replacement or any commercial gesture, very disappointed for our children...
The notices are listed in ante-chronological order
How to get there?
13 rue Auber, 75009 Paris

Metro :