WE love : the very beautiful dressage acts
Language : No need to speak French
Age : For dressage lovers
Duration: Until November 4, 2018
Location: Domaine de Chantilly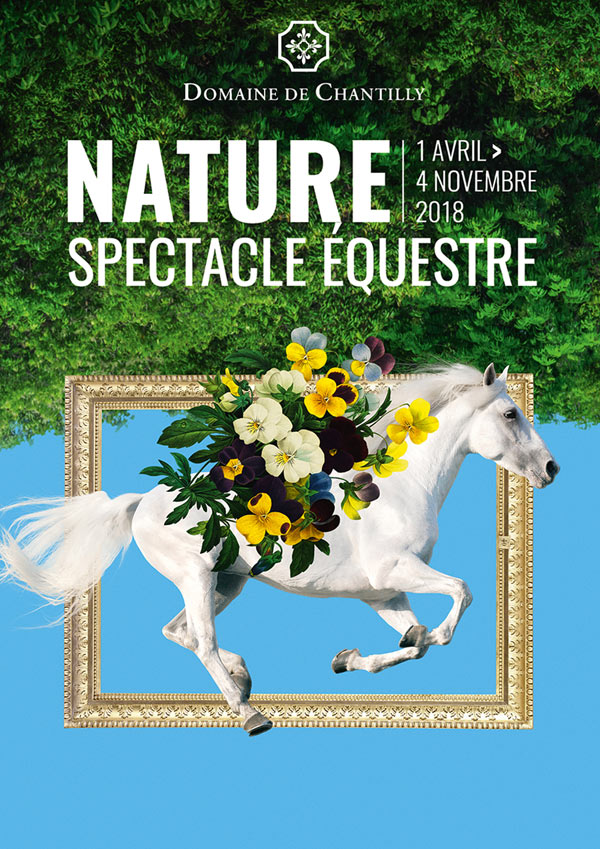 "Nature", the new equestrian show at the Chantilly estate, for dressage lovers
"Nature", the new equestrian creation presented at the Domaine de Chantilly tells the story in 12 tableaux, the unchanging link that Man has with nature. 26 horses, 11 ponies, 3 donkeys and eight and eight female riders for this equestrian show. It is a magnificent show thanks to the beauty of the horses' dresses and especially the fabulous costumes signed Monika Mucha. The costumes echo the colours of the seasons seasons and headdresses composed of bouquets of flowersIt's spectacular.
"Nature" is a show that in our opinion is mainly for dressage lovers. Here, nothing spectacular spectacular for the neophytes of the equestrian world. No perilous acrobatics, but dance steps executed to perfection by splendid horses. Pure poetry. The show is accompanied by the very bewitching music of singers Benoît Sarocchi and Ghjuvan Petru Pieve and the sometimes extravagant instruments of Jean-Lou Descamps. They give "Nature" the musical tone of these seasons with enchanting compositions, music and songs, specifically created for this show.
The show lasts 1 hour.
"Nature", or the art of dressage by the Great Stables of Chantilly
Sophie Bienaiméby his father, himself a great horseman and creator of the Musée vivant du cheval of the horse of Chantilly, has taken over the horse museum and presents equestrian shows all year round in Chantilly. Its goal is to showcase equestrian art and especially the art of dressage of the Grandes Ecuries de Chantilly. After Kavallisté last year, "Nature" shows the permanent work of the riders with their horses. Here, 8 riders and 26 horses that a very strong relationship unites between them. Every day, the riders take care of the care, the grooming of the horses, the five daily meals and their physical activity.
As Sophie Bienaimé explains so well, "What I like most is to highlight the horse and rider the horse and rider couple so that everything looks fluid and harmonious. You have to create an understanding between the two It is important to create an understanding between the two in the work, to create a complicity, especially as they spend many hours training together. Once the riders have been selected, I compose the troop and I give each of them a horse that is already trained so that they can learn to stand to learn to stand in the saddle, with a sense of the scene. Because even if they are excellent technicians, their artistic artistic sense must be expressed as well. Each rider has three horses and the public always tells us that they and the audience always tells us that they feel the close relationship we have with our horses. We have to know them by heart to be able to anticipate We have to know them by heart to be able to anticipate the slightest movement. We are real partners.