Musical show, ideal from 2 years old
Until April 2, 2023
Theater BO Saint Martin (Paris 3rd)
"In bed Molie"
WE LOVE one of our favorite shows for toddlers
AGE: for children, from 2 years old
DATE: until April 2, 2023
DURATION: 50 minutes
LOCATION: Theater BO Saint Martin (Paris 3rd)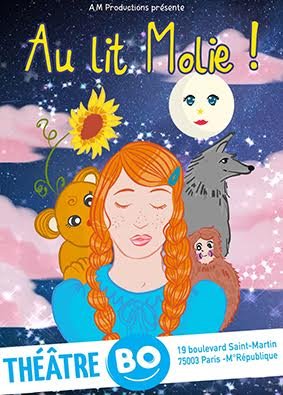 ---
Au lit Molie : a show in songs for the little ones, with a real dog !
But hush! It's a secret? because tomorrow, Molie celebrates her birthday! And it's decided, as a present : she wants a dog !
So here she goes on a wonderful adventure among the stars in search of the dream fairy to give her her wish!
Come and meet little Molie and her many funny and touching friends: an invisible bear, a sunflower in love, a fearful wolf, an eco-friendly orangutan and a dancing moon!
This promises to be spectacular!
And above all, come and learn with Molie that when you believe in your dreams, anything is possible!
What to do in Paris with a toddler?