In the 8th district
Swings, merry-go-round, ponies, puppets, playground?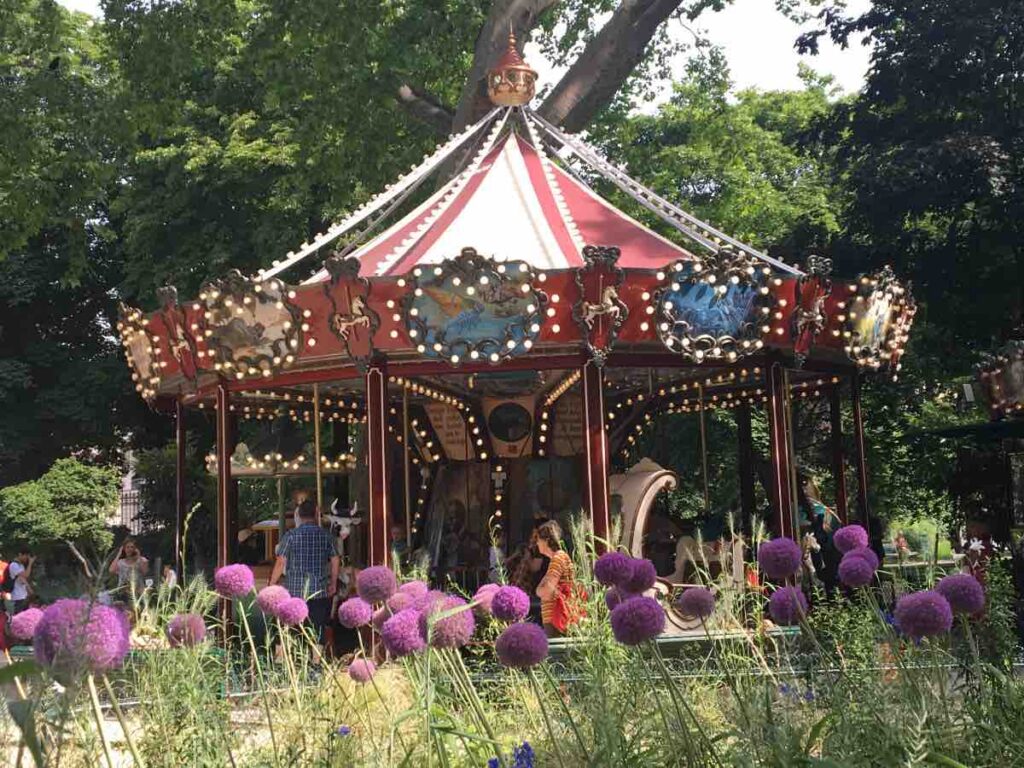 ATTRACTIONS AND ACTIVITIES AT PARC MONCEAU
WITH ALL-SMALL
a playground (free) and a sandbox (in a secluded area) for younger children
a merry-go-round and swings traditional (paying) open every afternoon,
pony rides Wednesdays, weekends, school vacations and some public holidays
a clown in the open air (except in case of rain), Wednesdays and weekends at 5pm. Break from November to April, then resumption
WITH CHILDREN
skating and skating area (open at the same time as the Parc Monceau)
bicycles are allowed in the Parc Monceau, but only on a dedicated area (adults and children). It is forbidden to cross the park by bike
PICNIC AND SNACK AT THE PARC MONCEAU
a kiosk for small catering and for children's snacks: ice cream, waffles, drinks?
large lawns for a picnic or simply ask
AND WITH MEDOR !
The park Monceau in addition to being KidFriendly is Dogfriendly
You can walk your dog (in theory on a leash), authorized on the Ferdousi lane and on the Comtesse de Ségur lane
TO EAT IN THE NEIGHBORHOOD OR TO TAKE AWAY (FOR PICNICS)
A very good Lebanese restaurant (on the spot or to take away): Rimal (94 bd Malesherbes)
A good hamburger (on the spot or to take away): Big Fernand (12 avenue de Villiers)
For their salads (on the spot or to take away): Jour (3 rue de Phalsbourg)
In the Monceau park (next to the merry-go-round): pancakes, waffles, drinks
Picnic authorized on all the lawns of the Parc Monceau
TO DO IN THE DISTRICT
A LITTLE HISTORY AND GEOGRAPHY
It straddles the 8th and 17th arrondissements, with an area of 8.25 ha
A first park was built at the end of the 18th century. A second one was born (on the same site) under the Second Empire in 1860 (Haussmannian era)
It is a very poetic and bucolic park, with the Rotunda, statues, colonnades and arcades
Monet immortalized it He also inspired Georges Braque, Georges d'Espagnat and Gustave Caillebotte. It seems that Marcel Proust liked to walk there.