"Tell me how you walk, I'll tell you who you are"
Exhibition at the MAD (Museum of Decorative Arts)

WE love The "Shoe History" exhibition: a wonderful exhibition on 7 centuries of shoe history.
Age :  From 10 years old
Date:  until March 22nd
Location:   Museum of Decorative Arts (Paris 1st)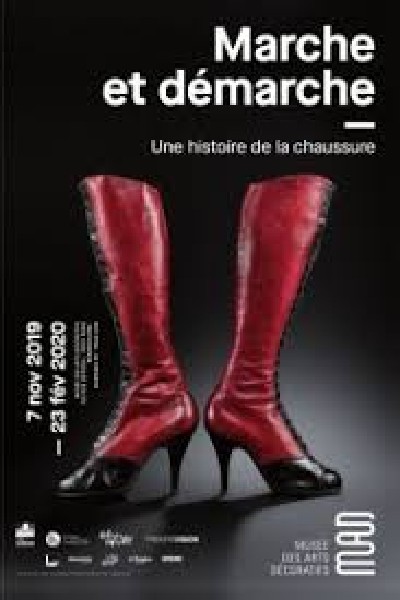 Marche et Démarche, a history of footwear: fashion accessory or instrument of torture?
7 centuries of shoe history, 450 models on display. to wonder about the status of this indispensable accessory of daily life.
Did you know that in France, the daughters of the nobility bandaged their feet to make them thinner? That the Indians had soles specially designed not to crush insects? That Chinese babies wore slippers decorated with tiger heads to protect themselves from evil spirits? That the differentiation between the right and left foot in the shoe only dates back to the Second Empire?
"Marche et Démarche: Une histoire de la chaussure" is not a chronology of footwear from Antiquity to the present day, nor a panorama of the great bootmakers," explains Denis Bruna, curator of the exhibition. We were interested in the history of footwear in its context, which is walking. "
The idea of this exposure came to him when he discovered a Marie-Antoinette shoe size 33 How could a 37-year-old woman slip her foot into such a small shoe? The aristocratic women of the 18th, 19th and even 20th centuries didn't walk, they had to remain idle at home," Denis Bruna replies.
The shoe plays directly on our walking and our movements.We don't walk the same way with a pump or a moccasin. The walk and gait reflect our origins and social backgrounds.
Very playful moment of the exhibition, the fitting room where you can test 8 models Some are particularly dangerous, such as the vertiginous pints (popular compensations between the 15th and 17th centuries used to protect clothes from mud), and there are parallel walking bars that you hold on to to avoid falling!
We admire all types of shoes: dance, tennis, running shoes, (evolution of sneakers), Charlie Chaplin's shoes, the boots worn by Neil Armstrong when he took his first steps on the moon, the shoes resulting from the collaboration between Christian Louboutin and David Lynch, the extravagant (importable) models by contemporary designers.
Some of them are works of art, including in the room devoted to "singular shoes", "the shoes of the god Hermes", a winged pair made entirely from the debris of mobile phone screens by the artist Juliette Miséréré.