The wonderful world of illusionists from the 18th century to the present day
From 6 years
Did you know that France is the country in the world with the richest history of prestidigitation! The museum of magic, created in 1993 is a unusual museum and exceptional which presents a unique collection in the world around the world of magic. A fun visit in the world of illusion and dreams. Magic show with real magicians every half hour.
A very nice museum for families
This museum shows us that magic is a true art in its own right
A unique collection in the world is presented in the museum of magic: automatons, great illusions like optical illusions or magic objects...
About a hundred automatons (some of which are rare and old pieces) are also exposed
Permanent shows illusionism throughout the visit and presented by real magicians
Do not miss fake objects and secret objects (kids will love it).
An interactive and playful museum with small characters activated by pressing buttons
New: "Alice's diary" treasure hunt
This treasure hunt is optional - it's great fun!
The pitch: a strange diary has been found in the Museum of Magic... It reveals that Alice, a magician's wife, will reveal her husband's deepest magical secrets to anyone who can solve the riddle... Can you?
How it works : Armed with a game booklet, you'll have to use your powers of observation and logic to solve the riddles.
duration The game lasts for the duration of the visit, i.e. about 1h30.
Minimum 2 players and max 5 players
Age ideal for ages 7 and up; up to 77 ...
For kids and adults alike
Once the plot and route are revealed, you'll win a physical magic trick for the whole family (2 to 5 players).
Rate 12€ track game (for all players)
Rates and practical information
Price: 11€ for children (aged 3 to 12) and 15€ for adults - 12€ for the trail game (optional)
The automaton museum is free for children under 3 years old
Open Wednesday, Saturday and Sunday from 2pm to 7pm all year round.
Open every day during Zone C school vacations - 2 to 7 p.m.
Open every day except December 25 and January 1
Children's workshops at the Museum of Magic ♡♡♡
Who is it for? : 6-10 years old or for 8-14 years old
duration 2h30 or 3h
When During school vacations in zone C
A course in magic adapted to the age of the children (duration 1 hour)
A magical gift for each participant: a magic trick that they will learn to do during the course
A guided visit of Museum of Magic and the Museum of Automata (duration 1 hour)
Parents who wish to participate in the visit of the museum, must take their ticket for the museum of magic
A show of prestidigitation (duration 25 minutes)
Birthdays at the Museum of Magic (from 6 years old)
The Museum of Magic birthday package includes: a visit to the museum, a magic show and a small gift for each child (a little trick learned during the birthday party)
A room made available to parents and children for tea (brought by parents)
Inquiry to: +33 (0) 1 42 72 13 26 (it is advisable to do it in advance)
---
Rate : 25 € per child (minimum of 10 children)
Age : from 6 years old
When : Wednesday, Saturday and Sunday except during the small school holidays
The snack is paid by the parents
Information request to: +33 (0) 1 42 72 13 26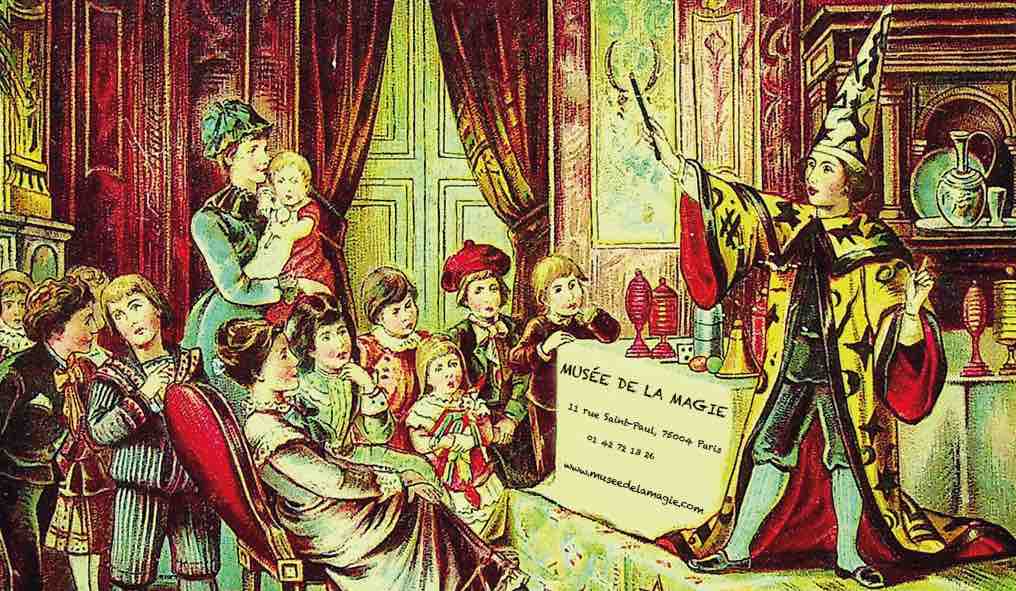 Find the list of our reviews
- Great!
Written by Fanny, 04-09-2023
I recommend it! It's tiny but full of surprises. The little magic show was the icing on the cake. The kids loved it and talked about it long after the visit.
- A very family-friendly museum with a warm welcome
Written by Isabelle Vialettes, 01-09-2023
The visit was accompanied by a guide, which was very pleasant and instructive for the children. Congratulations to the magician, who kept the children amused and was infinitely patient. We started with this magic show, which was a plus, as it enlightened and delighted the children.
- Very interesting, a must-see, guaranteed success for children
Written by Laurence Loubersac latapie, 31-08-2023
Very interesting tour, quality of actors, magician, storyteller, magic, beautiful collection of objects. only drawback: not all the automatons worked, ventilation of the premises
- Nice outing
Written by CECILE CHEIPPE, 14-08-2023
Very fun outing to the Museum of Magic with my 10-year-old daughter. She really enjoyed the clue game. I was a little surprised by the 1 or 2 euro experiments. The staff are very friendly and the museum is great.
- The museum is a bit outdated, but the show and the treasure hunt make it a fun adventure!
Written by Marine Ronez, 08-08-2023
The museum is a bit outdated, but the show and the treasure hunt make it a fun adventure!
- Good experience
Written by Carole , 27-07-2023
Very helpful staff. Great to learn a few tricks 🙂
- Very interesting museum
Written by Michelle , on 17-07-2023
An original museum with an interesting visit, including a self-guided tour, a commentary section and a magic tricks show. And to top it all off, there's a store where the staff take the time to explain how the items on sale work. My granddaughter came back enchanted!
- Fun and interesting
Written by Isabelle Huet, 14-07-2023
A museum to recommend for young and old alike. The world of magic transports us to another place and stirs the imagination.
- Great visit
Written by Raymonde Levacher, 14-05-2023
Everything was great My granddaughter and I really enjoyed the tour My reservation was very simple The only observation is that you should have some seats when explaining the busts
- CHILDREN AND ADULTS ALIKE LOVED IT
Written by SOPHIE CAUMEAU, on 09-05-2023
Everything went well. The magician is great and the hostess is very interesting.
- Small museum
Written by Christine kroos, 06-05-2023
We liked the show. The explanations of some tricks. Small museum visit 1h to 1h30. Price a little too expensive!
- very nice, my little children of 6 and 4 years old had a great time
Written by PATRICIA LE BARCH, on 03-05-2023
given the surface, it would be necessary to regulate the entries no problem for the reservation obviously I have already recommended this activity to my friends
- Very good
Written by Pauline Chabauty, on 30-04-2023
Very good activity to do with your children (5,10 years). The museum is very small but we are very well received and the team transmits its passion very well. It mixes culture and entertainment. I recommend it!
- Excellent afternoon at the museums of magic and automata
Written by Alain Millot, on 30-04-2023
Very nice experience for the older and the younger ones who like the automatons a lot. The magicians are amazing. To be recommended. Better to come early for more tranquility
- a small museum well supplied which would deserve that the automatons all work. A lot of things to test for the happiness of young and old. The workshop for children is a success.
Written by Clotilde, on 27-04-2023
a small museum well supplied which would deserve that the automatons all work. Many things to try for the happiness of young and old. The workshop for children is a success and the show is a good idea.
- Not interactive enough for children over 8 years old. Children under 8 years old like the magician's tricks.
Written by Dominique PESANT, on 23-04-2023
No difficulties to reserve. Nice reception at the cash desk. A bit old fashioned and not dynamic enough
- Good experience
Written by Marie, 15-04-2023
Nice experience, lots of showcases and things to read/see/experience. We ended up flying over... A very warm welcome from everyone involved in the museum. The kids had a great time, particularly enjoyed the magic show, and so did the adults. The museum is located underground, under beautiful arcades; a good address for hot days 😉
- Very nice experience
Written by Monsieur , on 12-04-2023
Museum and small magic show. It was very good and the staff very nice
- Nice family activity, interesting and fun
Written by Pascal Lambotin, on 31-03-2023
The exhibition is interesting The children can be solicited The half-hour magic show is excellent
- Great museum to do with the family!
Written by anonymous, on 08-03-2023
Museum that appeals to young and old, fun - magician, storyteller and staff very nice!
- Surprising
Written by christian DUPEYRAT, on 06-03-2023
Pleasant visit to discover automatons from another time. Other more recent mechanisms are to be discovered. The magic show is really good, Bravo the artist! This part of the visit of the magic is interesting too. The staff is very friendly.
- Good experience
Written by annie cazejust, on 28-02-2023
Interesting and instructive visit. Nice magic show. The automatons are sometimes a little dusty, it's a pity. The staff is very friendly and welcoming. I recommend this visit to adults and especially to children.
- it's good
Written by Philippe FLE, on 28-02-2023
It would be necessary to have a guided tour. The explanations are interesting but for the teenagers it's very difficult for them. thank you it is worth it
- Great activity
Written by Fouad , on 18-02-2023
The museum is very nice to visit and very well located in Paris. It's a great idea for an outing with the kids! I highly recommend it !
- Does not recommend
Written by Gentiane ROBLIQUE, on 13-02-2023
It was cold. The museum looks old. Lacks modernity. And it is small of
- super fun
Written by Florent DUCROIZET, on 12-02-2023
great family time with magic tricks and history. simple and accessible staff, place of reasonable size: we had a couple hours of pure fun and the kids loved it
- Slot Machine Museum
Written by Françoise DESFONTAINES, on 11-02-2023
I went to this museum with 4 of my grandchildren, ages 5 to 10. They really enjoyed it. The show is perfect and the sequence The show is perfect and the sequence "history of magic" told by the magician himself is funny. What I regret is that children of this age are not interested in all the static gadgets and explanations in the showcases, so we quickly went around the museum. Except to operate all the machines that offer various small shows and for which you have to pay and pay again!
- It is a place to see and the staff is very nice
Written by Elisabeth FERRERES, on 24-01-2023
We appreciated the place, the visit and the small show
- Very good afternoon
Written by KristinA, on 19-01-2023
We highly recommend the Museum of Magic. Good reception, good animation and a superb cabinet of curiosities
- Good for the show
Written by sylvie dubois, on 13-01-2023
The show is very good. You are close to the magician who makes you participate in his tricks. On the other hand, the rest is badly maintained and dusty. More explanations are needed on the magic side as well as on the automaton museum side. We don't know when they date from, where they were installed etc.. The explanations of the guide on the history of magic do not bring much.
- Very good family time
Written by Laëtitia, on 08-01-2023
Very nice family time Speakers close to their audience Precious and very instructive objects My 12 year old daughter enjoyed it The 4 year old was a little young I think Magic tricks show appreciated by all! We will come back
- Very disappointed
Written by Alicia Aidan on 06-01-2023
I went with my 4.5 year old daughter who didn't understand anything the guides explained to us about magic. It wasn't very lively and even I fell asleep. Nothing magical when you arrive in this old museum, expensive treasure for what it is! Even the magic show the children did not understand anything the magician was explaining to them. Nothing exceptional.
- my 3 princesses were happy mgicien and extraordinary storyteller. A lot of attractions, not all of them well noted and the showcases on the great magicians a little too important. Difficult to find your way around, to know what you have already seen 3 times and others.
Written by Odette GUENAULT, on 03-01-2023
Do I have to repeat what I wrote to you above? Come on, I'm repeating everything... Why ask us our opinion above? My 3 princesses were happy. Magician and storyteller, she was excellent. Experiences not all well noted... The tour was a bit complex. We went through the same room 2 or 3 times, quickly going through another one. The showcases dedicated to the great magicians are too large. I would recommend this museum for children up to 12 years old
- 50-50
Written by Jessy L., on 01-01-2023
I loved to see the evolution of the automatons. Small downside: no maintenance or servicing on the automatons. Only 2 out of 3 were working properly. On the magic side, it was very interesting and I learned a lot. My nephews were very happy during the visit too. Especially the part of the magician who did some demonstrations.
- A good discovery
Written by Agnes Ribeiro, on 30-12-2022
A nice activity for children, very successful and interactive show.
- Favourite
Written by Jean-Paul DAVID, on 27-12-2022
This is a show that deserves a perfect score. The script, the sets, the costumes, the actors, their performance, everything was excellent. My 8 year old daughter loved it. As for me, I went back to childhood. 20/20.
- A
Written by Roland Durin, on 15-12-2022
Very good time for our little children of 10 and 11 years old ..., and also for us grandparents. We bought the prestidigitation packs in the store: our grandchildren loved them and were able to show tricks to their parents that very evening!
- Charming activity
Written by Alexandre Hanafy, on 24-11-2022
Nice welcome, show and fun explanations this place is great for a small family outing
- Very good
Written by Codruta Topala , on 15-11-2022
Very well
- Interesting visit, but the museum is not well maintained despite the high entrance fee.
Written by Guy BAZIN, on 08-11-2022
The welcome is nice, the small show also, the visit is globally interesting. But... : - A good third of the automatons are broken down and not repaired, others are simple toys without originality that we see everywhere. You press buttons and nothing happens, and you think that you would like to be reimbursed for a part of the ticket. - Other attractions are poorly lit. - No checkroom, and it is hot... In conclusion, the general impression is: "cheap". It is necessary to find more original automatons and to MAINTAIN THEM regularly.
- Playful activity
Written by Saliha Badaoui, on 07-11-2022
The history of the theater and the magicians a little too long. Freedom of movement very much appreciated by the children. My little girls had a great afternoon and so did I. No problems with the reservation. I recommend this outing for parents and their children.
- Very fun and interesting outing
Written by NATHALIE B, on 06-11-2022
For all ages ... surprise and discovery of optical illusions ... fun guaranteed.
- Wonderful things for children
Written by Fernand Maillet, 05-11-2022
The magic presentation was amazing To be recommended absolutely
- The children were delighted with this playful and amusing visit behind the scenes of magic and automata
Written by Peggy Husson, on 04-11-2022
Interactivity The show in small groups The magic of the place
- Not bad
Written by eric arnaud crozat, on 03-11-2022
For children especially...my 13 year old daughter was a little bored
- Nice on the whole.
Written by CORINNE JOBARD, on 31-10-2022
Lack of refreshment of the place and average magic. For the children being an easy public it is convenient for them. Otherwise it's a must see and the people are very nice.
- Good change of scenery... very nice animation to discover the history of magic.
Written by NATHALIE BROULAND, on 29-10-2022
Very interesting for the whole family.
- Perfect
Written by Dounia Baaziz, on 28-10-2022
Very well
- Interesting for adults, a bit outdated for children
Written by Claudine BERARD, 10-10-2022
Compared to the animated displays, the automatons may seem a bit outdated for children who nevertheless enjoy activating them. The magic show is a bit simplistic and very minimalist. As for the story of the magic made after the show, it is for adults, too difficult to follow for young children. I went with a 5 1/2 year old girl, but I think the automatons are more for adults.
- Several automatons out of order! Museum at the limit in relation to the age of the children (middle school minimum). Lack of interactivity.
Written by Dominique Ménétrier, on 07-08-2022
Several automatons out of order... Good magic show. The rest of the tour is not very interesting for primary school children
- A beautiful afternoon thanks to the Museum of Magic
Written by COLETTE MAGNIN, 02-08-2022
No problem to book or during the leisure activity. What I liked: - The special attention of two Museum employees for the old lady that I am: offering a chair, asking worriedly if I needed something. - The various automatons and the performance of the magician: he enchanted my great-grandson as he had enchanted my granddaughter 20 years ago.
- At the top
Written by Delphine , on 26-07-2022
Very good, my girls loved it! The magician blew us all away!
- Good idea for a rewarding activity in hot weather!
Written by Martine Monneret, on 19-07-2022
Interesting visit for children and an adult and a little show that we saw twice, the 8 and 9 year old girls asked for it! Thank you and in addition it was cool because we were in cellars ... So to recommend.
- I thought there would be a little more magic tricks
Written by Micheline Gladelle , 14-07-2022
No difficulty to book, my little girl really enjoyed all the activities
- very good
Written by Stéphane KLOSE, on 29-06-2022
Yes
- Marvelous vudute
Written by Odile JUSTER, on 11-06-2022
Extraordinary collection of automatons available for children. Fabulous magic session. Yes I recommend, nice family outing
- Positive feeling
Written by Anne-Marie Wanner, on 08-06-2022
We enjoyed the show very much. The ice room at the entrance. The distorting mirrors. The site (old cellar). No problem with the reservation. Yes, I will recommend it.
- Nice with the family
Written by Amandine H, 31-05-2022
The automaton museum is a bit unexpected and out of time. The second museum and the show are very nice
- Nice museum adapted for children
Written by Yves PARISIS, on 30-05-2022
The museum is a little old but full of charm in the vaulted basement of a marsh building. Children love to play with the buttons that trigger the automatons and various animations. The magic show, although a little short, is exciting thanks to a very successful performance of the illusionist; the tricks are incredible because we see them from close up without being able to guess how he does it. Finally the entrance fee is correct.
- Satisfied
Written by Julien , on 24-05-2022
Museum with beautiful automatons. The girls (9 and 6 years old) liked it a lot but too many of them didn't work. The magic act was very good.
- Instructive and fun.
Written by MICHELE GAVANT, on 17-05-2022
Satisfied overall.
- Very nice.
Written by Bernadette Degove, 06-05-2022
The magician makes the room act and brings children and adults on stage. We often laugh
- A very pleasant outing
Written by Claire F., on 02-05-2022
We went with our 7 year old granddaughter who pushed all the buttons available, tested everything that could be tested, and happily participated in a magic trick during the show included in the visit. In short, she loved it and so did we. I recommend this experience to all curious people.
- Very nice visit
Written by Brigitte GUILLERM, on 30-04-2022
Very interesting
- Great!
Written by Nicolas Conticello, on 26-04-2022
Super muse the children loved the show ... it is the most interesting. The magicians are great!
- Unfortunately, it was impossible for us to visit the museum.
Written by Beat Gerber, 24-04-2022
Unfortunately, it was impossible for us to visit the museum. Sincerely Béat and Liliane Gerber
- Perfect with children. We had an 11 year old and a 7 year old, they loved it!
Written by Pascale JALLET, on 22-04-2022
Old-fashioned but charming place. The activation of the automatons remains magical: our little children have tried all the buttons! And the close-up show is great.
- A great family outing
Written by Bophanavy Try, on 23-03-2022
Superb and interesting visit for the family in general. Thank you
- Fun and playful museum - ideal with children
Written by Axelle Utzschneider, on 13-03-2022
Small museum with a very nice welcome. Visit in 2 parts: magic show to start then discovery of the objects and attractions of the museum. A lot of things are interactive and my 8 year old daughter enjoyed it!
- No opinion possible
Written by Bernadette Degove, on 05-03-2022
Hello, I unfortunately could not go with my grandchildren to the museum of magic because I was hospitalized in emergency on 28/02/2022. It's only a postponement for the Easter vacations. Sincerely. B.Degove
- Show too short
Written by DOMINIQUE , on 20-02-2022
A little disappointed by the magician's performance, too short, compared to other magician's shows where I had taken other small children. On the other hand, Martin 8 years old loved to manipulate and test the different devices.
- Fun visit warm welcome
Written by Isabelle Chartier, 14-02-2022
Very nice show... Interesting visit... Too bad that it is necessary to give coins of 2 euros to make function qq games...
- Very pleasant, very satisfied
Written by Catherine Chemla , 27-01-2022
Yes
- A great day
Written by Louise FORESTIER, on 24-01-2022
Everything is perfect, the kids loved it and didn't want to leave. And the place is beautiful. I recommend it.
---
What to do in the Marais district?