The wonderful world of illusionists from the 18th century to today
Free for children under 3 years
Did you know that France is the country with the richest history of prestidigitation in the world? The museum of magic, created in 1993 is a unusual museum and exceptional which presents a unique collection around the world of magic. A fun visit in the world of illusion and dreams. Magic show with real magicians every half hour.
A very nice museum for families
This museum shows us that magic is a true art in its own right
A unique collection in the world is presented in the museum of magic: automatons, great illusions like optical illusions or magic objects...
About a hundred automatons (some of which are rare and old pieces) are also exposed
Permanent shows illusionism throughout the visit and presented by real magicians
Do not miss fake objects and secret objects (kids will love it).
An interactive and playful museum with small characters activated by pressing buttons


Price: 10? for children (3 to 12 years old) and 14? for adults
The automaton museum is free for children under 3 years old
Open Wednesday, Saturday and Sunday from 2pm to 7pm all year round
Open every day during the school vacations of the zone C
Closed on December 25, January 1 and May 1
I BUY MY TICKETS
(Free for children under 3 years)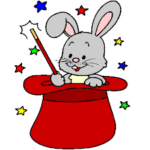 Magic school (magic lessons)
Magic classes for children and adults are offered throughout the year at the Museum of Magic (except in July and August).

On the program of these magic classes We will teach you the tricks with cards, ropes, coins, goblets? and many other surprising tricks. We will also teach you gestures and behavioral psychology in front of an audience. For beginners or more experienced!
Children's magic lessons (8 to 12 years old): Saturdays from 2:30 to 3:30 pm
Magic classes for teenagers (from 13 years old) and adults Saturday from 1:30 to 2:30 pm
Rate : 20 ? for a 1 hour course and 80? for a card of 5 courses
Possibility of private lessons (on request)
I celebrate my birthday at the museum of magic
The birthday package of the Museum of Magic includes: a visit to the museum, a magic show and a small gift for each child (a little trick learned during the birthday party)
A room available for parents and children for snacks (brought by parents)
Information request at : +33 (0)1 42 72 13 26 (it is advised to make an appointment in advance)
---
Rate 25? per child (minimum of 10 children)
Age : from 6 years old
When Wednesdays, Saturdays and Sundays, except during the short school vacations
The snack is the responsibility of the parents
Information request to: +33 (0) 1 42 72 13 26
---
Unusual activities or places that we like...
It also happens in the Marais