WE love
: Musical Awakening for Toddlers
Age : 
For toddlers; from 1 year
Dates: 
Until 15 December
Location: 
 The Comedy of Paris (Paris 9th)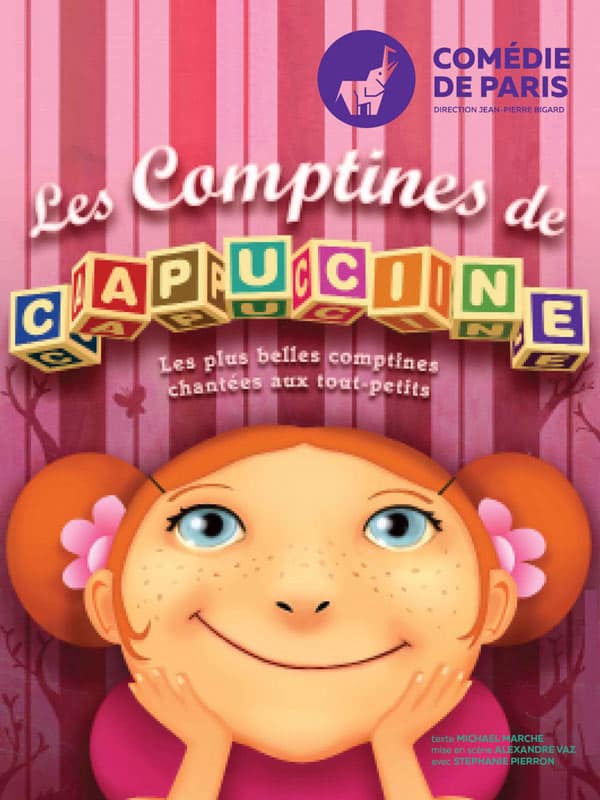 Les Comptines de Capucine, a quality musical awakening show for toddlers
The show "Les Comptines de Capucine" offers a family musical journey, full of poetry, for children from 1 to 6 years old. The duration of the show (40 minutes) is suitable for toddlers. A muscial trip without pretension and filled with charm.
The story of Capucine Nursery Rhymes: Capucine has a dream. In his dream, his little rabbit "Filou" ran away from the house and Capucine must go looking for him. To tell his dream to children, Capucine will transform his room into a thousand objects, a thousand characters, a thousand rhymes ... This story is the pretext for leaping nursery rhymes nursery rhymes, sung if they want by children who learned them at the nursery and at school. To the repertoire of this pleasant musical journey, old children's songs, funny or famous nursery rhymes (My little rabbit, The Little Fish in the water, A green mouse, In the moonlight, Colchiques in the meadows ...)
The Comptines de Capucine, by the company "In the scenery"
The company "Dans les décors" was created in 1998 by Alexandre Vaz who is a director. This company is interested especially in the creation of musical shows for toddlers. Indeed, for the founder of this company, the theater is an essential cog in the development of children and shows must captivate them with known songs, bright colors, fancy objects .. The company "In the Decors" offers a dozen shows for children, in France and abroad including 3 shows regularly repeated at the Comédie de Paris: The Capucine Holidays, the Anniversary of Capucine and Capucine Nursery Rhymes.
In the show the Comptines de Capucine, 2 actresses alternately share the role of Capucine. Stéphanie Pierron is a faithful of the company "In the sets" which she shares the posters for ten years. We also know it in the cinema. She has played in "Coluche, the story of a guy" in 2008 or "Gainsbourg" by Joann Sfar in 2010. The other Capucine is Aude Lanciaux. This artist divides her time between theater and dance ("The Other Parade" by Philippe Decouflé in 2006) or cinema ("Cloclo" in 2011).
See the trailer of the show