The new and original space for babies
Free on reservation
For 0 - 23 months

WE love
a space
experiments to help babies' development
Age : 
for 0 - 23 months
When: 
all year round, except Monday (1 session per day)
Location: 
 Cité des Sciences et de l'Industrie (Paris 19th)
Rate : 
Free on reservation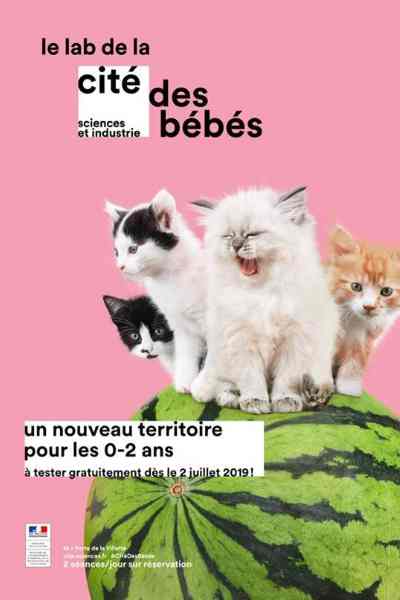 Le Lab, city of babies, the new territory for 0-2 year olds
The Cité des bébés lab is a new space specially designed for babies.
It is a place for young children from 0 to 2 years old at la Cité des sciences et de l'industrie
An experimental space, of a surface of 250 m², designed as a safe nest
Floor, walls, games and cuddly toys: the space is deliberately zero plastic and zero screens!
The Cité des bébés lab offers a series of experiments to help their development
Playful and progressive, this space is based on the know-how that has made the Cité des enfants a success: adult-child activities, stimulation of motor and cognitive skills, workshops adapted to toddlers....
It's a totally new and original place... . The welcome is personalized and warm, to facilitate the integration of the families. Armchairs and cushions are available for breastfeeding and resting. Specialized books on child psychology, education and health are available. toddlers are open to the public
Examples of activities for toddlers :

Les secrets de la cabosse, dramatized reading with singing and puppets.
Baby book to awaken baby to books
The treasure of the reefsa show about the animals living in the coral reefs, based on puppets and nursery rhymes.
Signing Baby for an introduction to non-verbal communication with toddlers
Play Think Speaks to decipher, in the company of a speech therapist, baby's needs by observing him play
The Crapa'hut, with a psychomotrician, to develop baby's motor skills...
The Lab de la Cité des Bébés is accessible free of charge by reservation. to babies accompanied
Two sessions per day : 10:00 to 11:30. Every day except Monday