October 26-29, 2023 (Parc des Expositions, Porte de Versailles)
KIDEXPO 2023
WE LOVE : a big family event in Paris at the Parc des Expositions (Porte de Versailles)
AGE : in family
DATE: october 26 to 29, 2023
FREE for children under 4 years old
LOCATION: Hall 71. Paris expo Porte de Versailles (Paris 15th)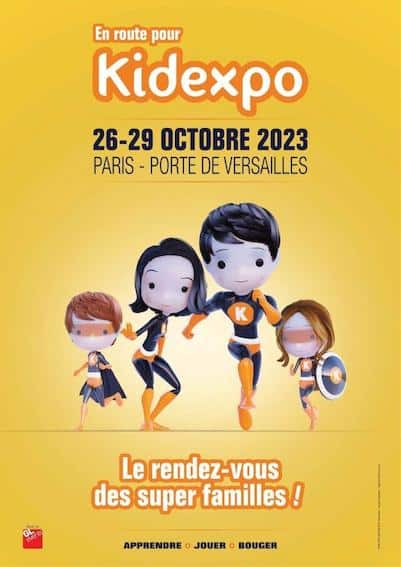 Kid expo Paris 2023
Kidexpo is one of the biggest family events of the year. It's the place to go for a healthy treat, to preview Christmas toys, to discover and learn about tomorrow's ecological sorting techniques, and even to take part in workshops.
Kidexpo is organized in 3 universes "education and practical life," "sports. leisure time and Holidays" and "Games, Toys & Hobbies".
Children and their parents will be able to participate in sporting activities
You can test the new products for toys
Play and learn at the same time
Kid expo offers a wide range of educational and fun workshops for the youngest
This year, toy superheroes are coming to the show! Thanks to Ecomaison and Recyclerie du Gâtinais who organize workshops for young audienceschildren and their parents learn how to save toys by giving them a second life
Repairing and refurbishing old toys is a real mission for our little eco-citizens!
Workshops take place daily from 10am to 12pm and 2pm to 5:30pm. Sessions should last from 10 to 15 minutes. Registration will take place directly on the stand.
The news in Paris with your family