- Out of stock -
From April 27 to May 8, 2023
WE LOVE : all the original and free animations for children and teenagers
WE LOVE : the incredible inventions of the international Lépine competition in Paris which celebrates its 117th anniversary!
AGE for everyone! With a baby corner from 0 to 3 years old and a daycare area for children from 3 to 12 years old
DATE: April 27 to May 8, 2023 - During the Easter vacations (Zone C) and the W-E of May 8
HOURS: from 10 am to 7 pm without interruption, night time on Saturday May 6 until 10 pm
DURATION : all day
RESERVATION RECOMMENDED
PLACE Paris Expo - Porte de Versailles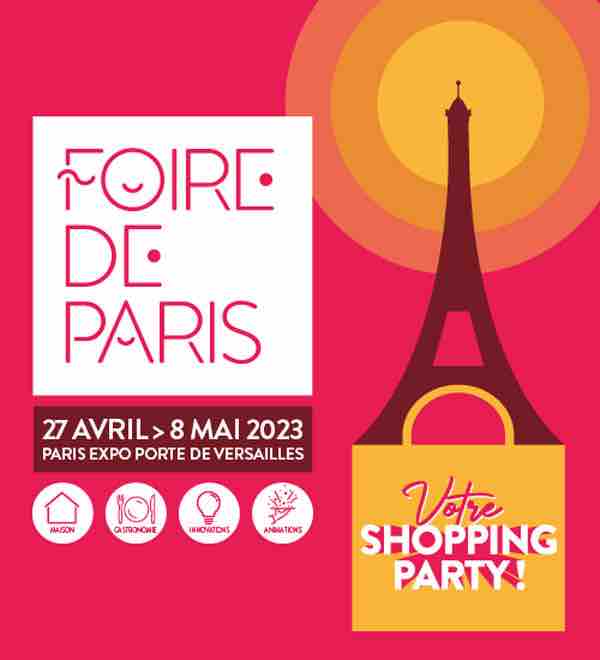 The Foire de Paris is Europe's largest trade show dedicated to home, gastronomy and innovation! From the scooter test track to the Lépine competition, there is something to satisfy the most curious. For gastronomy: tasting of local and overseas delicacies, all the flavors are gathered for a great trip to the end of the world.
But the Foire de Paris is also full of cultural activities, fun and discoveries as much for children than for teens !
There is even a Kids Friendly area (Foire de Paris Junior) with games available, culinary workshops, a space for gaming Super Mario ...
Ideal during the Easter vacationsThe weekend of May 1st and the weekend of May 8th, there is something to occupy the whole family, and everything is super well organized to have a good time
Prices for the Paris Fair
Adult rate : 15€
Child rate (7 - 12 years old) : 7 €
The family pass (2 adults + 2 children) : 35 €
Free for children under 7
The + with young children
A daycare center with a very rich program of activities for the 3-12 years old. Daycare Rate: 5€ / hour up to 2 hours per day per child. Free for VIPs and Privileges.
A Baby Corner (0 - 3 years) in access free offers specific services for the well-being of toddlers, accompanied by their parents: space for diapering and breastfeeding, loan of strollers, etc...
The animation program at the Paris Fair 2023
Tropiques en Fête Festival
In the program free shows, parades, parades and concerts
It is the largest Afro-Caribbean festival in Europe!
In a shimmering and festive atmosphere, Africa and overseas, Guadeloupe, Martinique and Guyana are honored through dance, fashion and traditional and current music.
A change of scenery guaranteed on the parade route
Where : Pavilion 4
When Every day from 11am to 7pm and at night until 10pm on Saturday May 6th
---
Foire de Paris Junior - for the "Cool Kids!
A dream space so that the children can also enjoy their living room during the Easter vacations
Ultra comfortable and fitted out by partners specialized in the environment of the kids, these areas are dedicated to the 3-12 years old.
Foire de Paris has imagined workshops culinary and manual, of the Ponycycle and shopping in a bagas well as a quieter area for relaxation with soft activities
But also from retrogaming under the Super Mario license !
Baby area (0-3 years) and the animated daycare (for a fee) are the little extras of the show to allow parents to go shopping with a light mind
Where Terrace H & Pavilion 1
When Every day from 11am to 7pm and at night until 10pm on Saturday May 7th
---
Foire de Paris Urban - Street Culture: art and sport
First competition of street art in "live painting"on the theme of "tomorrow Paris".
In this same area, the olympic sports village and Para-Olympic Games will give ideas to the future supporters of Paris 2024
Where : Terrace H
When Every day from 11am to 7pm
---
The Grands Prix de l'Innovation and the Concours-expo Lépine which celebrates its 117th anniversary!
The Concours-expo Lépine, thousands of extraordinary inventions are exhibited on the stands to allow budding inventors to get their ideas!
The connected world will also be part of the Grand Prize for Innovation
Where : Pavilion 2.1
When Every day from 11am to 7pm
---
The French Barbecue Championship and "La Guinguette Foire de Paris
The barbecue championship is a friendly and joyful moment that will not escape the enthusiasts of this cuisine as well as the gourmets
At "La Guinguette Foire de Paris we will find petanque and arcade games in a lounge atmosphere. All at the beach to the sound of a Dj set, tasting of trendy dishes! And 2 bars and 5 restaurants complementary and trendy.
Where : Terrace H
When Every day from 11am to 7pm
---
FAQ