4 unusual experiences to visit Paris in virtual reality
Real 360° views taken by drones
Discover the most exceptional places in Paris from a completely new perspective!
-20% on all tickets: until November 14, 2021
Ticket validity: November 30, 2021
-20% on all tickets: until November 14, 2021
Ticket validity: November 30, 2021
4 spectacular experiences to see Paris differently. You can choose to take only 1 experience or combine 2 experiences.
WE love Spectacular virtual tour experiences of Paris
SPECTACULAR: Fly over Paris and admire its 360° views? Sensations guaranteed!
Unusual: Jetpack flight over Paris with a 360° vision and dive inside the Parisian monuments to discover their backstage forbidden to the general public

THE INCREDIBLE FLIGHT: a spectacular experience!
On board a jetpack, a real flight simulatorput on your helmet and fly over Paris. It is spectacular.
On a dynamic platform you will: take off, accelerate and vibrate to the rhythm of your flight: sensations guaranteed!
Allow 40 minutes for the entire experience
During this experience of virtual reality flight over Paris, you will fly over Notre Dame (you will see Notre-Dame before the fire that destroyed its roof), the Eiffel Tower, the Arc de Triomphe and many Parisian sites
Our advice: if this is your first time at FlyView, you should definitely start with the Incredible Flight for your first experience
Beware, the flight is not recommended for pregnant women and people in poor health
As a bonus, the world bonus!
After the flight over Paris, FlyView extends your 360° experience with a jetpack trip around the world to discover 7 of his wonders The Great Wall of China, the Victoria Falls in Africa and many others ?
An extraordinary journey of 5 minutes to see 7 natural sites around the world
Real and unpublished 360° views of Paris taken by drones (no computer generated images)
... Always so bluffing!
HIDDEN PARIS : discover an inaccessible and secret Paris
Teleport yourself spatially inaccessible and secrets of the places and monuments of Paris.
Climb on the canopy of the Grand Palais, explore the arrow of the Holy Chapeldiscover the machineries of the Eiffel Tower and climb to the top, visit the secret corridors of the Pantheon ?
Discover fascinating stories, told with the help of virtual and augmented reality
Breathtaking 360° views of Paris (filmed with drones), special effects, 3D animations.
Duration of the experience "Paris Caché" : 40 minutes for the whole experience
REVIVING NOTRE-DAME: a journey to the heart of the Cathedral
Teleport yourself in virtual reality in the cathedral as if you were really there!
An exceptional immersion in virtual reality at the The heart of the Cathedral before and after the fire
You are taken into the building as it was before the fire, from the vast nave to the gargoyles, through the steeples and the sacristy
Thanks to the virtual reality headset, the immersion is spectacular. The real 360° views were filmed before and after the fire with drones
Then FlyView takes us after the fire, to see the cathedral in its current state. We cross the central nave and stare at a gaping hole, barely veiled by a tarp. We are at the exact spot where the burning spire fell and tore the vault. In front of the altar, the marble is cracked, the floor is still strewn with rubble. From the interior of the cathedral to the scaffolding balancing on top of the vault, you are transported into a unique experience, gripping with emotion.
Duration of the experience "Reliving Notre-Dame" : 40 minutes for the whole experience
PYRAMIDS: the discovery of the mysterious pyramids of ancient Egypt
An extraordinary journey to the heart of ancient Egypt, with the discovery of of the pyramids of Saqqara, Meïdoum and the world famous of the Great Pyramids of Giza
You will discover the mysterious story of these monuments that have fascinated us for 5,000 years!
The Great Pyramids as you have never seen them Thanks to virtual reality, fly over these stone giants, long the largest buildings ever built by man. You will be able to discover Kheops, Khephren, Mykérinos, the Sphinx?
Experience history from the inside Take the stairs and enter the Great Pyramids to explore the secret galleries and chambers that protected the sacred remains of the Pharaohs for several millennia
Fun and informative: On this fantastic journey, you will learn more about the thousand-year-old history of these UNECO heritage monuments and the secrets of their past
PYRAMIDS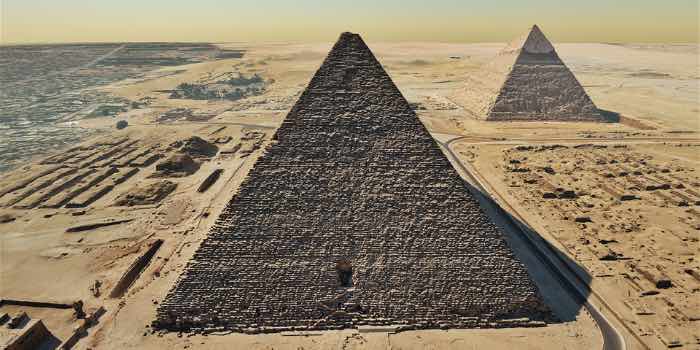 FLIGHT DECK
TELEPORTATION ROOM
THE FLYVIEW EXPERIENCE
It's a unusual and unusual exitthat will please the whole family
You are welcomed at Flyview as if in a boarding room for a mysterious flight
A hostess will take you to a pre-boarding room where you will be given some safety instructions (3D helmet adjustment, installation in the JetPack for the flight over Paris)
Then to the boarding room
Choice of 4 virtual reality experiencesat a unit price of 21,50? :

The Incredible Flight over Paris : a must, if you have to do only one of the experiments. It is about the flight over Paris on board a jetpack
Paris Caché : During this tour, you will experience teleportation and explore the mythical monuments of Paris
Reviving Notre Dame: exceptional immersion in virtual reality in the heart of the Cathedral before and after the fire
Pyramids (new in 2021))

:

Travel to the heart of ancient Egypt

! Discover the Great Pyramids from the sky and enter for the first time the

first time inside to discover the galleries and rooms

secret.

Composition of the à la carte package

among the 4 experiments
HOURS
From July 3rd to September 2nd 2021:
Open every day from 11am to 7pm
Last entry, one hour before closing time
September 2 to October 22, 2021:
Wednesday: 2:30 pm to 7 pm
Saturday & Sunday : 11am to 7pm
Closed: Monday, Tuesday, Thursday, Friday
Last entry, one hour before closing time
RECEIPT AND VALIDITY OF TICKETS
Once your payment has been made, you will immediately receive by email your codes to make your reservation at FlyView
Reservation required on the site https://tickets.flyview360.com . Reservation to be made once you have received the codes that we send you by mail
Tickets are neither cancellable nor refundable
Tickets can be modified in agreement with FlyView