Digital experience at the Atelier des Lumières
The EXPO "Van Gogh, the starry night
WE LOVE : a total sensory experience that is both total and bluffing
AGE :

for all, from 4 years old

DATE: until January 5, 2020
LOCATION: the Atelier des Lumières (Paris 11th)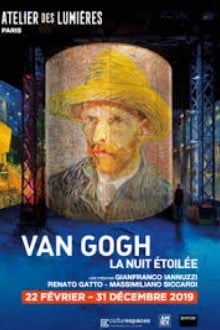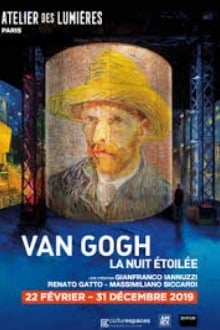 The Atelier des Lumières, the new cultural site of Paris
The Workshop of Lights opened in the spring of 2018 in a former smelter in the 11th arrondissement of Paris. This very large exhibition space is perfectly suited to the ambitions of this new Parisian cultural venue.
The founding principle is put technology at the service of the artistic tradition by appropriating classical pictorial works to make them gigantic video projections.
It is another way to organize exhibitions, to discover art, it's bluffing and it'll please the young audience, It's certain !
In a space of 2000 m2 and 10 meters high, Van Gogh's works are projected on the floor, ceiling and walls.
It's a visual shock, the colors explode. A music accompanies the projection. We are immersed in a sound and light size XXL. More than 3000 images set in motion by 140 laser projectors make this possible immersive art.
Van Gogh, the starry night: the major works come alive in XXL format
The second exhibition of the Atelier des Lumières is dedicated to Van Gogh (after the one of Klimt last year which was a huge success)
We particularly admire The Potato Eaters (1885), the Sunflowers (1888), The Starry Night (1889) and The Bedroom (1889)
All on a grand scale and with music. It's a sight and sound experience. The masterpieces come alive, revealing all the feverish force of Van Gogh's brush, over a haunting music by Luca Longobardi
In addition to Van Gogh, the Atelier des Lumières presents a projection on Japanese pictorial art. It's magical and wonderful. Animated monsters dance before your eyes. It may be even more beautiful than Van Gogh!
No pedagogy, but pure emotion. For about 1 hour, the works of unfold around you, allowing you to admire the detail of a work then its whole
A very different experience from a classic but equally stimulating exhibition. The kids will love. They are free to circulate as they please in this immersive space, to dance to the music in rhythm with the explosion of colors.
A different exhibition, fun, which really thrills.
The TOP EXHIBITIONS of the moment