- IMMERSIVE EXHIBITION -
Until September 6, 2023
At La Grande Halle de la Villette (Paris 19e)
WE LOVE : the exceptional scenography which plunges us into the heart of the great monuments of Egypt at the time of Ramses II
AGE : for all, ideal from 7 years old
DATE: until September 6, 2023
HOURS: Monday to Friday 10am to 9pm - Weekends and holidays 9am to 8pm
DURATION : about 1 hour
RESERVATION RECOMMENDED
LOCATION: La Villette - at La Grande Halle (Paris 19e)
For those who love time travel in short pants, this international touring exhibition, with a stopover in Paris, will transport you into the world of Egypt's most important figure Antique : the great pharaoh Ramses II
A great emotion seizes both parents and children when they discover the 180 works on display which for some, were not never left Egypt
The exhibition traces several major themes such as the long reign of Ramses II who was an incredible builder of pharaonic Egypt, a negotiator and a warrior, but also a great monarch who left an immense knowledge in the field of sculpture, jewelry and gold work
Of the artifacts presented, the centerpiece is undoubtedly the immense painted wooden sarcophagus of the pharaoh representing him as a god Osirisand which contained his mummy
It is also an opportunity to discover colossal statues, funerary masks and treasures like the one in Tanis which is among the most exceptional in the world
Among the most bizarre pieces on display, animal mummies have crossed the centuries and will fascinate the children
Immersive devices in virtual reality offer a unique experience in the heart of the great temples of Abu Simbel in which Queen Nefertari, one of the eight wives of Ramses, leads us! But... Beware! The mummy of the great pharaoh is never far away to chase the visitor of the XXIst century! Strong sensations guaranteed in the desert to discover the Valley of the Queens.
This Parisian exhibition mixing tangible and virtual immersion is an experience that will not leave children without memories!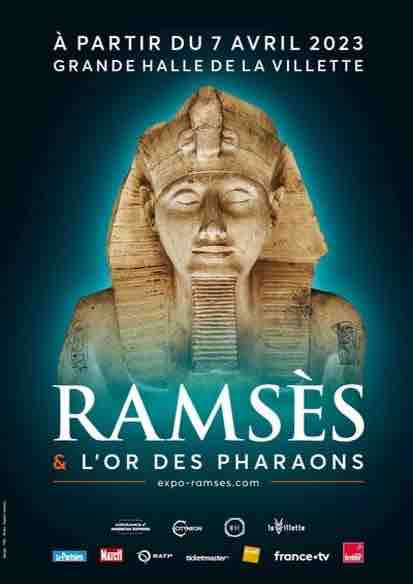 Extend the visit of the exhibition on Egypt with the children
The site of La Villette proposes several creative and playful workshops around the theme of ancient Egypt, for schoolchildren and leisure centers and parent-child activities: storytelling, photo and montage, plastic arts
We can go to Louvre Museum see the great pyramid and follow a tour "Egypt in family at the time of the pharaohs" in the collections of the Egyptian antiquities department located in the Sully wing on the ground and second floors
Or follow a private tour "Ramses II in Parisand observe more closely the Luxor obelisk at Place de la Concorde
Wander around Paris in search of nineteenth-century Egyptomania works created following Napoleon's Egyptian campaign, such as the four sphinxes in the Châtelet Fountain, or take the Cairo passage, the Nile street or the Alexandria street, or even take a trip to the Luxor cinema (Paris 10e) !
Exhibitions currently or soon in Paris
All the activities and outings in the Villette area