- EXPO -
From March 01 to May 29, 2023
At the Musée de l'Orangerie
Place at the Musée de l'Orangerie (1st)
Date From March 01 to May 29, 2023
schedule from 9am to 6pm
When Every day of the week except Tuesday
schedule from 9am to 6pm, until 9pm on Friday
Nocturne Friday until 9pm
Age : Starting from 7 years old
Free for the -18 years old; -26 EEU
A beautiful exhibition that brings back all the intensity of Matisse's works at a time of artistic abundance.
Matisse, the turn of the 1930s
It is from the decade of the 1930s, after a long trip to Tahiti, that a turning point in the art of the painter Henri Matisse (1869-1954) takes place: paper cut-outs, gouache, line drawings, but also dance and musicality make their appearance in the work of the artist.
It is the occasion, in this exhibition, to return on the context of creation and on The Cahiers d'Artthe first avant-garde magazine created in 1926 by the critic and patron Christian Zervos. Distributed worldwide to galleries and art lovers, The Cahiers d'Art have largely contributed to make known artists such as Georges Braque, Juan Miró, Fernand Léger, Vassily Kandinsky, Piet Mondrian, Le Corbusier ... .
And it is precisely in this context that we discover the place of the work of Matisse who was published several times in this magazine, during the 1930s.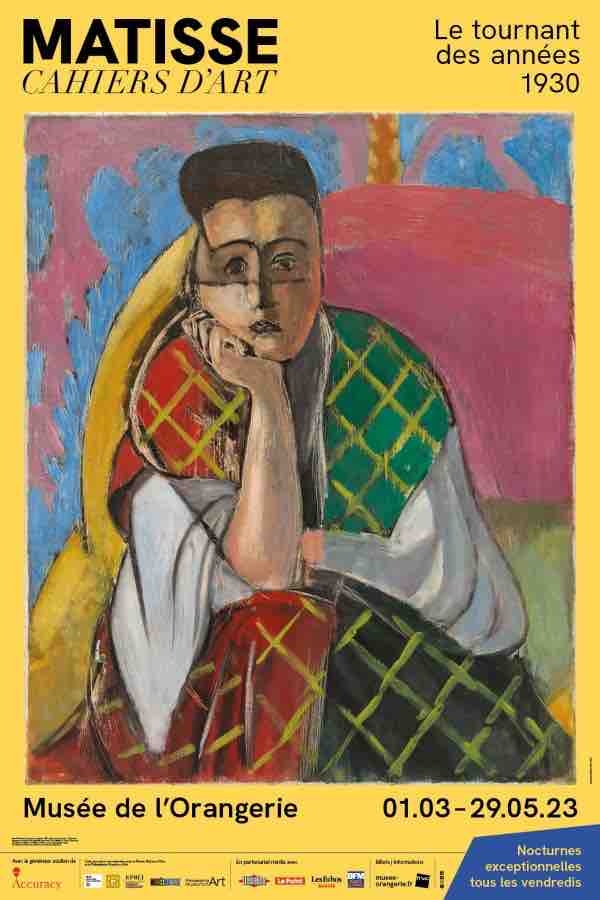 The Orangery Museum, the museum of the impressionists and Monet's Water Lilies
The museum of the Orangery, was formerly an orangery, a place where one deposited the oranges to well conserve them
It is today a museum, devoted mainly to French painting between 1860 and 1930
In our opinion, this is one of the most beautiful paintings museums in Paris
A small fascinating museum located in the Tuileries Gardenon the esplanade above the Concorde
We love this museum relatively unknown which counts the spectacular Monet's water lilies and an eoutstanding collection of impressionist and post-impressionist works (French painting from 1860 to 1930)
In addition to the permanent collections, the Musée de l'Orangerie has often fascinating exhibitions
The Musée de l'Orangerie and its exhibitions which enchanted us
Exhibitions currently or soon in Paris
What to do in the Louvre district with your family?