- Exhibition -
Until July 23, 2023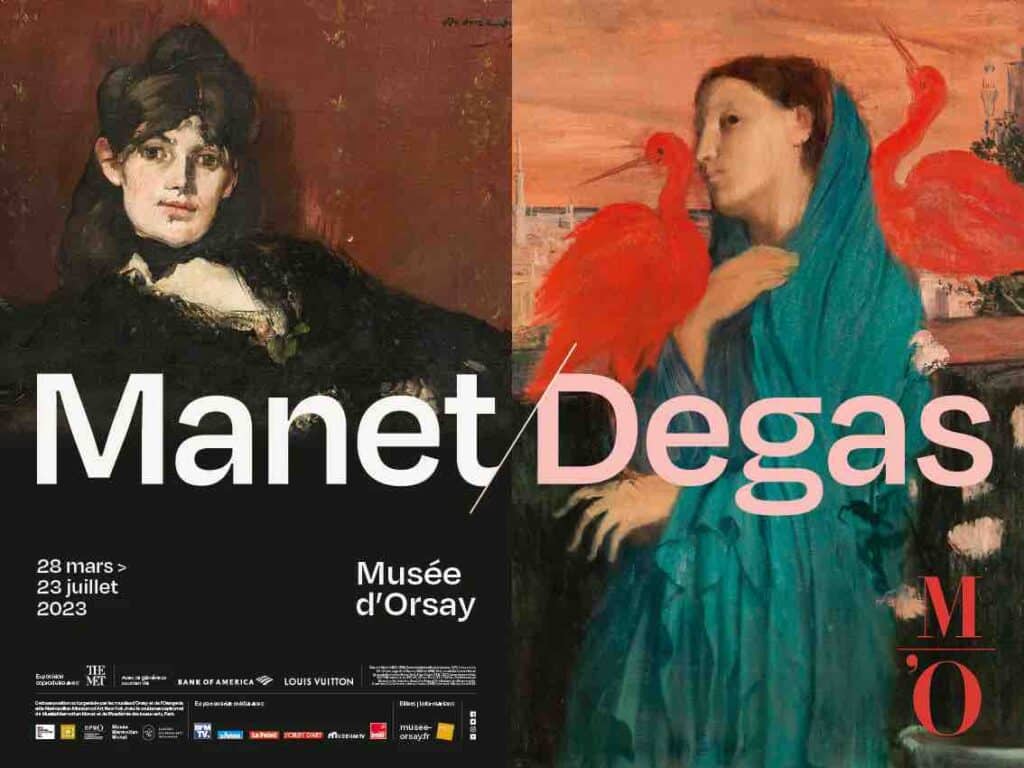 Age : for all, Starting from 7 years old
duration 1h45 approx.
Date until July 23, 2023
schedule from 9:30 am to 6 pm
Opening Tuesday to Sunday we of the Ascension, the July 14th (closed on Monday)
Nocturne Thursday until 9:45 pm
Prices : 17€ per adult ticket
Reduced price at night 13€ (from 7:00 pm on Thursday)
Free for the -26 years old
To know: Your ticket to book onlineThe "Musée d'Orsay" website allows you to see all the exhibitions of the Musée d'Orsay (permanent and temporary)
An exhibition at the Musée d'Orsay to explore with your family, with children and teenagers to find with happiness all the colors and themes of these two artists who speak to all generations
Manet and Degas, between complicity and rivalry
While we thought we knew everything aboutEdouard Manet (1832-1883) author of the famous "Lunch on the grass"and Edgar Degas (1934-1917) known for his small dancers of the OperaThis very rhythmic exhibition tackles a subject that was previously unknown to the general public: the relationship between two great modern painterss. As much rapprochement as disagreement ...
The exhibition covers the period 1860-1880. Manet is worldly. Modern, he transgresses the artistic conventions and plays with the press, while Edgar Degas has a more closed character, secret, he paints the intimate and remains close to impressionism.
Opposite on choices of styles, they debate bitterly, but for all that, they frequent the same intellectual circles, and cabarets, and work with the same merchants and collectors ...
The scenes of cabaretshorse racing is their favourite theme
From their deep antagonisms a rich and fertile competing artistic production is born, which will give birth to the Modernity
What reveals to us this beautiful Parisian exhibitionit is finally the deep attachment that Manet and Degas had towards each other, then .... Friends or enemies?
The exhibition and the museum with children
A course for young peopleIn the exhibition, there are labels specifically written for children to encourage them to stop in front of selected works and to better understand them
The workshop-visits for young people "Walk, trot, gallop" are organized for children from 6 to 8 years old and of 9 à 12 years (reservation at the museum)
Visit "The masterpieces of Orsay explained to children is playful and takes children into the secret world of Millet, Monet, Seurat, Renoir and many others
Another exhibition at the Musée d'Orsay
The Musée d'Orsay, one of the most beautiful impressionist collections in the world
The Museum of Orsay installed in the old Orsay station, is a very beautiful space. The architecture and the scenography of the museum alone justify its visit!
He presents painting and sculpture from the mid-nineteenth century to the First World War.
It is especially the collection of Impressionist paintings that is absolutely extraordinary.
Impossible to list all the artists who are exhibited there Bonnard, Cézanne, Courbet, van Gogh, le Douanier Rousseau, Manet, Monet, Morisot... to name a few.
It is today a museum, devoted mainly to French painting between 1860 and 1930
In our opinion, this is theone of the most beautiful museums of paintings in Paris
The Musée d'Orsay and its exhibitions that enchanted us
Rosa Bonheur (1822-1899) October 18, 2022 to January 15, 2023
Gaudí April 12 to July 17, 2022
Cinema at last! Arts, images and shows in France until January 16, 2022
Signac collector until February 13, 2022
Masterpieces of the Frick Collection Whistler's portraits and landscapes: February 8 to May 8, 2022
Exhibitions currently or soon in Paris