"The mysteries of the Latin Quarter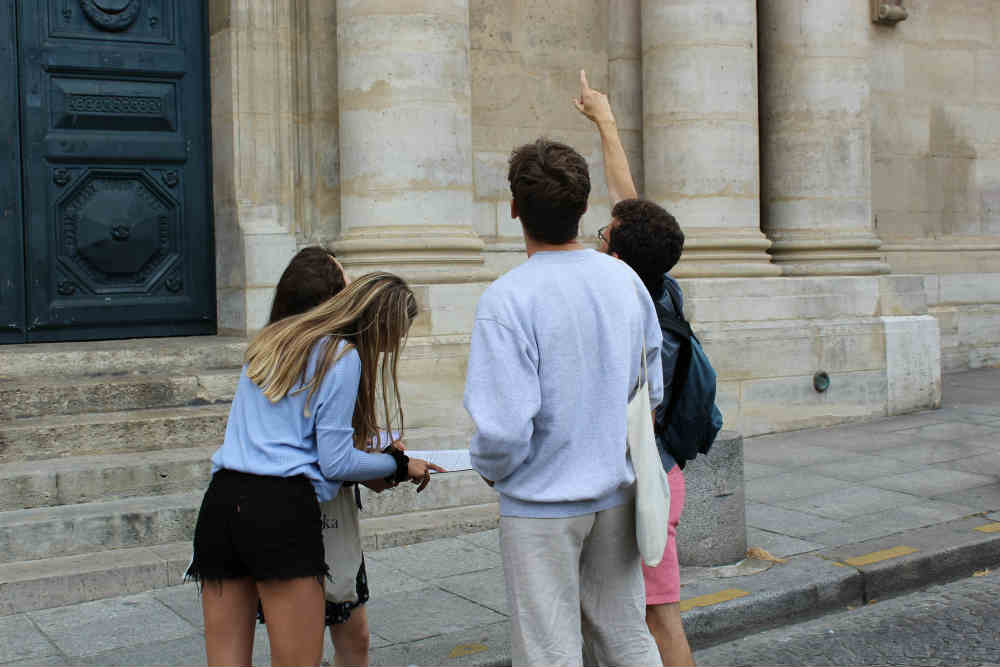 BACK TO THIS ESCAPE GAME ? BY JULIA, 20 YEARS OLD, STUDENT
This outdoor "escape game" has been a nice experience and an original way to discover some elements of the historical heritage of Paris.
The goal of the game was to get to a mystery location before the opposing teams. To identify it, we had to unlock a jumble of photos with passwords, which we obtained along the way. To do this, we were equipped with a computer.a digital tablet, d?a little notebook, d?a map of the 5th district and ofa booklet of riddles.
Following the itinerary indications, sometimes precise, sometimes rather vague, we went to different particular places of the district: the Saint Michel fountain, the Saint-Séverin gothic church, vestiges of Gallo-Roman thermal baths, in front of a door, a bas-relief, a medallion decorating a wall?
At each step, we were asked a riddle in order to find the password. For example, we had to find out which term a sculpture was an allegory of, or the color of a famous sign in the Rue de la Huchette, or the name of a knight's attribute on a church wall.
With a sense of observation sharpened by the riddles, some of the little historical or architectural secrets of the Latin Quarter were revealed to us. All this in a way fun and educational because of the additional information given by the booklet, concerning the monuments discovered or the streets visited.
After having gathered all the photos, not without difficulty? but the guide was always reachable in case of a small blockage), we started to think about the nature of the final place.
The information provided by the images was subtle, but with the help of bonus photos, we were able to get to that last step? and get there first!
Julia (age 20) ? July 31, 2019
FAMILIN?PARIS
A big thank you to Julia for writing this article and congratulations to the team of 4 students! They are the 1st team to have arrived at the mystery place that day!

+ INFO ON "THE MYSTERIES OF THE LATIN QUARTER

ALL OUTDOOR ESCAPE GAMES
Outdoor Escape Games