- EXPO -
Until September 17, 2023
At the Museum of Decorative Arts
PLACE at the Musée des Arts Décoratifs (Paris 1st)
AGE : from 7-8 years old
Date until September 17, 2023
HOURS From 11am to 6pm (cash registers close at 5:15pm)
WHEN Tuesday to Sunday (except Monday)
CLOSE Monday, May 1st
NOCTURNE Thursday until 9pm
PRICE : 14€ (exhibition + permanent collections)
FREE : -26 years old
To know: it is better to book your ticket online for a visit on Saturday and Sunday
Your ticket allows you to see all the exhibitions (permanent and temporary)
…shaggy or tidy, hair has shaped our appearance
Located in the Louvre and Tuileries districtthe Musée des Arts Décoratifs takes us on a journey of discovery fascinating fresco of social history where more than 600 works are presented to the visitors.
With so much to see and observe, children will find plenty to satisfy their curiosity!
Perceived as an attribute of the wild beasthair and hair had to be mastered and tamed in order to be different from the animal
From the veil covering the head, to the complexity of the braids of the 15th century to the most extravagant hairstyles of the XVIIIe and XIXe century, women's hair fashion is the marker of a certain social belonging ... but in the XXIe century everything changes!
On the men's sideWhile antiquity banished the athlete's hair, the Renaissance erected moustaches and goatees as a symbol of virile and warlike courage, while the man of the court powdered his face and hid his hair under a wig!
A vast subject which brings us to the punks, grunges and others "hipsters"of today!
From wigs to hairpieces, from art to hair know-how to the fashion object established in the Haute-Couture, this fascinating exhibition in Paris questions young and old about the importance given to hair throughout history.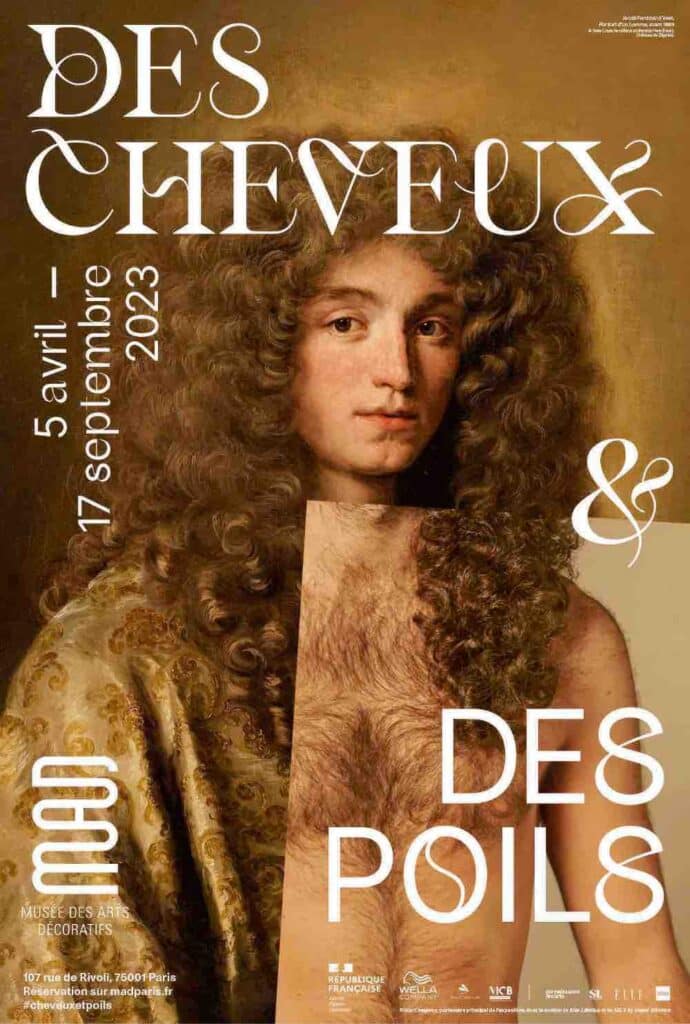 The Museum of Decorative Arts in Paris
The Museum of Decorative Arts which was inaugurated in 1905, is located on rue de Rivoli in the Marsan wing of the Palais du Louvre
It is now a museum devoted primarily to Applied Fine Arts that can be found in furniture, ceramics, graphics or design of any kind of object today. His motto is to pursue "the realization of the beautiful in the useful".
It is a very educational museum where you learn to discover the styles and techniques by browsing through the rooms organized as "period rooms" from the Middle Ages to the present day
In the same building you can find The Fashion and Textile Museum
In addition to the permanent collections, the Museum of Decorative Arts presents exciting and often offbeat exhibitions
In the Louvre and Tuileries area
You can continue the visit going to the Louvre Museum of course! Or simply walk around outside. A vast playground without a car!
Or discover the Monet's water lilies the Orangerie Museum and take a trip to the Jeu de Paume Museum accessible from the Tuileries garden
But also simply stroll along the arcades of the rue de Rivoli and go to the peaceful garden of the Royal Palace absolutely fabulous in spring
Exhibitions currently or soon in Paris
What to do in the Louvre district?