Du 1er juin au 1er juillet 2021
WE love : la programmation, es ateliers et les conférences ludiques
Who is it for? : les enfants (dès 2 ans) et les adolescents
When : du 1er juin au 1er juillet
Place : dans le Val-de-Marne (57 lieux)
Rate : 3? en moyenne (selon les salles de projection)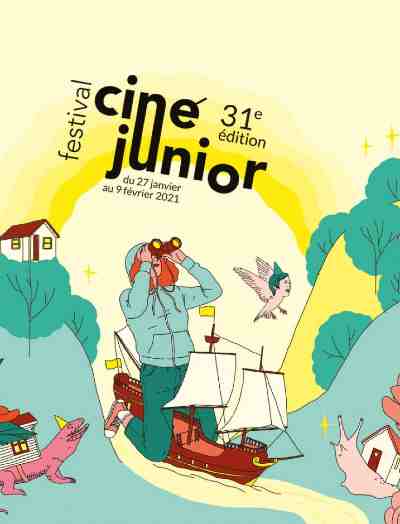 Le FESTIVAL CINÉ JUNIOR est le plus important festival international de cinéma Jeunes Publics de France. Il se déroulera dans dans plus de 50 lieux partenaires du Val-de-Marne et d?Ile-de-France, dans l?est parisien. Its ambition is to enable to children and teenagers de découvrir des films français et étrangers de qualité et participe à un véritable éveil artistique du jeune public. Au programme du Festival Ciné Junior 2021, plus de 100 films et 450 séances sont proposés pour les enfants à partir de 2 ans It is une sortie à petit prix.
Introducing quality cinema to children and teens
This year, le thème général du Festival Ciné Junior est centré autour de notre environnement.
On peut citer notamment ?La Petite taupe aime la nature?, Le livre de la jungle, L?Homme qui plantait des arbres, La Vallée des loups, Zazie dans le métro, Brooklyn Village, Le Cerf volant du bout du monde?.
Un ciné-concert inédit ?Amis pour la vie? en ouverture samedi 30 janvier à 16h au 3 Cinés Robespierre de Vitry-sur-Seine, composé de 5 courts métrages mis en musique et accompagnés en direct par Isabelle Moricheau,compositrice, chanteuse, autrice, performeuse, DJ.

Un ciné-conte évènement ?Toit, Toi, Tatadam?, créé pour l?occasion par Florence Desnouveaux de La compagnie des épices, qui invite les spectateurs à embarquer en famille à bord d?une aventure enchantée au rythme d?un programme animé inédit de 3 courts métrages.

Une cérémonie de clôture à 14h30 samedi 6 février, toujours au 3 Cinés Robespierre, suivie de la projection en avant-première du film ?La Vie de Château? de Clémence Madeline-Perdrillat et Nathaniel H?limi (Grand Prix du Jury Annecy 2019).

6 avant-premières à découvrir en famille (?Les Ours Gloutons? d?Alexandra Hetmerova & Katerina Karhankova, sortie le 14 avril, ?Jean-Michel Le Caribou et les histoires d?amour interdites? de Mathieu Avray, sortie le 10 février, Tom Foot de Bo Widerberg, ressortie avril?.)
Sympa aussi dans l'est parisien…